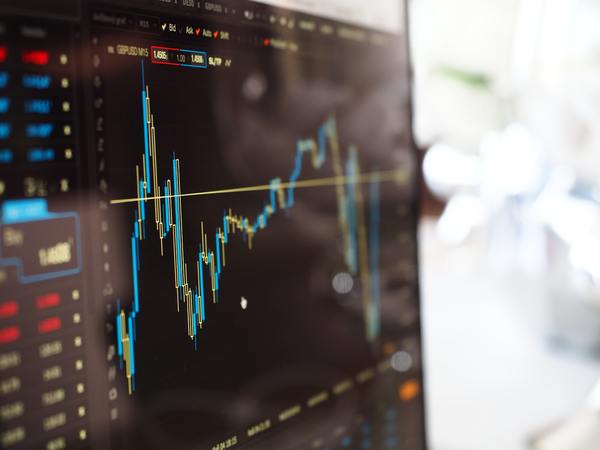 Are you an investor who prefers to use technical analysis rather than simply intuition to make digital asset investments? If so, here's a must-see list of the top ten resources for crypto technical analysis that you can add to your trading tools arsenal in 2019.
Chart Analysis Platforms
The most important resources for crypto technical analysis are charting platforms. Fortunately, there are two high-quality technical analysis platforms that offer free versions, namely: TradingView and CryptoWatch.
TradingView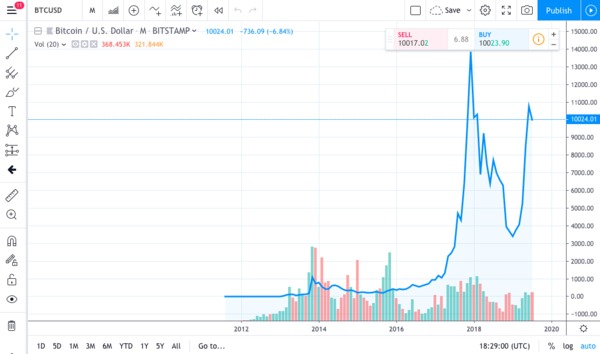 TradingView is arguably the leading chart analysis platform that you can find online. While the platform originally focused on assets such as stocks and currencies, in 2014, the company Chicago-based company started to add bitcoin charts to its platform. Today, every major (and some minor) digital currencies and tokens can be found on the platform.
TradingView offers a wide range of technical analysis indicators and tools, which can make it daunting for beginners. Once you get used to the dashboard and its functionalities, however, it provides pretty much everything a trader needs to analyze digital asset charts.
CryptoWatch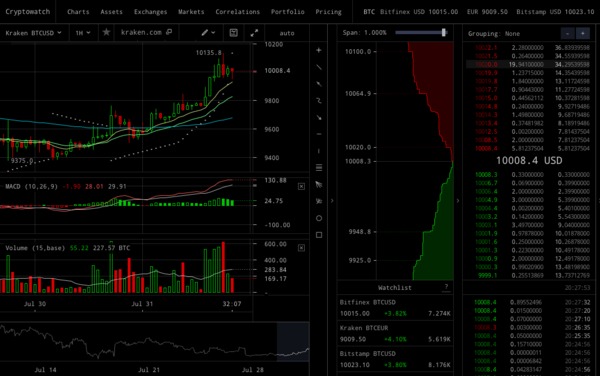 CryptoWatch is a digital asset-focused chart analysis platform that was recently acquired by the US-based digital asset exchange Kraken. CryptoWatch provides users with a wide range of technical analysis tools. The CryptoWatch terminal enables traders to track their portfolios, analyze charts, and execute trades directly on the Kraken exchange through the platform.
Digital Asset Portfolio Management Applications
In addition to free-to-use chart analysis platforms, there are digital asset portfolio management applications with high-quality charting tools that also offer built-in trade execution and portfolio tracking features. Two examples would be Coinigy and TabTrader.
Coinigy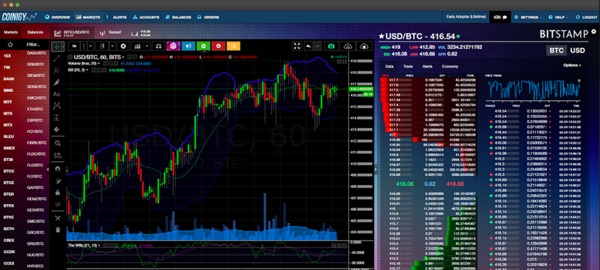 Coinigy refers to itself as "the ultimate cryptocurrency portfolio management suite," and it is not wrong with this statement. The Coinigy platform offers wallet management, portfolio tracking and management functions, execution access to over ten exchanges, and chart analysis tools, all in one dashboard.
TabTrader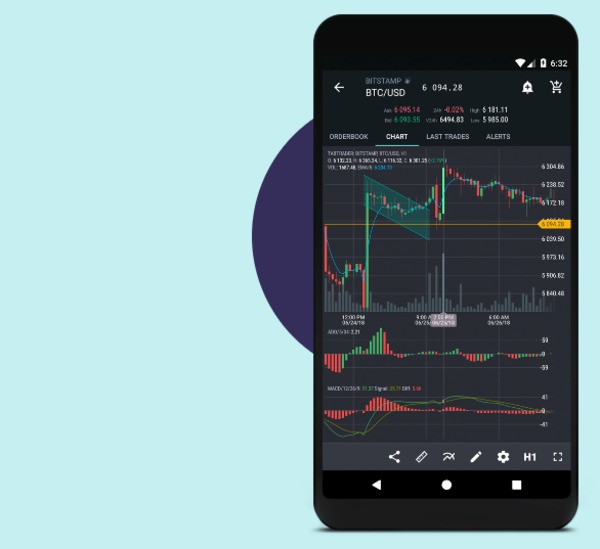 TabTrader is arguably one of the most popular on-the-go trading apps for digital asset investors as it provides a range of features, including chart analysis tools, and execution access to 30 cryptocurrency exchanges. For active traders who cannot sit in front of their computers the whole day, TabTrade provides the ideal solution for on-the-move trading and market analysis.
Momentum Indicator Apps
Momentum indicator apps, such as the RSI Hunter or the Fear and Greed Index, can also be valuable tools for a chartist.
RSI Hunter
The RSI Hunter is a technical analysis platform that uses the Relative Strength Index to signal whether a digital asset is "overbought" or "oversold." According to its website, RSI Hunter tracks 296 digital assets listed on Bittrex, 201 assets listed on Binance, 12 assets listed on Bitmex, and 206 assets listed on Kucoin, and its prices and RSI indicators are updated on a minute-to-minute basis. If you are a big believer in momentum, the RSI Hunter may be a valuable addition to your technical analysis tools.
Crypto Fear and Greed Index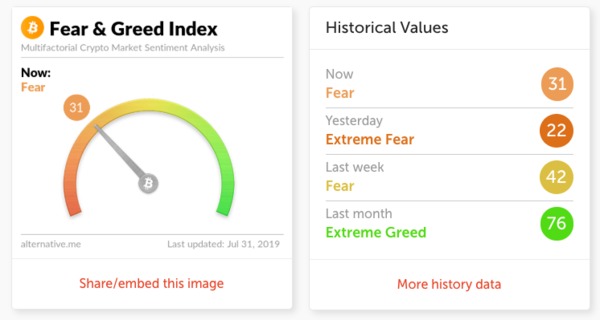 While the Crypto Fear and Greed Index is technically not a technical analysis indicator, it can still be highly useful for active bitcoin traders who can use this metric to gauge market sentiment. Using a range of factors, the Fear and Greed Index can provide you with insight into whether traders are feeling fearful or greedy at this point in time.
Crypto Trading Bots
If you are using technical analysis as a basis for your bitcoin trading decisions, you could use bitcoin trading bots to execute your strategy in an automated fashion (even when you are asleep). Once you have found a technical analysis-based trading strategy that works, using a bot is arguably the best way to execute it as bots take emotions and potential manual errors out of the equation. The two most popular free, open-source bitcoin trading bots are Gekko and ZenBot.
Gekko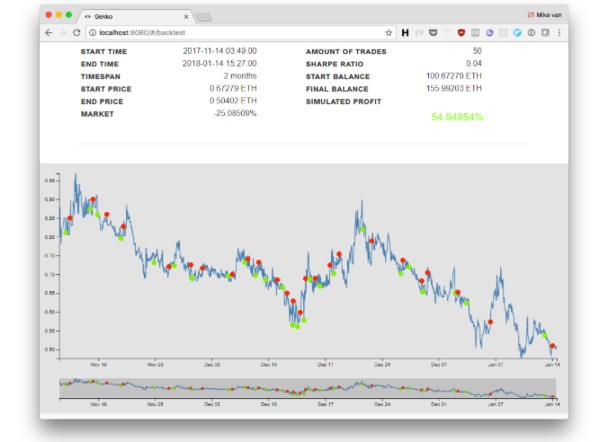 Gekko was launched in 2013 as one of the first bitcoin trading bots and has managed to remain a popular option for bitcoin traders today. Using the Gekko bot, you can build, backtest, and execute a number of bitcoin trading strategies based on technical indicators.
ZenBot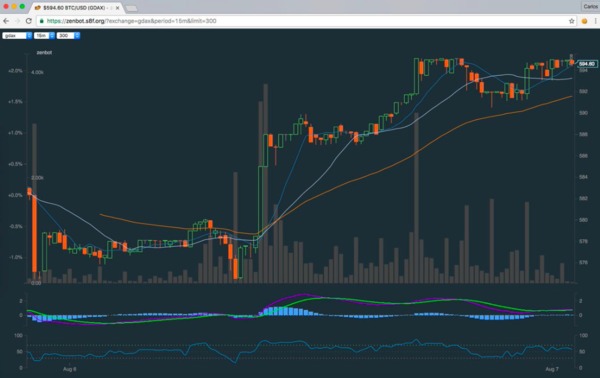 Similarly to Gekko, Zenbot has been in the market for quite some time. Since its launch in 2016, ZenBot has continuously been improved by a number of developers, which has led the bot to become a favorite among traders. Aside from the standard functionalities of backtesting and live execution of self-developed trading strategies, the ZenBot also offers a paper trading mode to live test strategies and configurable orders.
Technical Analysis YouTube Channels
There are dozen of crypto YouTube channels that you can tune into to the learn more about bitcoin, altcoins and the blockchain. There are also channels for fans of technical analysis. The two most popular are Josh Olszewicz' Crypto Technical Analysis Channel and Crypto Cred.
Josh Olszewicz' Crypto Technical Analysis Channel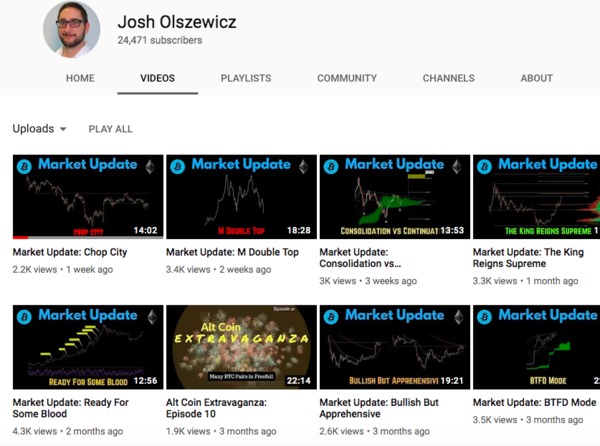 Josh Olszewicz is a digital currency analyst and writer runs a YouTube channel where he shares his insight into the latest price trends based on technical indicators of his choice. Over 24,000 subscribers watch his videos.
Crypto Cred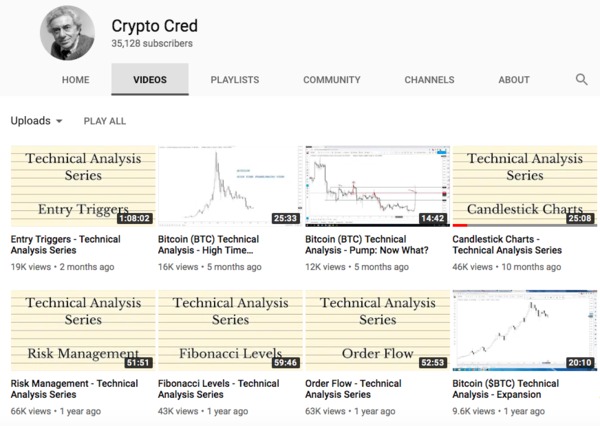 Crypto Cred is another popular YouTube channel focus on technical analysis for digital assets. However, this channel focuses more on the educational aspect of chart analysis than on current market trends. Hence, it is generally recommended for newcomers who want to learn about technical analysis as opposed to experienced traders who want regular market updates from a chartist. Over 34,000 subscribers follow this channel.
Related Articles: 
To discover the latest trends and market developments in the digital asset markets, subscribe to the Bitcoin Market Journal newsletter today!