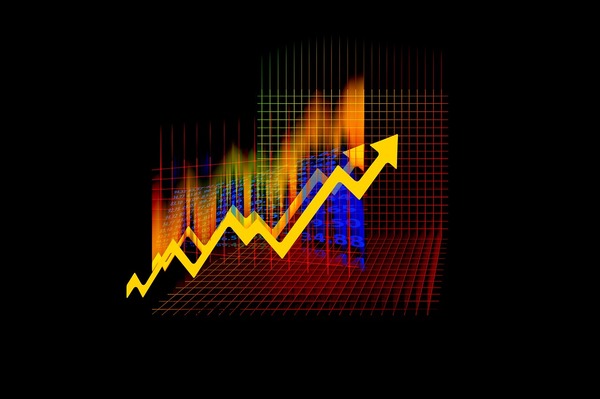 Many people believe that the only way to invest in the booming blockchain industry is to buy digital currencies and tokens, but that is not the case. Investors who prefer to buy stock shares rather than digital assets can do so as there are several blockchain stocks in which to invest.
Blue Chips
Description
Market Capitalization
Share Price
Dividend Yield (%)
Earning Per Share
Degree of Blockchain Focus
Score
IBM (IBM)
• IBM has established itself as a major player in the enterprise blockchain solutions space.

• The New York-based technology powerhouse provides a Blockchain-as-a-Service (BaaS) solution and is involved in a range of DLT trials across the globe.
$113,455,000,000.00
$124.84
5.43
$6.21
4
4.5
Microsoft (MSFT)
• Microsoft has become another major player in the blockchain industry with its cloud-based Azure Blockchain-as-a-Service platform.

• In 2015, Microsoft was the first to launch a cloud-based blockchain solution for businesses platform and has since been involved in a wide range of DLT trials across the globe.

• Moreover, Microsoft has started to connect other platforms and software to its blockchain solution to enable its users to transfer data from these platforms onto the cloud and from there, onto the blockchain.
$859,430,000,000.00
$111.96
1.73
$2.13
3
4.0
Oracle (ORCL)
• The technology giant Oracle has joined the likes of IBM and Microsoft in delivering a cloud-based Blockchain-as-a-Service solution.

• The Oracle Blockchain Cloud Service (BCS) leverages the blockchain to enable businesses to perform secure identity authentication, information sharing, smart contract creation, and more.
$190,417,000,000.00
$50.26
1.56
$0.95
2
3.5
Overstock (OSTK)
• The online retailer Overstock is a pioneer for bitcoin and blockchain adoption.

• It was one of the first major businesses to accept bitcoin back in 2014 and has since evolved into a de facto blockchain company.

• Through its subsidiary Medici Ventures, it has become a major investor in blockchain companies and it is launching tZero, a tokenized securities trading platform.
$597,022,000,000.00
$20.58
0
-$7.71
4
3.0
Nasdaq (NDAQ)
• Nasdaq is a pioneer in blockchain adoption among publicly-traded financial services companies.

• In 2015, the New York-based stock exchange launched a blockchain-powered private share market called Linq and continues to explore blockchain technology to improve its services as an exchange.
$14,931,000,000.00
$90.76
2.02
$4.50
3
3.5
Intercontinental Exchange (ICE)
• The Intercontinental Exchange (ICE), which owns the New York Stock Exchange, is one of the most interesting financial stocks that offer blockchain exposure.

• ICE announced last summer that it is developing a cryptocurrency exchange offering, called Bakkt, that will go live at the end of 2018.

• The exchange will offer Bitcoin futures contracts as its first product.
$44,741,000,000.00
$78.55
1.27
$4.27
3
3.5
Goldman Sachs (GS)
• Goldman Sachs is one of Wall Street's leading investment banks.

• Despite its bitcoin-skeptic CEO Lloyd Blankfein, Goldman Sachs has been investing heavily in blockchain startups such as Axoni, BitGo, Circle, and Veem, and has recently launched a bitcoin derivatives offering for a select group of its client.
$88,557,000,000.00
$231.28
1.39
$13.71
2
4.0
J.P. Morgan (JPM)
• J.P. Morgan is the largest investment bank in the world. While its core business is very much focused on banking, the Wall Street giant has also been heavily involved in the development of new financial technology.

• J.P. Morgan's main venture into blockchain technology is its enterprise-ready disunited ledger platform Quorum, which provides "high speed and high throughput processing of private transactions" on a permission blockchain.
$370,664,000,000.00
$111.48
2.95
$8.06
2
4.5
Seagate (STX)
• Seagate is a market-leading data storage company that has also expanded into blockchain technology.

• The technology company recently announced it intends to leverage blockchain to fight counterfeit hard drives in a partnership with IBM.

• Seagate has also invested in the digital currency startup Ripple Labs.
$13,108,000,000.00
$45.80
5.69
$4.05
2
3.5
Red Hat (RHT)
• Red Hat is a provider of open-source software solutions for enterprises.

• The North Carolina-based technology company was one of the founding members of the Hyperledger Project and has developed a blockchain for business solution called OpenShift Blockchain.

• OpenShift enables enterprises to develop blockchain applications with the help of Red Hat.
$30,653,000,000.00
$173.63
0
$1.52
4
3.0
Advanced Micro Devices (AMD)
• Advanced Micro Devices, commonly referred to as AMD, is a market-leading GPU manufacturer.

• AMDs graphics cards have become popular among miners who use GPUs to mine digital currencies, which makes this stock an indirect play on the potential future success of digital currency mining.

• The company has recently announced a new set of "blockchain compute solutions" for digital currency miners.
$21,871,000,000.00
$21.80
0
$0.29
3
2.0
Data taken from Yahoo Finance and Google Finance.
Small Cap Stocks
Description
Market Capitalization
Share Price
Dividend Yield (%)
Earning Per Share
Degree of Blockchain Focus
Score
BTL Group (BTL)
• BTL Group, listed on the Toronto Stock Exchange, is a provider of blockchain solutions for businesses.

• The company has developed the Interbit blockchain platform, which enables "business innovators and developers to quickly and easily incorporate the best of blockchain capabilities into enterprise applications."
64923000
2.72
0
-0.46
5
2
HIVE Blockchain (HIVE)
• HIVE Blockchain is a blockchain technology infrastructure company based in Vancouver, Canada.

• The Toronto Stock Exchange-listed company was founded as a partnership Genesis Mining - a market leader in cloud mining - and the Foire Group, and its main focus is digital currency mining, which it conducts in locations in Sweden, Iceland, and Norway.
141939000
0.43
0
-0.11
5
2
Northern Bitcoin (NB2)
• Northern Bitcoin is a German digital currency mining company traded on the Frankfurt stock exchange.

• The mission of Northern Bitcoin's mission is to provide sustained and profitable infrastructure to bitcoin and its blockchain using renewable resources.
120005000
21.2
0
0
5
2.5
DigitalX (DCC)
• DigitalX - listed on the Australian Stock Exchange - provides ICO advisory services, blockchain software development, and blockchain consulting.
36226000
0.071
0
0.005
5
2
Data taken from Yahoo Finance and Google Finance.
Related Articles: 
To learn more about investment opportunities in the new finance market, subscribe to the Bitcoin Market Journal newsletter and join a vibrant community of like-minded investors.