Bitcoin mining, or supporting the bitcoin network with high-end computers, is a way for investors to profit from the bitcoin boom. While most of us don't have the technical or financial expertise to set up mining centers of our own, you can invest in companies that specialize in (or support) bitcoin mining.
In this article, we'll cover some of the top bitcoin mining companies for investors, including graphics card manufacturer Nvidia, tech company Riot Blockchain, and hardware innovator  Canaan.
An investment into bitcoin mining companies has two benefits: you are both indirectly investing in bitcoin, as well as supporting the technology that allows it to grow.
What Is Bitcoin Mining?
"Bitcoin mining" refers to supporting the bitcoin network using powerful computers called "mining rigs."
By supporting the network and validating transactions, bitcoin miners are awarded freshly minted bitcoin. This is called a block reward, with new blocks created every ten minutes or so. The newly minted BTC are split amongst each miner involved in creating a new block.
Miners are competing with each other to confirm more transactions and be the ones to earn the coveted block reward; it's become a hardware "arms race" of sorts, and there are gigantic mining operations that use the latest hardware to improve their mining efficiency with high-end graphics cards.
Top Bitcoin and Crypto Mining Stocks
Let's have a look at some of the most promising crypto mining stocks you could invest in today.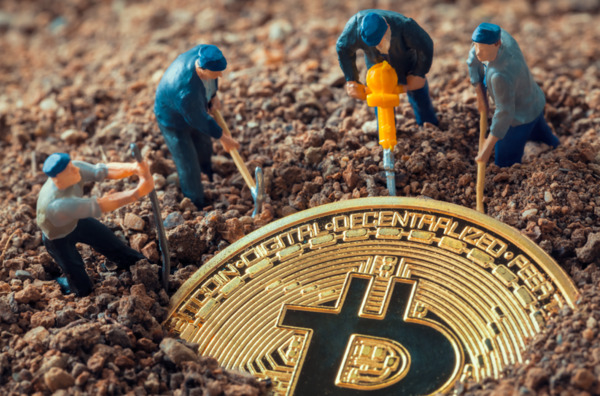 Riot Blockchain (NASDAQ: RIOT)
Colorado-based Riot Blockchain "focuses on building, supporting and operating blockchain technologies" and digital currency mining. The company has investments in a number of blockchain startups, such as Canadian bitcoin exchange Coinsquare, and runs a crypto mining operation in Oklahoma City.
Nasdaq-listed Riot Blockchain can be purchased on most online trading platforms; see the current performance here.
---
Canaan (NASDAQ: CAN)
China-based mining firm Canaan is a major bitcoin mining hardware manufacturer that has been working to create the best mining rigs on the market, this has seen them become suppliers to other mining companies such as Hive Blockchain Technologies.
Canaan is also listed on Nasdaq, so it can be purchased on most online trading platforms; see the current performance here.
---
AMD Micro Devices (NASDAQ: AMD)
Advanced Micro Devices Inc. is a California-based company that develops computer processors and primarily focuses its GPU products in the gaming community. However, some of its GPUs can also be used to improve the efficiency of bitcoin mining rigs, and this has been beneficial for the company as the bitcoin mining boom has massively boosted its sales.
The firm has flourished in the bitcoin mining scene and now produces specialized hardware solutions for digital currency miners.
Like the other stocks mentioned, AMD is listed on the Nasdaq exchange and is available at most online brokerages. Check current performance here.
---
Hive Blockchain Technologies (NASDAQ: HIVE)
Canadian digital currency mining firm Hive Blockchain Technologies was launched in 2017 as a partnership between Foire Group and leading cloud mining services provider Genesis Mining. The Vancouver-based company runs mining operations in Iceland, Norway, and Sweden and went public in September 2017 on the Toronto Stock Exchange. On July 1, 2021 Hive shares began trading on the Nasdaq exchange.
Available on most online brokerages, you can check the Nasdaq-traded HIVE's most recent performance here.
---
Hut 8 Mining (NASDAQ: HUT)
Hut 8 Mining is another Nasdaq-listed stock that provides equity investors with exposure to the digital currency mining sector. Toronto-based Hut 8 was launched in partnership with Bitfury Group and focuses its business operations on mining and blockchain infrastructure. The company went public in March 2018 and runs its mining farms in Canada.
Hut 8 Mining is listed on Nasdaq: check its recent performance and financials here.
---
Bit Mining (NYSE: BTCM)
Founded in 2001, Bit Mining owns the blockchain data site BTC.com, as well as mining bitcoin and Ethereum.
The Hong Kong-owned company has announced plans to buy Bee Computing, which specializes in manufacturing crypto mining machinery.
Bit Mining owns data centers in Hong Kong, the United States, and Kazakhstan.
Bit Mining trades on the NYSE. It's available through most online brokerage platforms; check current performance here.
---
Bit Digital (NASDAQ: BTBT)
Headquartered in New York, Bit Digital has several mining operations in North America. The company has a focus on sustainability, with most of its miners running on carbon-free power.
Bit Digital trades on the Nasdaq, so it's easily available to most investors. Check financials here.
---
Nvidia (NASDAQ: NVDA)
Founded in 1993, Nvidia is considered as the leading company in the world for computer graphics cards. Although Nvidia is best known for its GPU gaming processors, the business has a range of GPU cards designed for mining specific cryptocurrencies.
While its cryptocurrency cards add a significant amount to Nvidia's profits, its gaming processors remain the most vital part of its business.
Nvidia trades on the Nasdaq, so it's an easy buy for most investors. Check its latest financial performance here.
---
Bitfarms Ltd (NASDAQ: BITF)
Bitfarms Ltd was founded by Emiliano Grodzki and the company raised $155 million in equity during 2021. It now operates five bitcoin mining data centers in Quebec, powered by hydroelectric, as well as another facility in the States. Bitfarms Ltd recently purchased 1,000 bitcoin and now has a treasury of 4,300 bitcoin.
Bitfarms Ltd trades on the Nasdaq; you can see its latest financials here.
---
Marathon Digital Holdings (NASDAQ: MARA)
Marathon Digital Holdings is a leading provider of bitcoin mining hardware with ambitions to become the United States' top mining operation. It recently purchased Bitmain's Antminer S19 XP and is also partnering with other companies like Compute North and Beowulf Energy. The business was incorporated in 2010, before going public in 2011.
Marathon Digital Holdings trades on the Nasdaq, so it's also available through most brokerage apps. Click here to see the company's latest performance.
Interested in finding out more ways to invest in bitcoin and bitcoin-related industries? Subscribe to the Bitcoin Market Journal newsletter today!