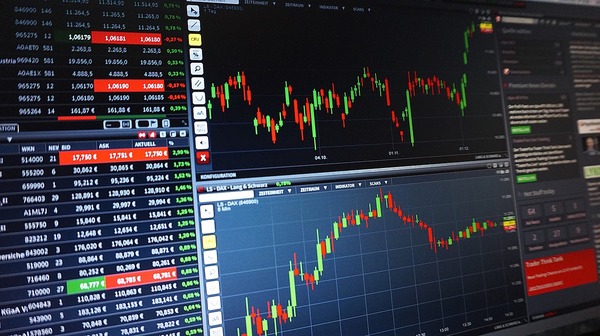 If you want to be hands-on with your bitcoin investment and trade in and out of the digital currency to generate a profit, you will need the best bitcoin charting tools.
In this article, you will be introduced to the leading charting platforms you can use to make better investment decisions when trading bitcoin.
Top Bitcoin Charting Tools
To compile our list of the best bitcoin charting tools, we have looked at criteria such as price, supported platforms, and whether they offer exchange integration or not.
Name
Description
Launch Year
Price
Supported Mobile Platforms
Trade Execution Possible
Twitter Followers
Score
TradingView
TradingView is one of the most established charting tools in the market. It was launched in 2011 as a community platform where traders can share their analysis and trading signals. Initially, the platform‰'s core focus was on established financial securities and commodities. Recently, however, TradingView has added bitcoin and a wide range of other digital currencies to accommodate the rising demand for this new asset class.

TradingView enables users to leverage a variety of technical analysis tools to analyze the price movements of bitcoin and other assets. Technical indicators such as MACD, Bollinger Bands, and the Relative Strength Index can be used to develop technical analysis-based trading strategies. Furthermore, Tradingview enables users to share their trade ideas with each other and discuss them within the platform‰'s social network.
2011
Free to $49.95 p/m
Android and iOS
No
64,400
4
Coinigy
Coinigy was launched in 2014 to provide professional digital currency traders with tools and market data to help them make better investment decisions. Coinigy not only provides historical and real-time price data on a wide range of digital assets, but it also provides excellent charting tools and links in with several exchanges.

Coinigy allows both financial institutions as well as individual traders to deposit funds, monitor their portfolios, analyze market trends, and execute their trades all in one place. If you are looking to actively manage a broad portfolio of digital assets and you prefer to do that using only one platform, then Coinigy is your go-to solution. Coinigy goes beyond being a charting tool to providing a one-stop shop for digital currency investors and is therefore definitely worth its comparatively high fee.
2014
Free to $99 p/m
Android and iOS
Yes
19,200
4
TradeBlock
New York-based TradeBlock refers to itself as "the world's leading provider of institutional trading tools and research for digital currencies." The web-based platform offers a wide range of digital asset portfolio management tools, primarily targeted at professional and institutional investors. For serious investors who are taking an active portfolio management approach, TradeBlock offers an excellent suite of trading tools, including charts, order management, blockchain analysis, mining data, and more.
2013
Free
Web-Only But Mobile-Friendly
Yes
11,900
4
CoinTracking
CoinTracking was launched in 2013 to serve as a digital currency investment portfolio oversight and management platform. CoinTracking enables users to keep track of all their digital currency investments in one place and provides a "charts and trends" feature that allows users to deploy a range of technical analysis indicators to discover trends for all their favorite digital currencies.

Probably CoinTracking‰'s most prominent feature is the automatic generation of tax reports. This is becoming an increasingly important issue for bitcoin traders, as tax authorities and financial regulators are starting to keep a close eye on digital currency trading activities. The platform‰'s tax reporting feature is excellent for busy traders who want to ensure that all their digital currency trading activities are properly reported to the tax man.
2013
Free to 0.03 BTC (1 Year), Free to 0.046 BTC (2 Years), Free to 0.343 BTC (Lifetime)
Android and iOS
No
5,515
3.5
Cryptowatch
Cryptowatch was launched in 2014 and managed to grow to become a popular charting platform for digital asset users. In 2017, the company was purchased by leading digital asset exchange Kraken, which has contributed more resources to improving the platform as it has now become part of its exchange's product offerings.
2014
Free to $75
Web-Only But Mobile-Friendly
Yes
6,708
3.5
Related Articles:
For more information about smart bitcoin investment strategies and tools for bitcoin trading, subscribe to the Bitcoin Market Journal today!