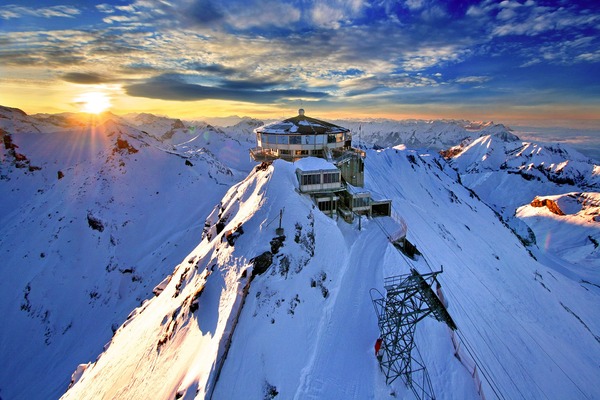 The race is on to become the next blockchain Silicon Valley.
Across the world, cities, states, and sometimes even entire nations have begun pouring money into attracting blockchain startups. The reason is that they're recognizing the sector as an engine of economic growth, worth an estimated $60 billion over the next several years as this industry matures and develops more sophisticated, consumer-facing uses for its technology.
It's early on. The competition among jurisdictions is just starting to heat up. It's already becoming apparent that even some out-of-the-way places are grasping at first-mover status, offering a variety of incentives including huge investment funds and receptive regulatory environments.
What's good for startups and their ICOs is also good for investors. The emerging token economy is far more borderless and therefore global by nature.  So, for investors, the decision about where to invest becomes as material as the what, why, or when to invest.
With that in mind, here are several places vying to become blockchain meccas.
San Juan, Puerto Rico
We've written about Puerto Rico's emerging blockchain scene in the past.
The government of this small island has high hopes that blockchain will help set the island's financial fortunes back on track. Battered first by high debt and then by natural disaster, Puerto Rico could use a major new industry, and its offshore vibe appeals to both the professional and the cultural aspects of blockchain entrepreneurs.
As a capitol in the Caribbean, one rebuilding almost from the ground up, San Juan affords startup firms the chance to put their own stamp on the city. They can build almost from scratch, asking for much and probably getting it. With long beaches and Caribbean rooftops, Puerto Rico would like its blockchain community to feel like they're disrupters during and after working hours.
From a fiscal point of view, the island brings a lot to the table as well. It has the low taxes and generous local government of an offshore corporate haven, while also offering access to the stability and enforcement mechanisms of the U.S. justice system. Puerto Rico may not be an inexpensive place to live, but from a recruitment standpoint, having an office 15 feet from the beach isn't a bad pitch.
Related
China – Shenzen and Hangzhou
If Puerto Rico would like blockchain firms to help solve its money problems, China would like them to know that it has none.
While difficult to narrow down because the Chinese government has begun pouring money into this project nationwide, Shenzen and Hangzhou are two good examples of this race to provide funding.
In April, Shenzen green-lit a $79 million venture capital fund for blockchain startups (500 million yuan). The Chinese Academy of Sciences and the Shenzen Institute of Innovation and Development have reportedly already begun collecting more than 100 projects seeking seed funding.
In Hangzhou, a pot of combined government and private money has exceeded this investment. The Xiong'An Global Blockchain Innovation Fund has more than $1.6 billion US to spend on startups it deems worthy. A third of that is backed directly by the city governmen.
Slovenia
Money is nothing says Slovenia, tucked between Italy, Austria, and Croatia. What counts is commitment, and this Eastern European nation has literally baked blockchain into its bricks. Per Reuters:
The first monument to the blockchain technology that underpins cryptocurrencies took center stage on Tuesday on a roundabout in Slovenia, authorities in the country's fourth largest city said.Weighing three tonnes and with a diameter of about seven meters the circular metal sculpture was unveiled next to the courthouse in Kranj, about 30 kilometers (20 miles) north of the capital Ljubljana. 
Yes, Slovenia has actually unveiled a physical monument to blockchain carved in the shape of the bitcoin symbol. It's part of a push by the government to convince blockchain firms that the nation is a friendly, accommodating place in which to do business.
The country's energy sector is reportedly looking for blockchain-based opportunities, while recently retired Prime Minister Miro Cerar said in office that "Slovenia as a whole is… setting itself up as a Blockchain-friendly destination." This includes, he noted, "the adoption of legal regulations and the promotion of a supportive environment for the development of companies working in the area of blockchain technology."
What, precisely, those regulations will be, however, remains to be seen.
Singapore
The city-state on the edge of Malaysia (itself jockeying for recognition in the blockchain community) has long thrived as a business and finance destination. As banking, law, business, and technology have developed, Singapore has only gotten richer by moving with the times.
Now, it would like to keep up with the blockchain revolution. Per VentureBeat:
As the crypto-token market heats up, Singapore has emerged as one of a few key hubs for blockchain startups wanting to launch an initial coin offering (ICO). The city-state is a long-established hub for corporate setup due to its tax friendly rules, light-touch regulation, and state funding…

The Monetary Authority of Singapore (MAS), Singapore's central bank, has budgeted S$225 million ($166 million USD) to develop Fintech projects and applications. And as a warm welcome to crypto-assets, MAS has created a tokenized version of the Singapore dollar, available on an Ethereum-based blockchain. The move, called Project Ubin, is an attempt to create a functional replacement for Singapore's interbank payments network through tokenization and blockchain technology.
Although several banks around the world have talked about creating a blockchain-based version of their national currency, no one else has actually done it yet. Through Project Ubin, Singapore is putting its money where its mouth is. Paired with its already permissive business environment, this seems like it might be a ready-made fit for the crypto-community.
Zug, Switzerland
Blockchain companies in Zug have dubbed it Crypto Valley, hoping to steal a march in the competition to become the center of the blockchain universe.
Zug, a small town of about 30,000 people, roared onto the financial scene as a global tax haven. As the Guardian wrote in 2008, the Zug revenue service considers international firms "clients, not debtors," and taxes them at an accordingly rock-bottom rate. This has attracted tens of thousands of firms to legally locate their headquarters to the town, along with tax evaders from the world over who relocate their assets to shelter them from native collections agents.
In a similar spirit, Zug has begun accepting cryptocurrencies as payment for some municipal services. This, along with its favorable tax environment, has lured a major blockchain presence to the town. It hosts the Ethereum Foundation, along with several hundred other companies. Largely because of Zug, Switzerland is second only to the United States in ICO revenue.
While this has set the model for explosive growth, many in Switzerland are concerned that Zug has lured these companies in with some of the worst of Swiss standards. Favorable regulation, accommodating tax laws, and legal secrecy have all made it easier for blockchain firms to do business, but some politicians are worried that they also can hurt the Swiss reputation and set the stage for problems to come. Just as permissive Swiss banks became the standard bearers for corruption around the world, they don't want to see a permissive technology scene fuel crime for another century to come.
Vizag, India
Not to be left out, there is Visakhapatnam, better known as "Visag," India, which has launched the FinTech Valley Vizag project. This program hopes to bring together businesses, government, and academics to create an incubator for Fintech companies and, particularly, blockchain firms.
While the local government has so far fallen short of its goal of creating 500,000 jobs in this industry by 2020, it has still attracted almost a billion dollars in outside investment for its blockchain environment. Per Forbes:
FinTech Valley Vizag plans to build the largest repository of blockchain use cases in other key areas such as transport, finance and digital security. It has partnered with Covalent Fund to create Velugu Core, a pioneering India-focused blockchain stack. This would make government data freely and digitally available through open APIs (Application Programming Interfaces), which could then be used by developers to build apps…

Other initiatives include creating several business accelerators and innovation labs, as well as specialized centers of excellence in collaboration with Thomson Reuters (for IT and digital content) and Broadridge for blockchain.
Similar to the incubator programs in China, this valley initiative offers seed money for ambitious startups, as well as incentives for firms interested in relocating to the region.