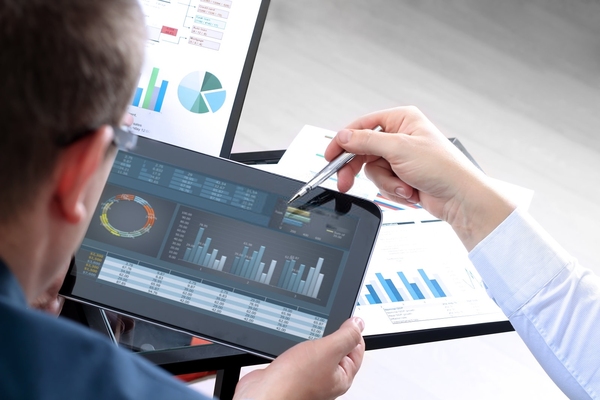 Blockchain investing comes in many forms. You could:
Invest in the digital tokens of the most promising blockchain project.
Participate in equity or token-based crowdfunding campaigns of new blockchain startups.
Purchase shares in publicly-traded blockchain stocks.
In this guide, you will learn how to build stock portfolios that provide you with exposure to the blockchain industry.
Building a Portfolio
Before constructing an investment portfolio, you need to be clear about what your investment objectives are. The key questions you need to ask yourself are:
Why are you investing?
How much will you need to invest to meet that target?
How much risk will you need to take to meet your investment objective?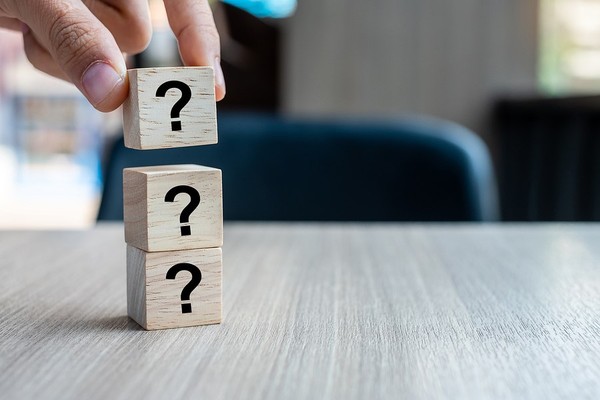 The responses to these questions will determine your asset mix, the amount of capital-at-risk, the expected return, and how much risk you will need to take.
A low-risk equity portfolio will be composed of mainly large-cap stocks while a higher risk/return requirement will likely entail holding mid- and small-cap stocks, which are considered riskier but generally come with a higher ROI potential.
Once you are clear as to what your objectives are, what type of return you require to meet the objectives, and how much risk you are willing to take, you can start looking at the blockchain opportunities available in the market.
Blockchain Opportunities in the Stock Market
We can categorize blockchain stocks into two types:
Large-cap stocks with a blockchain element
Pure-play stocks
Large-cap stocks are shares in companies with a market capitalization of over $10 billion. These include technology giants such as IBM, Microsoft, and Oracle, which offer blockchain-related solutions as part of their overall business offerings, as well as financial institutions, such as ICE, JPMorgan, and Nasdaq, that are betting big on digital assets and the blockchain.
"Pure-play" blockchain stocks, on the other hand, focus primarily on blockchain technology or digital currencies. These companies are generally small companies with low market capitalization. Examples of pure-play stocks would be publicly-traded bitcoin mining companies HIVE Blockchain and Northern Bitcoin.
Square is another interesting company for blockchain equity investors as it earns a substantial amount of its revenue from bitcoin purchases being made through its Cash App.
Knowing what type of blockchain stocks there are will make it easier to choose the asset mix for your portfolio.
Now, let's look at some example portfolios.
Example Equity Portfolios With Blockchain Exposure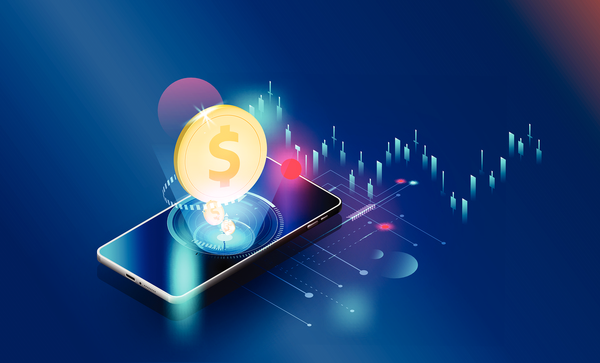 To provide you with examples of possible blockchain equity portfolios, we have chosen three theoretical model portfolios that could be purchased by any retail or institutional investor with access to the equity markets in the US, Canada, and Europe.
The three model portfolios are:
Market-weighted, large-cap blockchain portfolio
Market-weighted, pure-play small-cap blockchain portfolio
Market-weighted bitcoin mining portfolio
We will choose our assets from our review of the best blockchain stocks and add Square Inc., among others, to construct our portfolios. Some of the stocks in our portfolios are denominated in non-US dollar currencies. These will be converted into USD, which will be the base currency of all three example portfolios.
Furthermore, all three of our portfolios are market-weighted (as opposed to equally-weighted) to give more significance to companies with larger market capitalization. This is standard among the majority of global equity indices.
Example Portfolios Constituents
For our large-cap portfolios, we will choose IBM, Microsoft, Oracle, Overstock, Nasdaq, ICE, Goldman Sachs, JP Morgan, Seagate, and Square.
The constituents for our pure-play blockchain portfolio will be Interbit, HIVE Blockchain, Riot Blockchain, DigitalX, and Coinsilium.
Our bitcoin mining stocks portfolio will be composed of Hut 8, HIVE Blockchain, Northern Bitcoin, and MGT Capital Investments.
Now, let's have a look at what these portfolios would look like.
Model Portfolio 1: Market-Weighted, Large-Cap Blockchain Portfolio
The idea behind our first model portfolio is to provide an example of what a relatively low-risk blockchain stock portfolio would look like. The companies included in this portfolio are all large, reputable companies from the financial or the technology sector that are involved in blockchain technology in some form.
| | | |
| --- | --- | --- |
| Portfolio 1 | Market Cap ($) | % Holding |
| IBM | 118,780,000,000 | 6.44% |
| Microsoft | 1,038,820,000,000 | 56.32% |
| Oracle | 174,930,000,000 | 9.48% |
| Overstock | 668,450,000 | 0.04% |
| Nasdaq | 16,020,000,000 | 0.87% |
| ICE | 50,140,000,000 | 2.72% |
| Goldman Sachs | 71,430,000,000 | 3.87% |
| JP Morgan | 340,200,000,000 | 18.45% |
| Seagate | 11,920,000,000 | 0.65% |
| Square | 21,480,000,000 | 1.16% |
Model Portfolio 2: Market-Weighted, Pure-Play Blockchain Portfolio
Our pure-play portfolio is composed of companies that offer blockchain solutions, hold investments in blockchain companies, or are involved in the mining of blockchain assets. These stocks provide you with the most direct blockchain market exposure among our portfolios.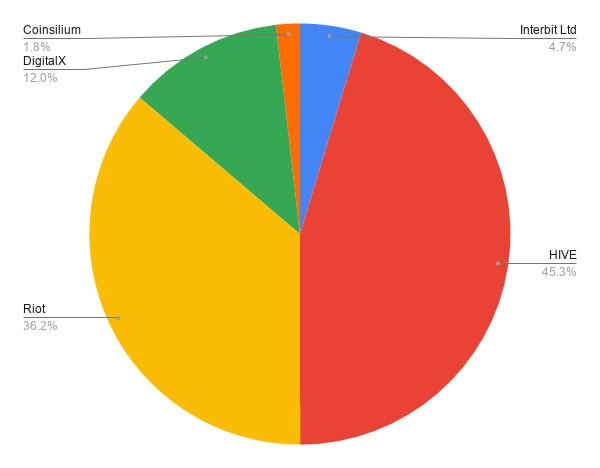 | | | |
| --- | --- | --- |
| Portfolio 2 | Market Cap ($) | % Holding |
| Interbit Ltd | 5,895,000 | 4.70% |
| HIVE Blockchain | 56,850,000 | 45.29% |
| Riot Blockchain | 45,490,000 | 36.24% |
| DigitalX | 15,000,800 | 11.95% |
| Coinsilium | 2,286,900 | 1.82% |
Model Portfolio 3: Bitcoin Mining Portfolio
Our final model portfolio is intended to provide exposure to the bitcoin mining industry. The companies we have chosen for this portfolio are all digital currency mining operations and, thus, have their business success (or failure) tied to the profitability of bitcoin mining.
| | | |
| --- | --- | --- |
| Portfolio 3 | Market Cap ($) | % Holding |
| Hut 8 | 173,533,500 | 45.78% |
| HIVE Blockchain | 56,850,000 | 15.00% |
| Northern Bitcoin | 136,396,800 | 35.98% |
| MGT Capital Investments | 12,260,000 | 3.23% |
Important Notice
Our model portfolios are intended purely for educational purposes and are not investment advice. They have been created to provide you with examples of what equity portfolios with blockchain exposure could look like.
Ultimately, however, the assets in which you choose to invest are up to you and your individual investment needs.
Related Articles: 
Subscribe to the Bitcoin Market Journal newsletter to learn more about investing in bitcoin and blockchain technology.