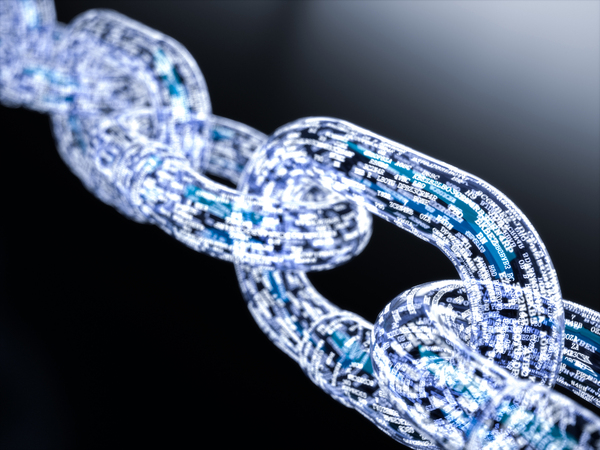 Bitcoin continues to be a revolutionary way to store and transmit monetary value. Controlled by no national agenda, bitcoin represents what can happen when people take ownership of their own economic interests.
This, however, does not mean that everyone wants to pursue bitcoin investment. For some, the lack of government regulations, the high level of speculation, and a fear of a possible collapse of the perceived pricing bubble are keeping them away from investing directly in bitcoin.
However, there is a way of investing in bitcoin technology without actually investing in the digital currency itself.
Understanding the Blockchain
Bitcoin is the proof of concept for a database technology called the "blockchain." A blockchain, or a distributed ledger, is a shared database that exists on no central computer. Instead, users receive a copy of it. Whenever a transaction is made, that transaction is broadcast to all copies of the blockchain, which will verify it for authenticity and uniqueness before adding it.
As there is no one "master" copy of the blockchain, it cannot be forged or artificially manipulated. Transactions not supported by the majority of the blockchain's hubs are automatically disregarded and a majority of the blockchain's users (as recently seen with the bitcoin hard fork) must approve changes to the blockchain's rules.
The fascinating part of blockchain technology is that it can be used to categorize any type of storable data, not just monetary value. In Cook County, Illinois, the blockchain is being developed to put the county's property titles and other public records online, making title searches easier for the nation's second-largest recorder office. The Federal Reserve is considering the blockchain as a way to simplify the global payment and settlement system. Humanitarian groups are using the blockchain to simplify the donation process and add transparency.
Investing in Blockchain Technology
The easiest way to invest in the blockchain is to invest in the companies developing new uses for the technology:
Overstock.com: Overstock.com created a fund in 2014 to manage investments in blockchain technology companies. Named Medici Ventures, the fund now has significant stakes in Factom and Ripio. Overstock.com's CEO Patrick Byrne has also announced the creation of a blockchain equity-trading platform called t0.
Microsoft: Microsoft is a founding member of the Enterprise Ethereum Alliance, which seeks to create standards for the business use of the Ethereum blockchain. Their blockchain-as-a-service platform, Azure, not only supports Ethereum, but also serves as a backbone to simplify blockchain app development.
IBM: IBM is a founder of Hyperledger, a tech companies' collaboration that incubates promising blockchain and distributed ledger projects in the hope of developing a unifying platform for blockchain app development. One of the collaboration's incubated projects, Fabric, has the support of Airbus, American Express, Intel, and others. Also selling blockchain-as-a-service solutions, the company has introduced blockchain technology to its artificial intelligence computer, Watson.
Blockchain Capital: While not a publicly-traded fund, Blockchain Capital invests in promising blockchain projects and platforms, giving an option to those that want to invest in ICOs, but do not want to put in the time to vet the individual projects. Blockchain Capital's portfolio includes Bitfury, Blockstream, Coinbase, Ripple, and ShapeShift.
Initial Coin Offerings: Another way to invest in blockchain is to engage in ICO investing. These are the companies and projects seeking to utilize the blockchain. Some, such as Ethereum, has shown exceptional growth and profit potential. This, however, does take some effort on the investor's part, as some ICOs perform better than others. (See our extensive ICO listing page, and our Beginner's Guide to ICOs.)
Bitcoin Investment Trust: For those that want to invest in bitcoin without actually having to assume an unprotected position, there is the Bitcoin Investment Trust, which is a publicly-traded security consisting of a portfolio of bitcoin. Investing in the security gives the benefits of investing in bitcoin without the lack of government protection or the need to understand the technology. (See our Bitcoin Investment Trust guide.)
Conclusion
A fear of the current market should not be a reason to avoid bitcoin investment. If you are excited by what potential the technology may hold, you have a wide swath of options available for investing in blockchain.
Author Don Tapscott once said:
"The first generation of the digital revolution brought us the Internet of information. The second generation — powered by blockchain technology — is bringing us the Internet of value: a new platform to reshape the world of business and transform the old order of human affairs for the better." 
There is little doubt that blockchain technology holds vast potential for growth and adoption in multiple industries. For those interested in being a part of this new technology, investment opportunities abound.
Want a comprehensive one-stop source for bitcoin investment news and topics? Subscribe to Bitcoin Market Journal today.