The Coinbase IPO is coming on April 14, 2021. How much will investors pay?
In this article, you will learn more about Coinbase, how you can invest in Coinbase stock, and how much it might cost to invest in Coinbase.
What is Coinbase?
Coinbase is one of the world's leading bitcoin exchanges, boasting some 43+ million users in over 100 countries. Labeled as the first "bitcoin unicorn" upon achieving an $8 billion valuation in 2018, Coinbase products make it easy for users to buy, sell, and trade bitcoin and other cryptocurrencies from your computer or mobile phone.
Based in San Francisco, Coinbase launched in 2012 and today has become the default "bitcoin bank" for millions of users. Coinbase safely stores over $3.7 billion in customer funds, and reportedly holds almost 1 million bitcoin across its 35+ million wallets, making up around 5.4 percent of all bitcoin in circulation, more than any other exchange in the world.
In short, think of Coinbase as the leading crypto banking and trading platform. And now you'll be able to buy stock in this next-generation "blockchain bank."
As always, one of the best ways to evaluate an investment is to try the product yourself. Do your research.

The Coinbase IPO
The Coinbase Initial Public Offering is a big deal. (Read the prospectus here.) It's the first time that a major crypto company will be offered to the public as a traditional stock on Nasdaq. This is historic: the first real merging of the stock market and the block market.
Ordinary investors will be able to buy stock in Coinbase (under the stock ticker COIN). Bitcoin and cryptocurrency are certainly here to stay, and considering the position of Coinbase and the recent surge in the price of bitcoin and other digital assets, this IPO seems likely to be highly popular with investors. If you thought that bitcoin has been a wild ride, prepare for Coinbase to be a bucking bronco strapped to a rocket.
Indeed, recent Coinbase shares floated on the secondary market were sold at $373 per share, giving Coinbase a valuation of $100 billion. If that holds, this IPO will go down in the history books.
But we are blockchain value investors, looking for valuable companies making great products and services. So I turned to my go-to value investor, Ben the Elf.
Ben the Elf (top right)
The Conservative Estimate: $35 per share
Ben, made famous in my book Blockchain for Everyone, plays the "Elf" in the Fellowship of the Coin, the group of poker friends who discover bitcoin together. In real life, Ben (who is actually a human) is a successful value investor in the style of Warren Buffett.
In the book, he is skeptical toward blockchain, which helps act as a counterweight toward my exuberance. I asked Ben what he thought about the Coinbase IPO, and he agreed with me that it will be a good step forward for the crypto industry as a whole.
He thinks of Coinbase like a next-generation bank, and looks to other banks for comparable valuation of a fair IPO stock price – in the same way you estimate home prices by looking at similar home sales in the same neighborhood.
Using traditional valuation metrics, he takes Coinbase's Earnings Per Share ($1.76), multiplied by the average trailing Price-to-Earnings ratio for other publicly-traded banks (20x).
[Coinbase EPS] * [Average trailing P/E for Banks] = $1.76 * 20 = $35.20
Average P/E of comparable banks (if you believe Coinbase is a bank).
He admits that the market will probably treat Coinbase as a financial services company like Square (SQ), and apply a 200x Price-To-Earnings ratio instead of 20x.
Which brings us to the aggressive, high-growth, YOLO-style valuation of Coinbase.
The Growth Estimate: $350 per share (or more)
There's plenty to argue that Coinbase is doing well as a business:
Coinbase has millions of verified users (43 million at the end of 2020).
Coinbase was profitable in 2020 ($1 billion in revenue, $322 million in net income), though it did lose money in 2019 (common for high-growth tech companies).
Coinbase's user growth is strong (see chart above).
Coinbase has arguably the biggest brand in the consumer crypto space.
Coinbase is attracting more institutional investors (plenty of details in their 200+ page prospectus).
There's also plenty to argue that Coinbase is more than a bank:
Coinbase has built the company around blockchain (most banks are just discovering the technology)
Coinbase has world-class security of crypto assets (no major breaches to date)
Coinbase has designed a terrific, user-friendly, digital-first product (blockchain for everyone)
Coinbase is a bridge to the new world of DeFi, complete with staking (i.e., they will be able to offer much higher interest rate products than banks)
Coinbase has been doing this since 2012, so they have an incredibly deep moat
To me, Coinbase is the default platform for new users to bitcoin or cryptocurrencies, just like Google is the default search engine. When people ask me how to buy bitcoin, I refer them to Coinbase. The product is just that good.
On the other hand, Coinbase's customer service is famously terrible. If you think your cable company is bad, Coinbase is many times worse. (Search coinbase complaints.) The company says it's committing to "better customer experience," and they do seem to be ramping up efforts on this front. (They'll need it.)
Investing in Coinbase will be like investing in crypto: expect a roller coaster ride that closely tracks the manic-depressive price swings of bitcoin. However, you are not investing in bitcoin, you are investing in a public company, with real users and real revenue. That's a big difference.
So I see Coinbase as something more like Square or Ant Financial, but with its own unique flavor: it's a crypto-first company, a blockchain bank. That's exciting.
Indeed, early investors are already excited. As of this writing, Coinbase futures are trading at about $390 per share – or about 20x P/E, as Ben predicted.
So whether you think it's worth $35 a share or $350+ a share, you should expect a lot of buzz and energy around this offering. To fuel the fire, Coinbase stock will be offered directly to the public – not through an underwriting bank – which means the people will decide the price.
But as we say, "IPO" might stand for "It's Probably Overpriced." Many tech stocks get so overblown with hype that the price can only go down after the initial excitement wears off. Sometimes you're better off waiting to buy, even if you believe in the company long term.
That said, if you can't wait, there are a few ways of buying in now.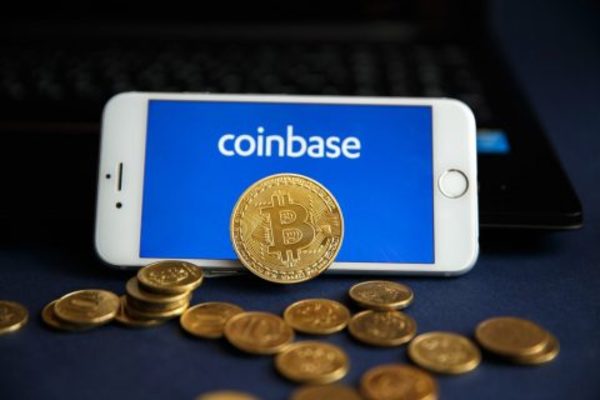 How to Invest in Coinbase
As of this writing, no date has been set for the Coinbase IPO, but if you're interested in getting in early, you can buy Coinbase/USD futures here. These "pre-IPO shares" track the current market capitalization of Coinbase, and will be converted into real shares on the day that the stock is offered to the public. (Track the current price here.) They are not available to investors in all countries (sorry, U.S. readers).
A second roundabout option is to consider investing in the blockchain token COMP (you can buy it on Coinbase here). To be clear, Compound is a new blockchain-based DeFi protocol – not a company stock like Coinbase – but Coinbase has invested in Compound, and uses the protocol for its staking products. So the fortunes of COMP will likely rise with the fortunes of Coinbase, as long as you remember they are different things.
Finally, you can do your research and set a target price range in your head. Wait for the Coinbase IPO, monitor the price for a few days, and invest if it's within your range. Don't follow FOMO; there will always be other opportunities. Keep your head, even when everyone else is losing theirs.
Now you've seen both sides of the COIN. Will you buy?
Related Articles:
To stay up to date with the latest news on the Coinbase IPO, subscribe to Bitcoin Market Journal today!