Even though DeFi is taking off, a little extra liquidity could prove to be the wind beneath its wings. Powered by 46 partners—and counting—Wrapped Bitcoin (WBTC) is blowing in from all corners of the globe.
Wrapped Bitcoin (WBTC) is an ERC-20 token, pegged to bitcoin 1:1, that was launched on the Ethereum network on January 31, 2020. As a result, bitcoin can be used in the largely Ethereum-powered DeFi market.
How Does Wrapped Bitcoin Work?
There are three key players in the process of a bitcoin holder getting WBTC: the user, the merchant, and the custodian.
To exchange bitcoin for Wrapped Bitcoin, a user puts in a request to a WBTC merchant. Merchants distribute WBTC in exchange for bitcoin—or the other way around. They have also incorporated a KYC step in the process. The merchants serve as a middleman between the user and the custodians, who are the liquidity pool of the network.
When the merchant presents the transaction request to the custodian, the custodian chooses to either grant or deny the request to either mint or burn WBTC. The minting and burning processes happen via an atomic swap, directly between the merchant and the custodian.
The process is launched when a merchant enters a minting request via an Ethereum smart contract while sending bitcoin to the custodian. At that point, the custodian waits for confirmation on the Bitcoin blockchain, approves the request on the Ethereum network, and the merchant then gets the WBTC.
For the user to get their tokens, they have to enter into a trusted exchange or atomic swap with the merchant. Once the user gets their WBTC, what they have is basically bitcoin "wrapped" in an Ethereum blanket. Hence, the name "Wrapped Bitcoin."
How Wrapped Bitcoin Benefits the DeFi Space
Liquidity is the foundation of all finance. Without money to lend, financiers have no value. Further, limited liquidity could kill a burgeoning financial movement. If investors were to rush to DeFi and run into one platform after another that didn't have enough to liquidity, DeFi would quickly get slapped with crippling labels like "insoluble," "unsustainable," and others that DeFi-doubters are eager to whip out.
Because bitcoin and the Ethereum blockchain don't play nice, and DeFi is largely powered by Ethereum, there's been a thick brick wall between DeFi and bitcoin investors. This wouldn't be a problem if it weren't for the fact that BTC clutches on to the vast majority of the digital asset market cap.
Wrapped Bitcoin is a sledgehammer trying to bust down that Berlin-esque wall. If investors continue stepping through the gaps, a flood of liquidity could flow into the DeFi space.
If only 5% of the bitcoin market cap were to move into the DeFi liquidity pool, DeFi's market cap would hop up 35%.
How to Add WBTC to Your Portfolio
Investors can go through the "wrapping" process using a merchant, or they can purchase WBTC on one of several exchanges.
If you hodl WBTC, its price will rise and fall with that of BTC. Alternatively, you could use it to invest in DeFi protocols.
Fees Associated with WBTC Wrapping
As with most financial services, wrapping with WBTC comes with a cost. There are fees you have to pay to the following entities:
Custodian fees. These are collected by the custodian when the merchant chooses to mint or burn wrapped tokens.
Merchant fees. The merchant takes a fee from the user as payment for helping them turn their BTC into WBTC.
Sidechain transaction fees. To help prevent spam on the sidechain, there is a fee that is shared by all entities that are running a sidechain node.
How DeFi Investors Can Use WBTC to Earn Interest on Bitcoin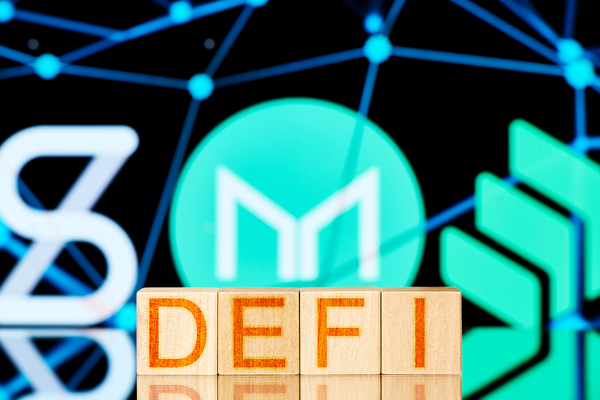 There are a few ways you can use WBTC to generate interest on your BTC. You can use one or a combination of multiple platforms.
Lending on Compound
An increasingly common door into the DeFi building is Compound, which now accepts WBTC. Compound works by using an algorithm to calculate interest rates based on common market factors like supply and demand.
If you have a loan, the value of your collateral has to remain above a certain threshold in order to prevent the liquidation of your assets. On the other side of the table, you can lend WBTC to Compound users and earn interest. At the time of writing, the net rate on Compound for WBTC was 2.30%, with a supply APY of 1.44% and a distribution APY of 0.86%.
Yield Farming on Maker
The first step in earning interest on your BTC with Maker is to wrap it into WBTC. You can then use your WBTC to generate DAI. At the time of writing, you had to maintain a liquidation ratio of 150%, and if you end up getting liquidated, you would have to pay a 13% penalty. However, if you lock up your WBTC to generate DAI, the liquidation risks could be worth it.
Once you have generated DAI, you can convert it back into BTC using an exchange, reinvest it, or allow it to continue producing DAI.
Staking on Synthetix
Yield farming on Synthetix with WBTC is fairly straightforward.
You first provide your WBTC to the curve liquidity pool, which gives you Curve LP tokens as a reward for your contribution.
You then stake your Curve LP tokens in Mintr. Both the staking process and claiming your rewards happen in the LP Rewards tab on Mintr.
When you want to cash out, you select "Claim and Unstake" and your tokens are liquidated into SNX and REN, which can be traded for BTC on exchanges like Binance, OKEx, and Bilaxy.

WBTC: Good for DeFi, Good for Investors
Wrapped Bitcoin may be exactly what DeFi needs. Because it's pegged to BTC and users can obtain it via a fairly simple process, its rise may continue. If bitcoin players, big or small, increasingly turn to WBTC, the liquidity boost could help DeFi soar to new heights.
And for investors, WBTC provides a new avenue to earn interest on bitcoin holdings by depositing the token in yield-generating DeFi protocols.
Further reading:
Subscribe to Bitcoin Market Journal today to receive daily updates on the latest trends and developments in the digital asset markets.