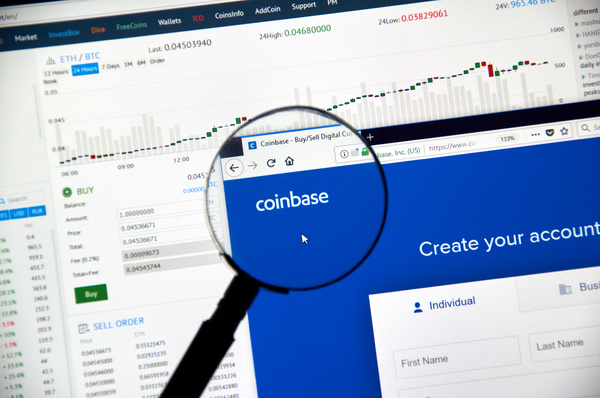 If you watched any financial news during the week of April 14, 2021, you probably heard about the record-breaking direct listing of Coinbase on the NASDAQ. In this guide, you will discover four ways you can invest in Coinbase if you would like to potentially benefit from the success of this market-leading company.
Coinbase: From Startup to Publicly-Traded Company
Coinbase could become a company studied by finance students in the years ahead.
"Even after five years and many millions of dollars in revenue, I would say still about 50% of people (investors, prospective employees, etc) I spoke to thought it was a bad idea."

– Brian Armstrong Coinbase CEO
Founded in 2012 by Brian Armstrong and Fred Ehrsam, Coinbase has grown to be the largest cryptocurrency exchange in the United States and one of the most used in the world. Brian's bitcoin journey started when he read the bitcoin whitepaper over Thanksgiving 2010.
Coinbase was originally known as Bitbank until Brian learned of the legal and regulatory implications of using the word bank. He started coding the site on nights and weekends before quitting his job at Airbnb to pursue his dream full-time.
From 150K seed capital, Brian and the Coinbase team have grown the company to a $65 Billion market cap (at the time of writing this article) in under 10 years. This valuation doesn't just make them one of the most valuable and profitable digital asset exchanges but one of the most valuable and profitable financial companies in the world.
In a wonderful tweet thread this week Brian credited his cofounder Fred Ehrsam with helping him build the company we know today.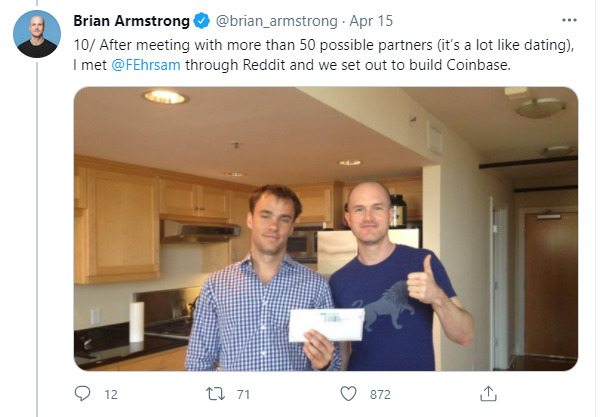 As with a lot of startups, it's doubtful much dating happened with sleeping in the office and 100 hour weeks not uncommon. It was heartwarming to read in the lead-up to the listing that Brian had gifted each employee 100 shares.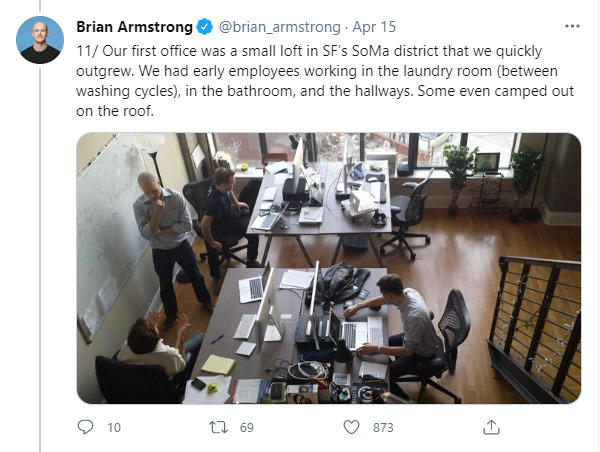 With Coinbase so entrenched in the Bitcoin ecosystem how can you potentially profit from all the revenue they are making every time one of their customers buys or sells a digital asset on Coinbase?
1. Buy Coinbase Stock
If you have an existing stock trading account you should be able to buy as much COIN stock as you want. COIN is Coinbase's ticker.
Instead of listing the usual IPO (Initial Public Offering) way, they chose to do a DPO (Direct Public Offering). This meant that the banks didn't get to buy the stock cheap beforehand and when they listed the share price was completely up to the market to decide.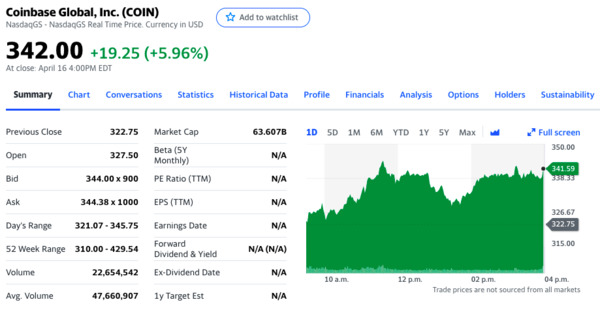 With an initial guidance price of $250, the stock rose above $400 before settling around the $350 range. The days and weeks ahead could still see price volatility so it may be prudent to grow your position over time rather than buying your full allocation after you finish reading this article.
2. Coinbase Tokens
It is 2021 and you no longer need to own a stock to profit (or lose money) based on its share price. Companies like FTX (who have had a similar growth trajectory as Coinbase) were offering pre-IPO trading in the weeks leading up to the listing.
As well as anyone willing to trade the price of the tokenized stock, pre-listing traders were able to lend those tokenized stocks to other margin traders at a rate that got as high as 35% a year.  At the time of writing, that rate had dropped to 0.88%, which is still more than what most banks pay and is more than what Coinbase will pay as they announced no plans to offer any dividend. Those rates change every hour depending on market demand. Learn more about FTX tokenized stocks here.

Binance, one of the world's largest digital asset exchanges, has just added tokenized stocks to their suite of products. Currently, Coin and Tesla are the only two they offer.
3. Buy Funds That Invest in Coinbase
1. Buy an ETF that has exposure to Coinbase. 
ARK Investment Management's CEO Cathie Wood has long been a proponent of bitcoin so it's no surprise that across their three actively managed ETF's (exchange-traded funds).
The ARK Innovation ETF (ARKK), ARK Next Generation Internet ETF (ARKW), and ARK Fintech Innovation ETF (ARKF) purchased about 750,000 Coinbase shares.
"Disruptive innovation is often not priced correctly by traditional investment strategies because people may not understand how big the ultimate opportunities are going to be. They aren't sizing the opportunity and they aren't analyzing the disruption." Catherine D. Wood, Founder and CIO, ARK Invest
2. Buy shares in a company that has exposure to Coinbase. 
One of Australasia's biggest banks Westpac made the news during the week due to their venture capital fund Reinventure already owning equity in Coinbase.  For anyone owning shares in Australia's oldest bank or any other company that already has or will be buying shares in Coinbase this is another way to gain indirect exposure to this emerging market.
"We have been inundated by inquiries from family offices and institutions seeking exposure to the picks and shovels of cryptocurrency markets." Martin Rogers, of venture capital fund KTM.
4. Buy Digital Assets Listed on Coinbase
One train of thought discussed during the week on Twitter was: "Why buy Coinbase shares when you could just buy the coins listed on Coinbase?" According to Bitcoin Market Journal's Senior Market Analyst Mati Greenspan
"Coinbase isn't pumping bitcoin. Bitcoin is pumping Coinbase."
For some picking which digital assets can be like walking into an ice cream store and trying to decide which ice cream flavor(s) to choose. Do you just pick a single scoop of Bitcoin? Maybe a double scoop of Bitcoin and Ethereum. You might be in an adventurous mood and want a bowl overflowing with multiple flavors.
We've tried to help you out with your research with our Digital Assets Ranking & Analysis covering the top 50 digital assets.
Related Articles:
If you want to stay up-to-date with the latest trends and developments in the digital asset markets, subscribe to the Bitcoin Market Journal newsletter.