Ever wondered how to invest in blockchain technologies without having to buy digital currencies?
Well, in this step-by-step guide, we'll be showing you how to buy shares in one of the largest blockchain firms in the world.
Who Is HIVE Blockchain Technologies?
HIVE is a Canadian, publicly traded company built on a partnership between Genesis Mining and the Fiore Group. Together the pair are working to foster growth in the blockchain sector by providing blockchain services to traditional capital markets.
All of HIVE's mining operations have been powered by green energy from the very beginning back in 2014, owning state-of-the-art mining facilities in Canada. Recently, the firm acquired a data center in Canada with access to 50 megawatts of green power.
As well as mining, HIVE is jumping into the decentralized finance space (DeFi) in a recent partnership with DeFi Technologies, a Canadian company. Together, the pair will work to develop the DeFi ecosystem with Ethereum-specific applications, as well as improving the quality of mining operations.
In this brief guide, we'll show you how to purchase HIVE stock on the popular trading platform E*TRADE.
Step 1: Register an Account

Start off by registering for a Brokerage Account, which will grant you access to capital markets.
Step 2: Select Tour Order Type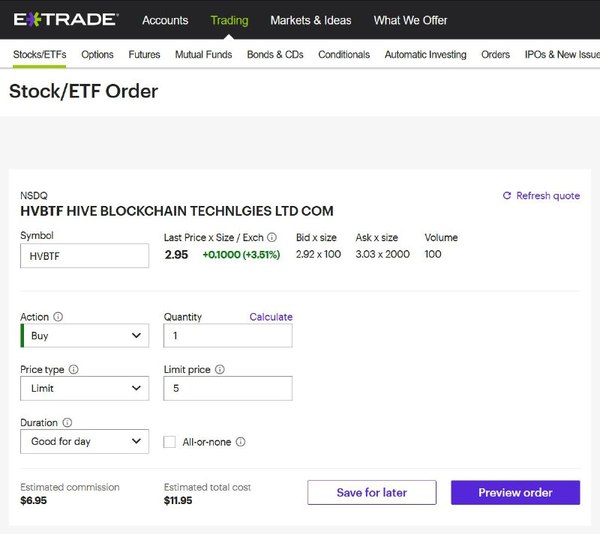 Now that you're ready to go, click on the "Trading" tab, followed by "Stocks/ETFs" (as shown in the image below.) In the "Symbol" box, search HVBTF to pull up the HIVE stock.
As this is your first time purchasing, select "Buy", and enter the quantity you'd like to purchase, and at which "Price type". For this example, the images below will be using "Market" as this is the most simple form of order as it buys/sells immediately at the current price.
"Limit" is another type of order that buys/sells stock at a price you choose, which can be higher or lower than the market price. It will execute if you get the desired price or better.
A "Stop" allows you to set a sell order to trigger if your asset price falls below a point you specify. This method is employed to prevent steep losses.
Note: There are other options for trade, though to keep it simple, we have highlighted the most common trading methods.
Regarding the "Duration" tab, you can select "Good for day", which will keep the order in effect for one day, or until it has been fully canceled or completed. "All-or-None" is another duration option that you can pick if you want to enter an order that must buy or sell at the full quantity you specified, or else it won't execute at all.
When you're ready, click "Preview order" and move on to the next screen.
3: Complete Your Order
You'll come to this screen, which is where you get to review and confirm the details of your order. When you're ready, hit "Place Order".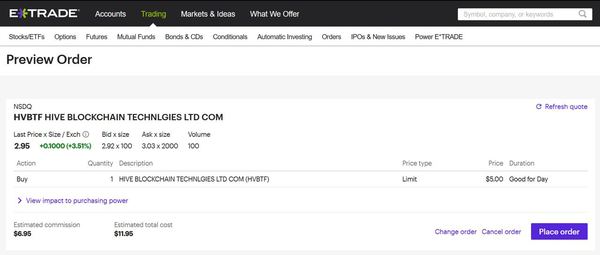 Voila! You've purchased HIVE Blockchain Technologies (HVBTF) stock!
What's Next?
With the recent pivot toward DeFi and the firm's ongoing commitment to green energy solutions (a particularly hot trend in 2021), the firm may remain a leading player in the space for some years to come as these new angles could enhance the company value further.
Further Reading:
Subscribe to Bitcoin Market Journal for daily digital asset market updates straight into your inbox.