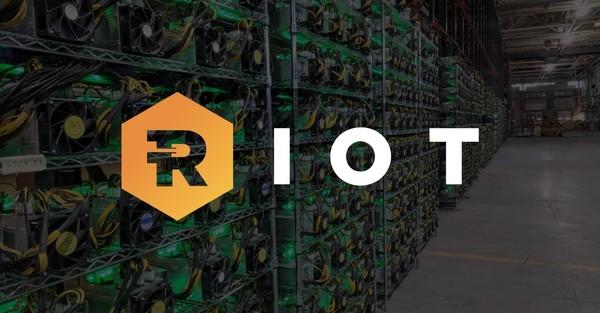 Would you like to buy Riot Blockchain Stock to gain exposure to the digital currency mining market? Follow this step-by-step guide to learn how you can buy shares in an American bitcoin mining company.
Introducing Riot Blockchain
According to the Riot Blockchain website:
"Riot Blockchain, Inc. is a bitcoin mining company, supporting the Bitcoin blockchain through rapidly expanding industrial scale mining focused in the United States. We are consistently focused on expanding our operations by increasing our bitcoin mining hash rate, while decreasing our costs of production. Riot believes the future bitcoin mining will benefit from American operations and endeavors to be the driver of that future."
With a lot of discussions currently surrounding the amount of mining that happens in China, it's easy to overlook how many companies are mining bitcoin in North America.
The Riot Blockchain story is an interesting one. Up to October 2017, they were known as Bioptix Inc. a maker of diagnostic machinery for the biotech industry based in Colorado, USA.
Their CEO at the time was quoted as saying:
"With new applications being developed for blockchain every day, this is a rapidly growing and evolving market."
Riot Blockchain's first mining facility was in Oklahoma City. Their current mining operations are based out of Coinmint LLC.'s facility in Massena, New York where they have deployed a fleet of 13,746 next-generation bitcoin mining ASICs. Additionally, Riot has launched a pilot program in Houston, Texas to evaluate opportunities in The Electric Reliability Council of Texas (ERCOT) energy market and test leading-edge mining technology.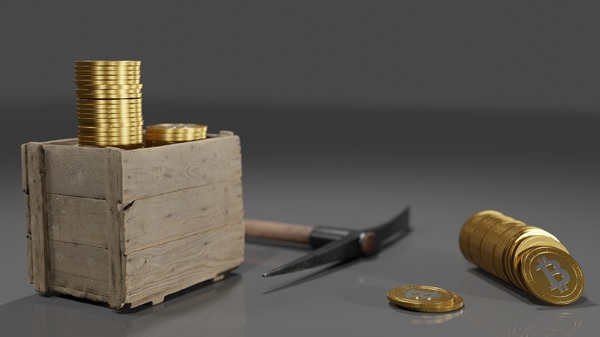 With the continued discussions around the cost of bitcoin mining to our planet, it's interesting to note that both these regions have an abundance of excess energy from renewable generation sources that offer competitive energy pricing to large customers. Riot expects to have a fully deployed fleet totaling approximately 39,146 miners before the end of 2021.
Buying Riot Blockchain Stock is one way to add exposure to your portfolio to the digital currency mining sector.
For other listed companies with exposure to the crypto mining industry read our guide to bitcoin mining stocks.
How to Buy Riot Blockchain Stock on ETrade
If you already have an Etrade account log into your account. If you don't have an account yet you will need to sign up and choose which account type best suits your needs.

Step One
From the 'Trading' menu select 'Stocks' and type RIOT into the symbol box. Alternatively, you can also type RIOT into the search box in the top right-hand corner of the screen and select RIOT.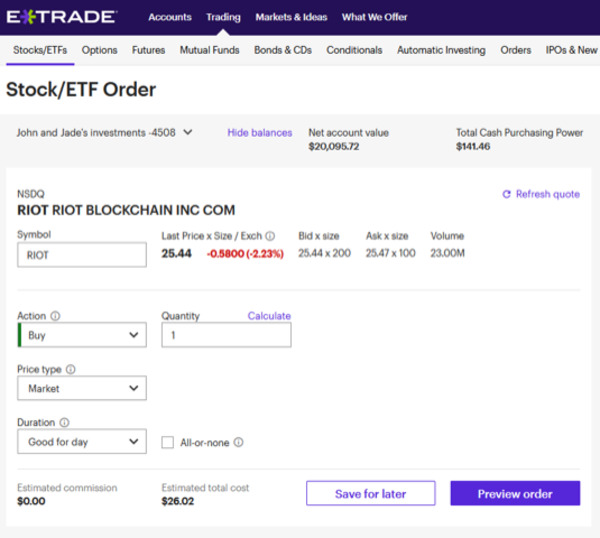 Step Two
For this example, we'll select 'Buy' from the Action menu.
Type in the quantity you want.
Choose if you want to buy at market price or enter an order at a different price.
Choose the duration of the order.
If you are unsure about the difference between any of the options in any of the menus click the question mark button for that menu for more helpful information.
Click on 'Preview Order.'
Step Three
This is your confirmation screen. You can double-check your order before finalizing it. If everything is accurate click 'Place Order' and your order will go live. If it's a market order it should be filled almost instantly (during market hours).  If it's an order at a price you set it will be filled if/when the market reaches that price.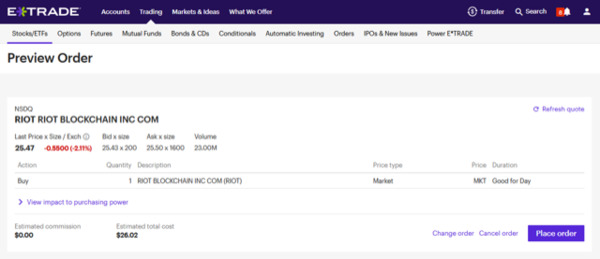 If your order is incorrect click on 'Change Order' and correct the errors. If you have completely changed your mind click 'Cancel Order'.
It's that easy?
Yes!
If you want to buy any other stock on ETrade follow the same steps substituting your favorite stock for RIOT.  If you want to sell a stock change the buy action to sell.
Related Articles:
If you want to stay up-to-date with the latest trends and developments in the digital asset markets, subscribe to the Bitcoin Market Journal newsletter.