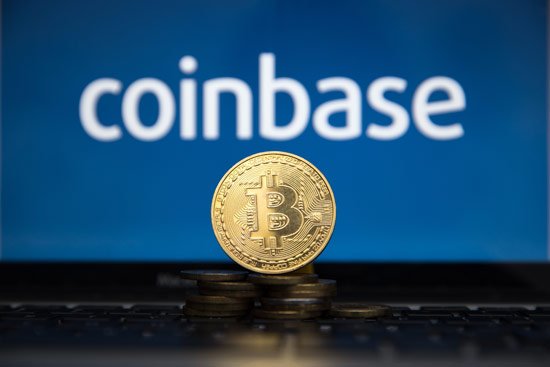 The Coinbase Nasdaq listing has been yet another major milestone in digital asset adoption, bringing one of the largest representatives of the industry even further into the financial mainstream. Joining the ranks of other tech-heavy firms like Slack, Spotify, and Roblox, who all skipped initial public offerings (IPOs) and went public via direct listings, Coinbase (COIN) stock is now available for trade.
For many, the option to buy shares in Coinbase has been long-awaited as the firm is perhaps one of the largest representatives of digital assets in the world, and despite what you may personally feel about the firm, they've made a positive impact on the way the world views and treats cryptocurrencies.
Coinbase shares opened at $381 on April 14, and the price shot up to highs of approximately $429 prior to dropping below the debut price to around $310. The listing gave the exchange an initial market cap of $85.8 billion, and at the time of writing, the price of COIN stock sits at $280.66, with a market cap of $51.199 billion.
Note: This is not a digital asset or cryptocurrency, COIN is traditional a stock listed on Nasdaq.
In this brief guide, we'll show you how to buy Coinbase stock using the popular trading platform, E*TRADE, as our example.
Step 1:  Register an Account
Start off by signing up for a brokerage account. This allows you to access the capital markets.

Step 2: Select Your Order Type
Now that you're ready to go, click on the "Trading" tab, followed by "Stocks/ETFs" (as shown in the image below.) In the "Symbol" box, search COIN to pull up the Coinbase stock.
As this is your first time purchasing, select "Buy", and enter the quantity you'd like to purchase, and at which "Price type". For this example, the images below will be using "Market" as this is the most simple form of order as it buys/sells immediately at the current price.
"Limit" is another type of order that buys/sells stock at a price you target, which can be higher or lower than the market price, and it will execute if you get the desired price or better.
A "Stop" allows you to set a sell order to trigger should your asset price fall below the point you specify. This method is employed to prevent steep losses.
Note: There are other options for trade, though to keep it simple we have highlighted the most common trading methods.
Regarding the "Duration" tab, you can select "Good for day", which will keep the order in effect for one day, or until it has been fully canceled or completed. "All-or-None" is another duration option that you can pick if you want to enter an order that must buy or sell at the full quantity you specified, or else it won't execute at all.
When you're ready, click "Preview order" and move on to the next screen.
3: Complete Your Order
You'll now come to this screen, which is where you'll confirm the details of your trade and when you're ready, hit "Place Order".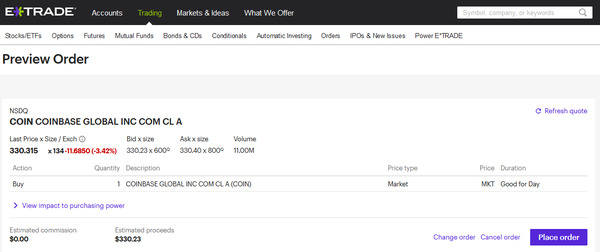 Congratulations! You've just made an order to buy Coinbase (COIN) stock.
Looking Ahead
The Coinbase Nasdaq listing is a watershed moment for the industry as it grants investors greater exposure to a company that they may have never considered as viable, and by proxy, digital assets. Being one of the largest cryptocurrency exchanges and bitcoin brokers in the world, it's rather fitting to see Coinbase listed on one of the largest securities marketplaces in the world.
Digital assets are here to stay, and the Coinbase listing is a bullish indication for other blockchain firms for the foreseeable future.
Further Reading
Subscribe to Bitcoin Market Journal today and stay up to date with the digital asset markets.