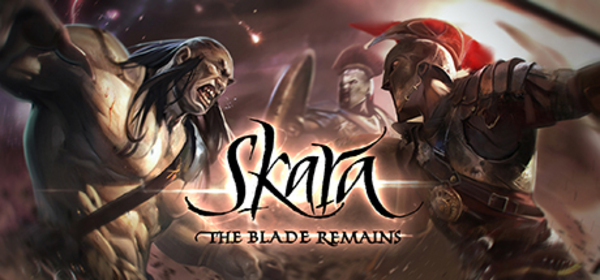 The Quick Pitch
Video games have experimented with purely digital currencies and digital assets for years, often with great success. However, until the advent of blockchain technology, these economies existed in official isolation to the real economy.
Skara aims to change this. Its token, SKARAT, overcomes the barrier by creating a new cryptocurrency in the form of an ERC-20 token based on the Ethereum blockchain which can be traded on the open market.
The Skara ICO began on February 8, 2018, and continues through February 23, 2018. Details are available at skaratoken.com. You can also follow the ICO on Bitcoin Market Journal.
The Problem and Solution
For a number of years, video games have allowed players to acquire in-game currency or assets. Those currencies and assets are typically designed to be spent inside the game in order to unlock features or services.
Although some auction websites exist where players can trade in-game assets for real-world currency, this system has several drawbacks:
It requires players to sell assets through a middleman, which reduces privacy and profits.
Players of games that are not massively popular may not be able to find buyers for their digital assets because there is not enough demand for them.
In-game assets are typically controlled by the game vendor, which could delete them or change their value at will.
The vision behind the Skara token, SKARAT, is to change this by using a digital token as in-game currency that can also be traded on cryptocurrency exchanges. In this way, the SKARAT token has direct value both in the game and in the real world.
SKARAT is designed to enable a transparent in-game economy that seamlessly integrates with the real world. Because tokens are stored on the blockchain, they cannot be taken away from players or controlled by a central authority. They can also be exchanged in real time for other cryptocurrencies without requiring a tedious auctioning system or matchmaking process between buyers and sellers.
Skara – The Blade Remains, a fantasy combat game that was released in 2017, is the game for which SKARAT tokens were designed, although they could theoretically be incorporated into other games. Development of the game itself began in 2013, but blockchain-based assets did not become a part of it until September 2017.
The Team
Skara has two co-founders:
Pablo Rodriguez, who has fifteen years of experience in the video game industry, according to the Skara website.
Cesar Ortega-Domene, who has a background in business development.
Neither of the founders appears to have been involved in blockchain projects prior to the launch of Skara.
The Token
SKARAT tokens allow players of Skara to purchase features within the game, such as skins for their characters. In addition, winners of Skara combat matches are rewarded using SKARATs, and spectators can bet on the outcome of matches using the token.
According to the SKARAT whitepaper, the real-world value of SKARAT tokens will be assured by the "daily activity by the millions of players we are forecast to have playing." In other words, because players will want the tokens in order to obtain in-game features, the theory is that they will be willing to purchase them using fiat currency.
SKARAT is an EC-20 token and requires an Ethereum wallet.
In addition to the ICO event in February 2018, SKARA tokens will be permanently available for purchase via the Skara game website.
The Community
The SKARAT token has a Telegram group. There is also a Twitter account for Skara the game, which provides frequent updates about the token.
Source code for the Skara game and the SKARAT token does not appear to be publicly available.
Next Steps
Skara and the SKARAT token must overcome two major challenges to succeed.
The first is competition. Skara is not the only video game platform that leverages blockchain technology. FirstBlood has a similar (though not identical) vision. Skara and its token must prove compelling enough to achieve widespread adoption even though other platforms offer similar features.
The second challenge is acquiring a large user base. As noted above, the Skara team itself recognizes that the game will need "millions of players" active on a daily basis in order for its token to become valuable enough to be instantly exchangeable for fiat currencies and other altcoins.
Although Skara claims on skaratoken.com that it has more than 350,000 players, evidence suggests that most of them are not active. Steam, the platform that hosts the game, reports that at most times there are only a handful of active players. The all-time highest number of users playing concurrently barely surpassed 500. That is far short of what SKARAT tokens will require in order to achieve significant value.
On the other hand, Skara and its token stand out from the typical blockchain project in some ways. You could argue that the creation of the game — which is no small feat, since developing a video game from scratch requires a fair amount of work — provides intrinsic value to the cryptocurrency. In other words, SKARAT tokens are backed by an asset, the game, that has real-world value.
That value may currently be limited, given the small size of the user base. However, in this respect SKARATs still have more going for them than, say, bitcoin, whose value is almost entirely driven by speculation rather than a real-world asset.
It is also worth noting that the Skara project has been active since 2013 when development of the game began. (It is unclear whether the developers planned the integration of blockchain-based features at that early date.) In that sense, Skara is a much more firmly established project than the typical blockchain startup; most blockchain projects are just a few years old, if that.
The bottom line is that although it is unclear how much SKARAT tokens might appreciate, the fact that they are backed by a real-world asset probably means they will not lose their value entirely even if Skara fails to acquire millions of users. Of course, if Skara's user base does grow large, the tokens will be worth much more. The risk of SKARAT investment is lower than that of most altcoins, which lack intrinsic value, and the payoff could possibly be very large.
To get updates about this ICO project, you can subscribe to the ICO here.
For information about other current and upcoming ICOs, you can visit our initial coin offerings page, which is updated continuously to provide the best information about ICO projects.
While you are there, take just a moment to subscribe to the Bitcoin Market Journal newsletter to stay on top of the latest ICO news.