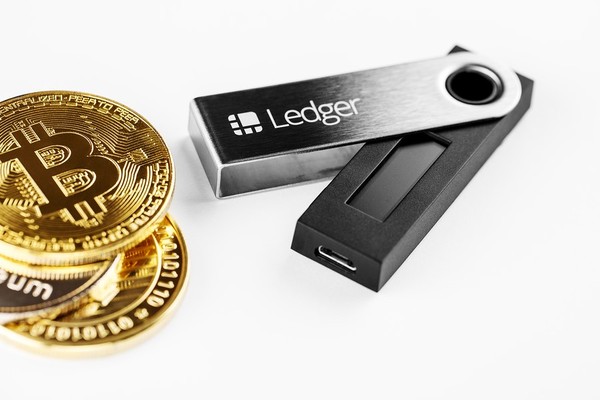 Being Ledger Nano S's direct successor, the Nano X hardware wallet is obviously the superior product at this point.
What improvements does it offer over its proven and immensely popular predecessor?
While Nano S only works with a USB cable and a desktop/laptop computer, thanks to its Bluetooth connectivity, Nano X works with mobile phones.
Nano X features larger data-storage capacity (holds more apps).
Unlike Nano S, Nano X carries a battery. It is therefore noticeably heavier than its predecessor. It also needs to be charged.
The display of the Nano X is larger and visually superior to that of the Nano S.
Nano X's buttons are sturdier and superior in every way to Nano S's protruding and fragile-looking buttons.
The Control Center feature of the Nano X offers access to scores of settings and extra information, such as battery life.
Suppose you just picked up a Nano X and a Nano S and you unboxed them. How do you go about setting them up?
How to Initialize Your Nano X Hardware Wallet
Your Nano X comes with a USB C cable. Make sure you charge your device before you begin the initialization. Otherwise, it may quit on you halfway through.
Open up the swivel cover. Press and hold the large round button next to the USB port for 3 seconds.
A Welcome screen appears. Press the other button to navigate away from it.
Select the "Set up as new device" option and press both buttons.
Choose a PIN with the Up/Down buttons and press them both again to confirm it. You will have to re-enter your PIN for final confirmation.
After you enter your PIN, the device will require you to write down your 24-word recovery phrase. Write down the first word, then press the right button to have the second one displayed. When done, confirm the phrase by re-entering the 24 words in the correct order.
The device will take you to the dashboard screen. This is where you can access the Control Center and where you can install apps.
Download the Ledger Live app from the App Store or Google Play and install it.
NanoX takes you through a Security Checklist. Provide the answers and hit Continue. You can configure your PIN and recovery phrase through Ledger Live too. Since you've already completed those steps, just tap "Continue".
Tap Pair and Add New Nano Ledger X. Confirm the request on your Nano X device. Allow Ledger Manager.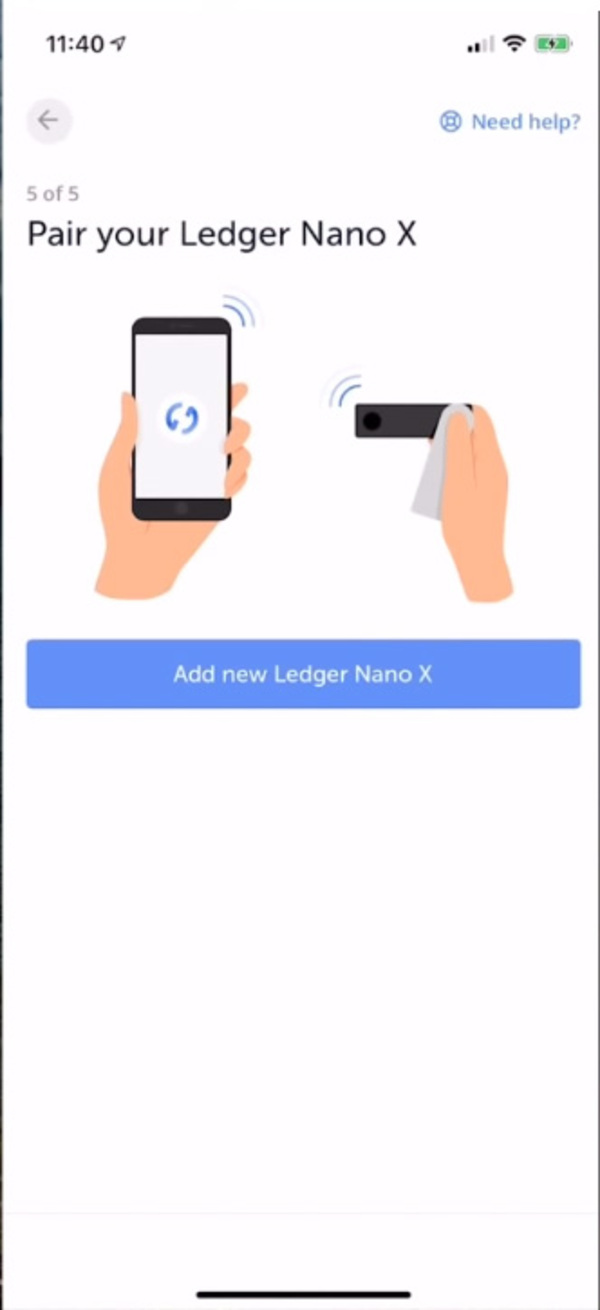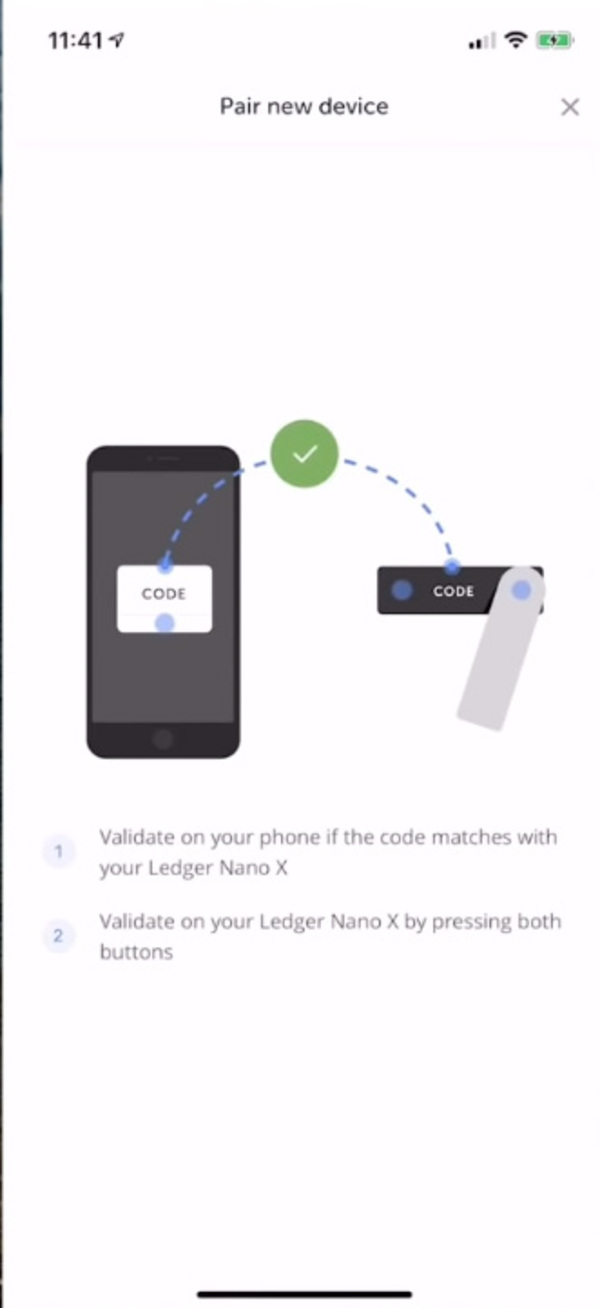 Through Ledger Live, you can install the apps you need and the accounts associated with them. Note that some of the apps do not have supported account options. This means that you can store those coins, but you will need third-party apps to manage your balances.
How to Initialize Your Nano S Hardware Wallet
Your Nano S does not carry a battery and it does not have to be charged. To power it on, simply plug it into a USB port on your computer and you are ready to go.
On the Welcome screen, the device prompts you to push both buttons to begin.
Choose the Configure as New Device option, and create a PIN code. Use the two buttons to scroll the numbers up and down, and push them both to confirm. Choose the check mark when you are happy with your PIN and press both buttons.
The 24-word recovery phrase is next.
Write down the first word and advance to the next one. Hit both buttons when all 24 words have been written down.
Install Ledger Live on your computer, and connect to your device with it.
Answer the questions in the Security Checklist, check if your device is indeed genuine, and you are ready to begin installing apps.
Create at least one account for every installed app and you are ready to receive, send, and manage digital assets.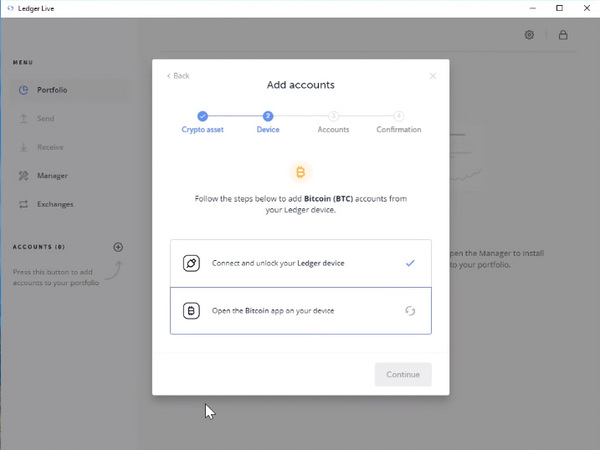 Please note that you can create a wallet through the above-detailed steps, store bitcoin/altcoins in it and then re-initialize your Nano X or S. This move will delete all information from the device. As long as you have your 24-word recovery phrase, however, you can reconstitute the original wallet and its contents on your current or any other Nano X or S device.
This way, you can actually create a "decoy" wallet, never having to reveal the contents of the "real" one, even under duress.    
Ledger Live will notify you when you need to update your firmware. Look for the notification in the Manager section. Simply follow the steps required by the update process. Pro tip: Do not rush the update. You may want to wait a few weeks after it becomes available. The one from v1.4.2 to v1.5.5 came with kinks and had users screaming foul. Its kinks ironed out, a month later it worked as intended.
Subscribe to the Bitcoin Market Journal newsletter for additional relevant step-by-step guides and tips.