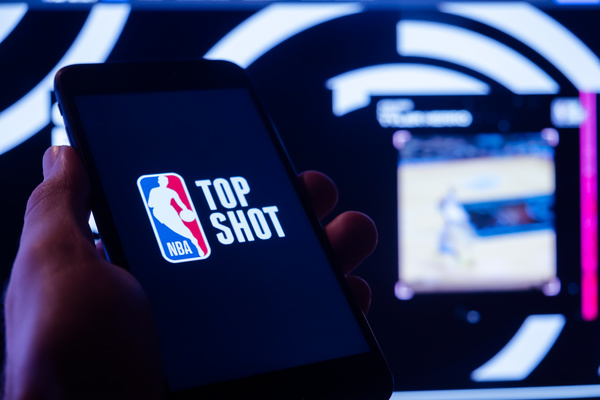 The NFTs is booming with celebrities, influencers, actors, and even some of the world's largest brands jumping on the bandwagon.
In this guide, you will learn about NBA Topshot and how you can start collecting "NBA Topshot Moments" NFTs that may become worth a lot more in the future.
What is NBA Topshot?
NBA Topshot is an NFT collectibles game that allows you to buy, sell, trade, and collect "Moments."
Topshot Moments are short in-game video clips of particularly amazing plays that exist as unique, non-fungible tokens on the Ethereum blockchain. 
At the time of writing, the cheapest NBA Topshot was only $5 on their secondary marketplace, it increased to $6 while before publication. The most expensive was $240,000!
Like collectIble cards from your childhood, where you didn't know what was in the pack until you ripped it open NBA Topshot has a variety of packs to choose from.
Why is an NBA Topshot NFT Worth as Much as a House?
The simple answer is something is worth whatever anyone is willing to pay for it.
So what makes a limited edition video clip of Ja Morant dunking in 2019 worth so much more than a common edition video clip of Patrick Beverley doing a lay-up in 2020? What makes these worth anything at all when you could watch the entire game replay for free?
Let's take a deep dive into an industry that has the potential to become the norm rather than the new thing.
Digital Assets are Going Mainstream
Gamers have been swapping real dollars for in-game currencies and character modifications or skins for years. Usually, these assets are not transferrable outside of that game. NFTs are revolutionizing this space with the mission of making them transferable across any platform.
NBA Topshot is capitalizing on this adoption by allowing fans to own a moment of NBA history.
Why is an old jersey or basketball with a player's signature worth more than a new one you can buy at the store? Because fans say they are.
Recording these collectibles on the blockchain means you won't have to get an expert to verify the signature is authentic before buying or selling your prized memorabilia. It's recorded on the blockchain that these are authentic and licensed.
Being digital with unique serial numbers and on the blockchain means no longer having to worry about the grading of a coin, stamp, card. NFTs are always verifiable and kept in pristine condition.
There are four collectible tiers:
Common Tier – Are open edition like the art world where the artist can print as many copies as they like. There will be a minimum of 10,000 and the cc shows the number minted so far.
Rare Tier – Are a limited edition of between 500-4999.
Legendary Tier – Are a limited edition of between 50-499.
Ultimate Tier – These are only available via auction. Ultimate Tier has two sub-tiers:

Platinum Ice is an Edition of 3.
Genesis is an Edition of 1.
How Do You Buy NBA Top Shot Moments?
If you already have an account, log in. If you need to set up an account you will need to register with Dapper before you can use NBA Topshot. Dapper Labs is the company that built NBA Topshot.
Like other account and payment services (for example, PayPal or a Steam wallet), Dapper will store your approved payment methods, your prized digital goods, and your digital currencies.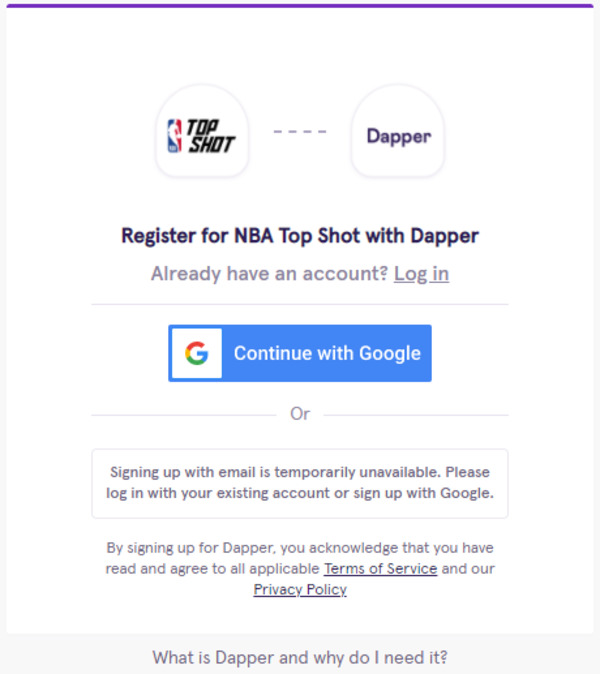 If you don't have a free Google account you will need to sign up for one. If you have one you can sign up and after getting a verification code on your phone you will be given a recovery code.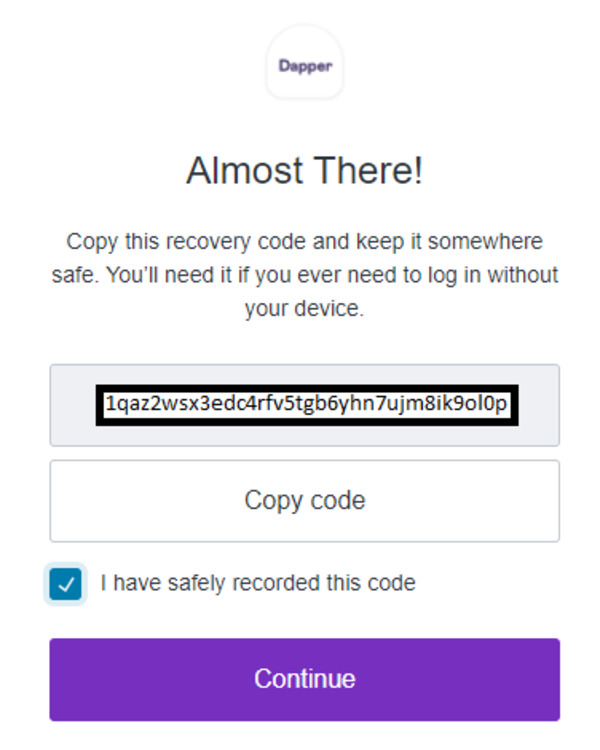 Make sure you store your recovery code safely. The one in the above screenshot is not yours, do not write this one down. Think that online services can be hacked, as can your computer and many things can happen to a piece of paper left on a desk. It would be a sad day if your $10 NBA Topshot today became a $10,000 NBA Topshot in the future and you couldn't access it.
The next screen gives you the option to be notified of when new packs are released. If you want to buy Moments as investments, you may want to be alerted of new releases.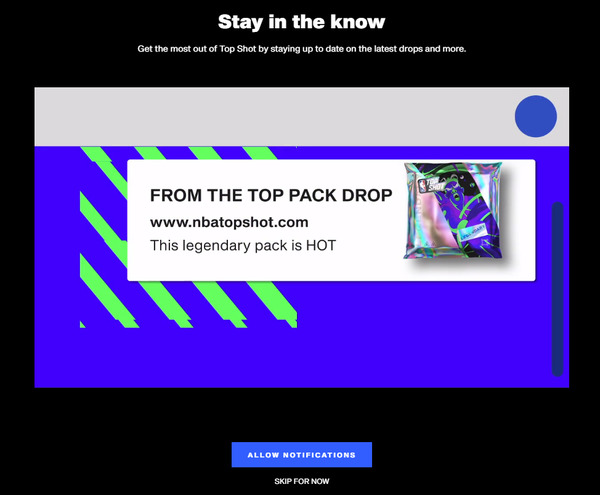 Next, you can join other fans in the NBA Topshot discord and pick your favorite team. Which is yours?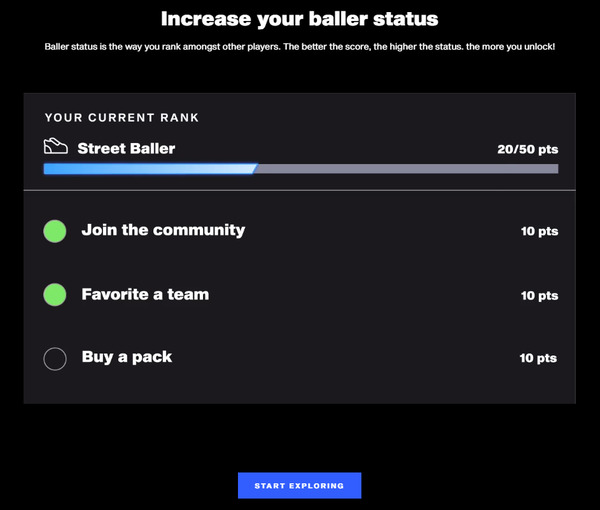 The NFT collectibles game also requires you to verify your identity. In light of how much money your Moments could potentially be worth it's good to verify your account and attach it to your name.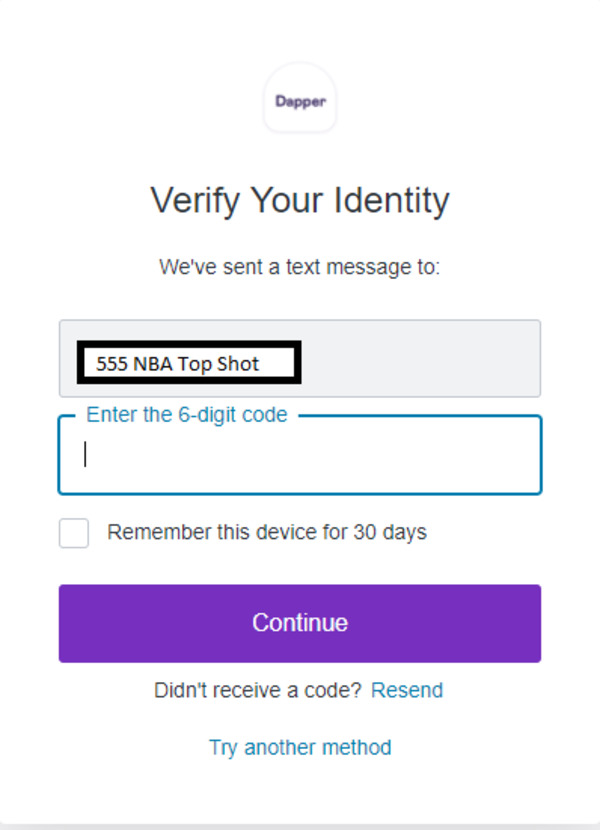 Once you are ready to buy your first moment, you have the option to pay with cryptocurrency or a credit card.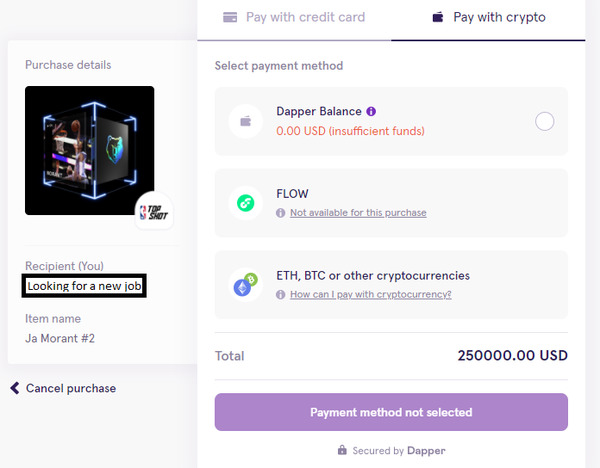 One of the reasons why Topshot Moments have become so popular so quickly isn't just due to the loyal following of NBA teams and players. It's that you don't need to know anything about the blockchain or cryptocurrencies to own these.
If you pay with a credit card it's just like going shopping anywhere else. This is where the digital asset space is moving to be as seamless as regular shopping.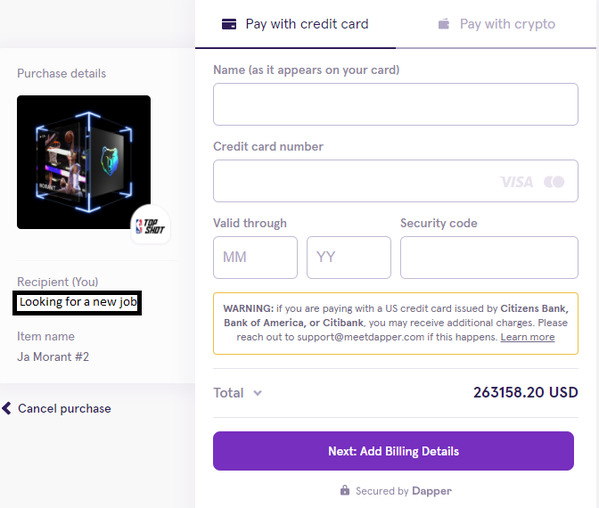 Nothing in this how-to guide should be considered investment advice. Every collectible market from art to wine to cars has cycles, and there are certain items for a multitude of reasons that outperform other items. Only you can decide if these are for you.
Related Articles:
If you want to continue learning about digital assets,  subscribe to Bitcoin Market Journal newsletter today!