LocalBitcoins is one of the best-known peer-to-peer marketplaces for bitcoin trading. The website links buyers to sellers, and claims over 1,000,000 registered users from 249 countries.
LocalBitcoins provides an alternative to major bitcoin exchanges such as Binance and Kraken. It accepts over 60 different payment methods.
You can buy bitcoin either online or in-person using LocalBitcoins.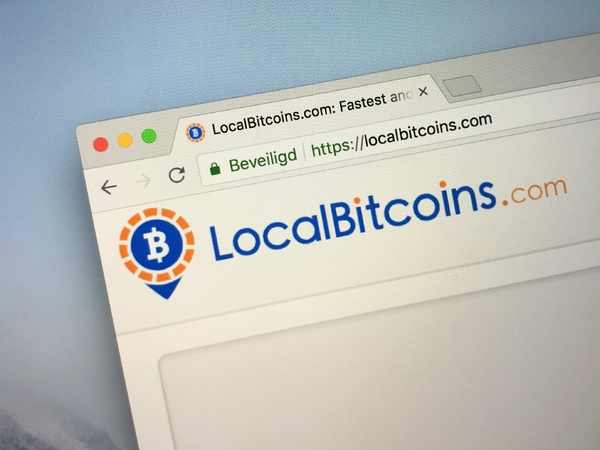 Escrow
On LocalBitcoins, you will be trading with people you may not know and trust. To stop the seller from just taking your money after you have paid, LocalBitcoins puts the amount of bitcoin being sold in escrow. If the seller doesn't release your coins after receiving your money, LocalBitcoins will.
This escrow feature is the default for online trades but not for local trades, where you meet someone face-to-face.
Payment Choices
LocalBitcoins offers many different payment methods, but you may not be able to buy bitcoin using some of these methods.
Some payment methods are riskier for sellers than others. As mentioned in the BMJ article on buying bitcoin with Venmo, our team could not find a seller who would accept Venmo.
The FAQ page on LocalBitcoins explains why:
"Bitcoin transactions are irreversible, most traditional payment methods can be charged back. This creates risk for the person selling the bitcoin, as PayPal or a bank can take the money someone paid him out of his account after he has sent away the bitcoin. That is why traders need to have a high price for certain payment methods, to protect themselves against this risk."
Payment methods on LocalBitcoins are grouped into three levels based on risk.
High-risk methods are easy to reverse and risky for the seller, while low-risk methods are harder to undo and less risky for the seller.
Stay Safe
If you choose to buy bitcoin in person, you also will face additional risks. Think about it; you do not know the seller, but the seller knows that you are carrying a certain amount of cash. The seller could try to rob you. To reduce this risk, meet in a public place (such as a coffee shop) during the daytime.
Buying Bitcoin on LocalBitcoins
Here's how to buy bitcoin using LocalBitcoins:
Step 1: Go to LocalBitcoins
Check to make sure you have a secure connection, and that this is the actual LocalBitcoins website, and not a fake version set up by scammers.
Step 2: Create an Account
Go to https://localbitcoins.com/register/
If you already have a LocalBitcoins account, you can skip this step.
Step 3: Choose a payment method
Remember, if you choose a riskier method like PayPal, you will probably have to pay more.
Step 4: Choose an Offer
The escrow feature reduces your risk, but it does not eliminate it. There are two numbers next to the seller's name; the first is the number of confirmed trades, and the second is the feedback score.
Let's go with the first one. He has 1,000 confirmed transactions and a 100% feedback score.
Click on the offer and also look at the trade limits and payment window (how long you have to get them the money).
You can buy between $150 and $6,994 worth of bitcoin from this user, and you have four and a half hours to get him the money.
Step 5: Send Trade Request
Type in the amount you want to buy, and send the trade request.
Finally, confirm the transaction.
After the Trade
After the deal closes, check to make sure the coins have been added to your LocalBitcoins wallet. You may want to move the coins to a hardware or paper wallet for added security.
If you run into trouble, you can report fraud to LocalBitcoins or try to get the payment reversed.
Before you decide to buy bitcoin, you may want to learn more about digital currencies. For regular updates, subscribe to the Bitcoin Market Journal newsletter today!