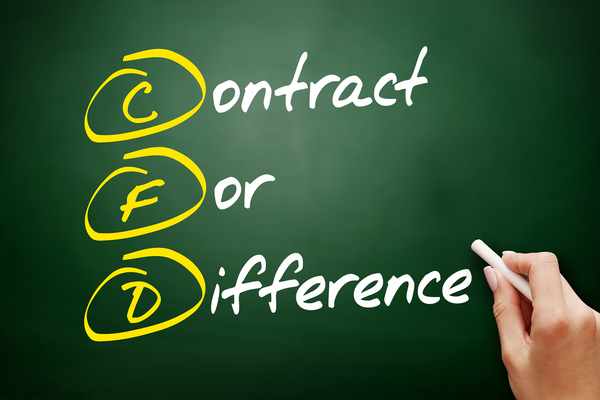 If you're new to bitcoin trading, there's a good chance you are yet to hear about bitcoin CFDs. CFDs (Contracts for Difference) are financial derivatives that enable you to bet on the price development of an asset, such as stocks, bonds, or bitcoin.
In this guide, you will learn what bitcoin CFD trading is and discover a list of the best crypto CFD trading platforms that you could use in 2020.
What is CFD Trading?
CFD (Contract for Difference) trading is a way to trade digital assets without actually owning any. It's a great way to trade bitcoin and altcoins without getting into the technical aspects of holding a digital coin.
When you trade using CFDs, you don't have to mess with backing up your personal keys, owning a wallet, or any of the other components of bitcoin that many people find intimidating or complex. It also eliminates some of the risks associated with holding bitcoin.
With a CFD, you're buying a particular asset, like bitcoin, at a given price. From that point, the price moves up or down. Once the valuation of bitcoin hits the level you want, it's time to conclude your contract. You receive the difference between the price at the end of the contract and the price at the beginning.
So, if you started your contract when bitcoin was worth $8,000 and ended the contract when it was $9,500, you've made $1,500 on your bitcoin CFD.
Top Bitcoin CFD Trading Platforms for 2020
One of the challenges with using a CFD platform is finding the right one. How do you know which one is best for you and what you need? Here's our breakdown of five leading bitcoin CFD trading platforms available in 2020.
| Name | Description | Withdrawal Fee | Minimum Deposit | Digital Coin CFD Markets | Base Currencies | Score |
| --- | --- | --- | --- | --- | --- | --- |
| eToro | eToro is one of the largest platforms in the bitcoin and altcoin market. You'll not only have access to its CFD market, but to its exchange as well. You can buy, sell, and trade your favorite digital coins in nearly any manner you wish. With eToro CFDs, you can leverage your positions up to 2x. Plus, if you want to play around with the platform before using your own money, eToro gives you a demo account. | $25 | $200 | 15 | 1 | 2.3 |
| IG | IG is considered by many as one of the most reliable CFD brokers in the world. It offers an excellent trading platform that is easy to use and navigate. You'll receive top-notch customer service when using the IG exchange, plus it's very easy to deposit and withdraw funds. It's easy to see why IG is a highly-ranked bitcoin CFD trading platform. | $0 | $0 | 6 | 4 | 4 |
| Plus500 | If you're looking for a platform that's been around for a while, Plus500 has been in the CFD market for over a decade. The exchange is registered in the United Kingdom and offers access to CFD trading for digital coins. As the first broker to provide bitcoin as a CFD option, you know that you're in good hands when trading. Additionally, Plus500 charges no commissions on its trades. | $0 | $100 | 9 | 3 | 3.5 |
| Markets.com | For those who want to focus only on CFD trading, Markets.com will get the job done. This platform is easy to use, offers low trading fees, and provides excellent research tools. Opening an account is very easy, as is the deposit and withdrawal process. It's a solid choice for your CFD bitcoin trading. | $0 | $100 | 5 | 5 | 3.8 |
| XTB | XTB is a great platform for CFD traders who like swift funding and withdrawal processes. The site is easy to use and offers an intuitive user interface. You'll also receive plenty of research tools when using this platform. Like other CFD platforms, XTB offers its users a demo account so they can give it a try before depositing funds. | $0 | $250 | 16 | 4 | 3.8 |
What Makes a Good CFD Trading Platform?
Now that you have a solid idea of which trading platforms are best for bitcoin CFD trading, what should you look for when choosing the one that works best for you?
Here are a few factors to consider:
Account opening: Some platforms require a minimum deposit amount while others don't have a set first-time deposit. If you have a particular CFD platform in mind, visit it and determine what their requirements are for those who new to the site.
Deposits and withdrawals: There can be significant differences between CFD platforms when it comes to deposits and withdrawals. The disparity can be so large that there are some that take five times longer to complete these types of transactions than others.
Fees: Fees are another area in which there can be a great disparity between platforms. There can be fees that are 10-15 times higher at one CFD broker than they are on another. It's definitely worth it to take a moment and verify fees before selecting your CFD platform.
Markets: There are more digital currencies than just bitcoin, but if that's the only one you're interested in, then find a platform that supports it. However, there are also platforms that offer markets for altcoins like litecoin, ripple, ether, and many others.
Related Reading:
Bitcoin trading is gaining popularity across the globe. To stay on top of this trend and more, take moment to subscribe to Bitcoin Market Journal.