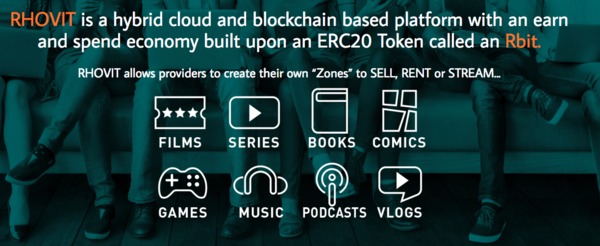 The Quick Pitch
RHOVIT is a media distribution platform using blockchain technology and a digital coin, Rbit, to reward participants in the community. The Rbit token is an ERC20 token built atop the Ethereum platform that is used and mined on the RHOVIT Platform and distributed out to the RHOVIT community in a variety of ways.
RHOVIT is a provider uploaded content site that hosts films, series, books, comics, games, music, podcasts, and vlogs.  People in the creative community will upload content and get paid by the Rbit. Content on RHOVIT is stored and distributed via the cloud but all transactions are recorded on Ethereum blockchain. The founders believe their hybrid system of cloud/blockchain and virtual/cryptocurrencies is a viable way to monetize digital content, bring cryptocurrencies to the masses, and increase the value of the Rbit token.
The Problem and Solution
Content providers struggle to monetize their movies, books, articles, promotions, artwork, and ads. Content providers face high platform fees, transaction fees, middlemen, skipped ads, ad blockers, and low cost per thousand (CPM) fraud bots. Other challenges are piracy, audience reach, and expectations of free content.
The team says RHOVIT is an earn and spend circular economy that creates and spreads value to its entire community.
The RHOVIT whitepaper states: "RHOVIT was created in 2012 by filmmakers who wanted to fix the system. Not just for film, but music, books, games…for all creators. The idea was to give artists all the power of a major platform but the freedom and profit of their own site. It was a better system but it wasn't complete. In 2014 we sidelined the project. So why are we bringing it back now? Because of technology like Ethereum and the ability to complete what we started."
The Team
Founders Matt McCullough and Mary McCullough are leaders of the 11-member team listed here, based in Los Angeles. There are seven advisers/investors. The founders have a background in film, media, marketing, and business and have linked up with some leaders in the gaming and media industry, including Phillipe Erwin, a gaming executive with Vueality.
The Token
The pre-ICO sale began Oct. 25, 2017. The Rbit is used to fuel all promotions on the RHOVIT platform, which include advertisements, content promotions,  and sponsored social media posts. Content providers and advertisers will each have their own dashboard to determine the parameters for their advertising/promotional campaigns including Spend (in Rbits) and Audience Metrics.
Users will be rewarded a portion of the amount providers spend in Rbits on RHOVIT for each ad or promo they watch. Sponsored posts that are shared will earn Rbits too. To ensure the ad has been viewed, users will be asked to do a verification action to complete the transaction.
The cap for Rbits that will ever be created is 180,000,000. Half of those (90,000,000) will be created during the initial phase of the ICO. The remaining 90,000,000 will be mined on the RHOVIT platform with a cap of 150,000 able to be mined weekly. Rbit tokens are mined by the completion of "Value Transactions"(VTs) on the RHOVIT Platform. VTs occur anytime a Rbit token or a coin is exchanged on the site. For instance, the purchase of content or viewing of an ad would be a VT. The amount of VTs needed to mine one Rbit will increase as the user base for RHOVIT increases. The minimum amount needed to mine one Rbit shall depend on which is greater: 25 VTs to mine one RBIT, or the average of 20 VTs per user per week to mine the full amount.
RHOVIT coins are virtual currency and have a set value of $.005. Users need coins to view and purchase content on Rhovit unless it is gratis, promotional, preview videos, or a trailer. Users can both earn and purchase coins. Coins are purchased by the pack using a credit card or PayPal account. Coins are kept in a user's "coin bank" and are only for content. They cannot be used to purchase or exchange for Rbits or to fuel incentives. Coins allow for micropayments for as little as $.005 as a stable currency for content providers.
Rbits are distributed to content providers on a weekly basis while RHOVIT coins are distributed to users. Once a year, an annual "dividend" of the Rbit tokens collected in the user pool will be distributed out to the user community.
The Community
RHOVIT has 2004 followers on Twitter and has a presence on GitHub,
Facebook, and Instagram. In a Huffington Post piece by Jerica Glasper featuring co-founder Matt McCullough, McCullough said: "Rhovit is a hybrid cloud and blockchain platform, which basically means we can utilize the actions of users on our site, i.e. renting movies, buying games, downloading songs, even watching ads, to create value for the whole community in the form of tokens. It's this creation process that allows our users to actually earn money consuming content and creators to keep 100 percent of everything they earn."
Next Steps
The project's timeline includes the ICO in Q4 2017; release beta version of the platform in Q1 2018, and then open Rhovit to the public in Q2 2018. Like most startups, the key for this project to succeed is getting participation. Growth in participation likely will drive the value of the Rbit coin. A RHOVIT Twitter post says RHOVIT delayed the pre-ICO sale to Oct. 25 so staff can provide a sneak preview of RHOVIT 2.0 and demo.
The most confusing aspect of RHOVIT is having two coins, the Rbit and the RHOVIT coin. Critics might suggest one coin, to keep it simple. Nevertheless, this is a laudable idea for providing income for artists, musicians, and filmmakers, as the creative community could use a better way to leverage its talents into greater financial rewards.
For up-to-date information on other current and upcoming ICOs, visit our initial coin offerings page, where you can sign up for updates on additional ICOs as well.
The Bitcoin Market Journal is full of relevant, actionable information for investors in bitcoin, altcoins, and ICOs.