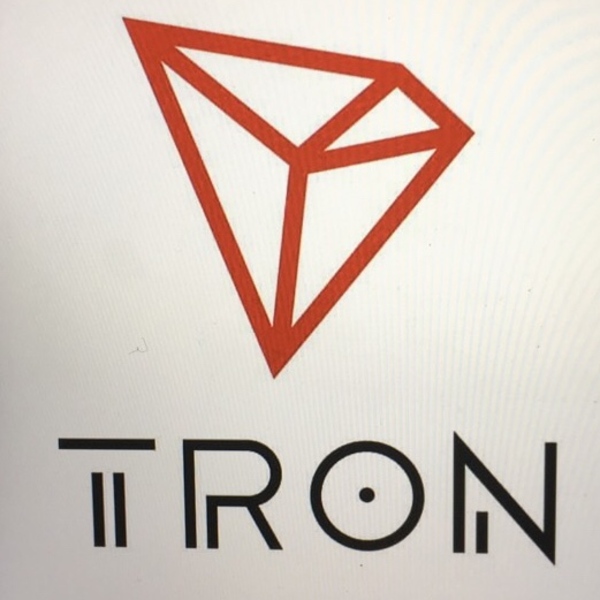 Tron (TRX) has been one on the hottest altcoins in the final quarter of 2018 and heading into 2019. The project has been moving forward aggressively, calling itself the "Ethereum killer," and looking to become the largest blockchain operating system for smart contracts and decentralized applications.
The price of Tron in bitcoin terms has more than doubled from November 2018 through the end of January 2019, and the altcoin was able to break into the top ten as measured by market capitalization.
In light of all of these exciting developments for Tron, now is a good time to add some Tron to your holdings. While the coin has shown impressive recent growth, it's also shown itself prepared to grow massively in the coming years.
The Step-by-Step Process for Purchasing Tron
Because Tron hasn't been considered one of the major coins like bitcoin and Ethereum, you can't simply go to Coinbase to buy it. Don't be discouraged though. It's still easy to buy Tron, as you'll see below.
Step One: Purchase BTC or ETH.
We'll begin our purchase at Coinbase. If you don't already own some BTC or ETH to trade for TRX, you'll need to get some. Coinbase is one of the easiest places to buy BTC and ETH. If you don't have a Coinbase account, you'll start by creating one. (Here's our easy guide to doing just that.)
If you already have a Coinbase account you can simply log in and purchase as much BTC or ETH as you'd like to exchange for Tron. Pro tip: Remember to add a bit more to cover transaction fees.
Step Two: Open an account on a major cryptocurrency exchange.
Next, you'll need an account at an exchange where you can sell BTC or ETH for TRX. There are several places where you can do this, including Binance, Bitfinex, Bittrex, and dozens of others. A full list can be seen here, but for the purposes of this guide, we will use Binance. It's a good choice because it is the largest crypto exchange in the world, has excellent security, and offers some of the lowest fees in the industry.
So, if you don't already have a Binance account the first step is to create an account over at Binance. It's easy enough. Simply click the "Register" link in the upper right corner, fill in the requested information (email, password) and click the "Register" button. You'll receive a confirmation email from Binance, and once you click the confirmation link in that email, you can log into the Binance account.
Step Three: Retrieve the address from your exchange account.
After logging in, you'll need to find the deposit address for either BTC or ETH, depending on which you'll be using to buy your TRX. Go to the "Funds-> Deposit" link at the top and then you can choose what currency you're depositing.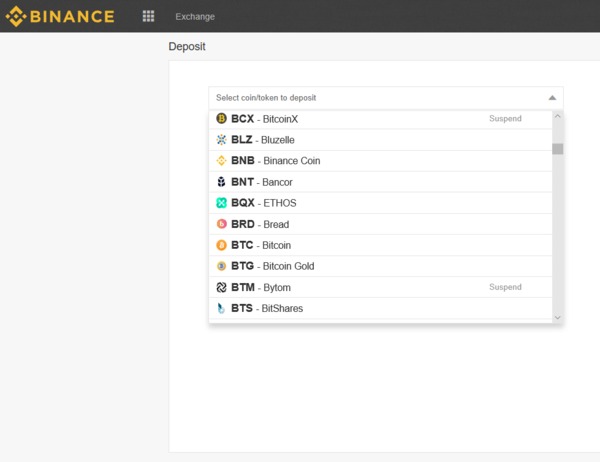 Once you choose the currency to deposit you'll be presented with the deposit address as shown below. That is for bitcoin, but it will look similar for any other coin you choose to deposit.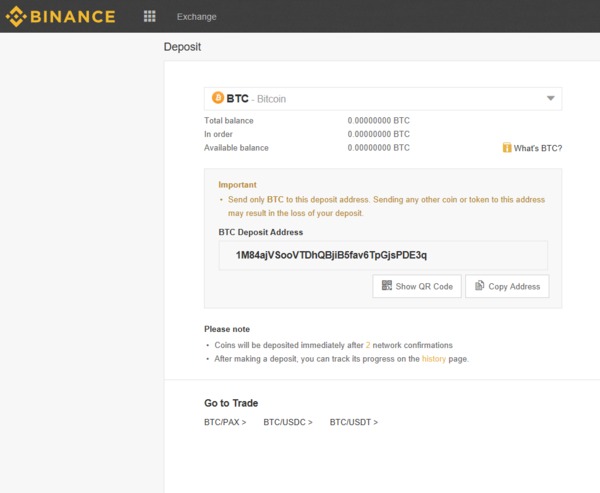 Now you have a deposit address and you can send your coins from Coinbase to Binance.
Step Four: Send BTC/ETH from Coinbase
These instructions are for Coinbase, but if you're sending Bitcoin from another exchange or wallet the instructions won't be extremely different. Basically, it involves entering the address you're sending your BTC to (which you just got from your Binance account) and entering the amount of BTC to send.
Navigate to Coinbase.com in your browser and log in. Then click on your "Accounts" tab. You'll see all your wallets on the left, with two buttons, one to "Send" and one to "Receive".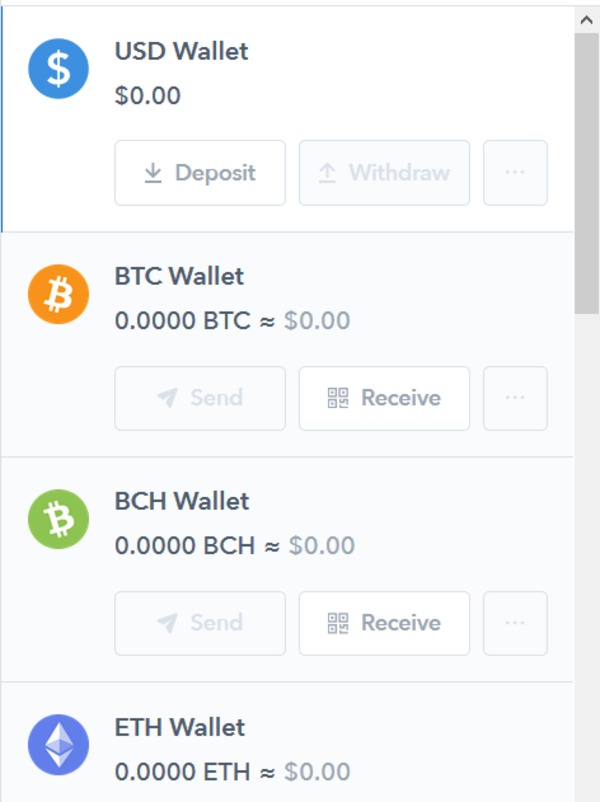 Find the correct wallet (This example uses bitcoin.), and click the "Send" button. Paste the receiving address you got in the previous step from Binance and the amount you'd like to send and confirm the transaction. It will usually take 10-20 minutes, and your BTC will show up at your Binance wallet.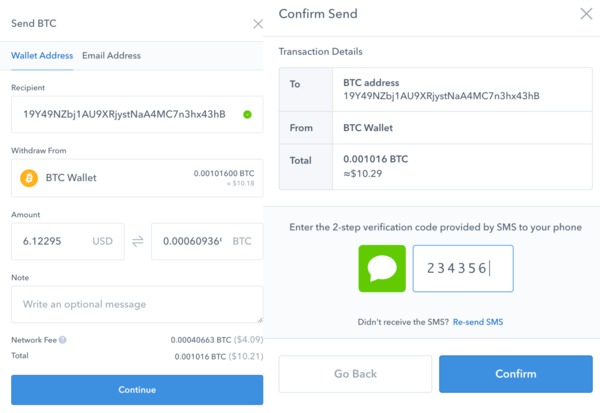 Step Five: Buy Tron (TRX) at Binance
Now that you have BTC (or ETH) in your trading account at Binance, you're ready to buy some Tron. Find the appropriate pair by searching "TRX/BTC" in the exchange search box.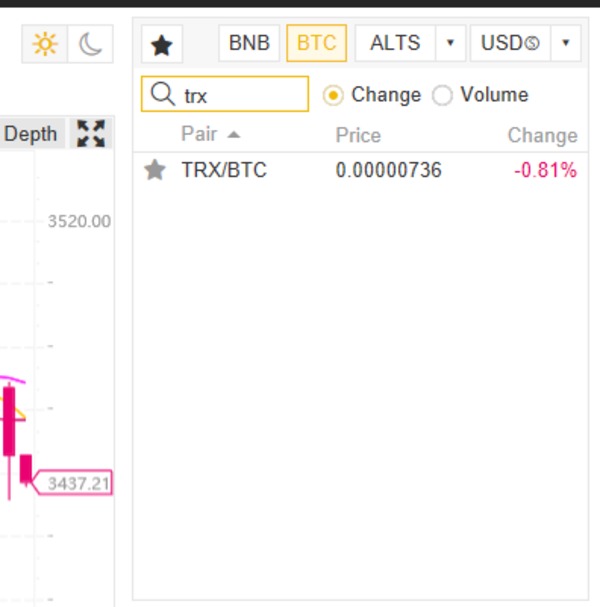 Double click the TRX/BTC selection and it will take you to the following page: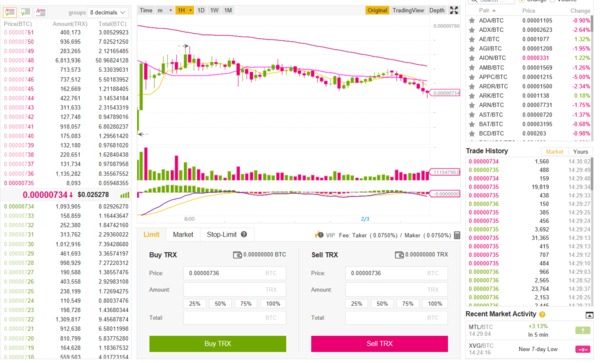 At the bottom of the page, you'll see the order box where you can buy TRX using BTC by simply entering the amount of TRX you want to buy and clicking the green "Buy" button.
Congratulations, you've just purchased Tron!
Step Six: Send Tron to Another Wallet
For the sake of security for your Tron currency, you will want to send your TRX to a secure wallet. It is never a good idea to leave any of your altcoins on any exchange unless you are actively trading them at the moment.
After you get your TRX stashed safely, the next best thing to do is to subscribe to the Bitcoin Market Journal newsletter to keep getting educational tutorials and learning all about the crypto markets.