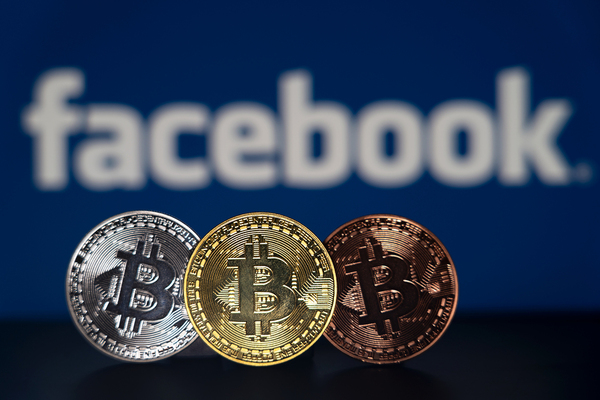 All signs point to Facebook working on launching its own cryptocurrency, possibly as early as the first quarter of 2020.
While the company hasn't made an official announcement regarding its plans revolving around blockchain development, both media reports and second-hand accounts over the past year and a half show that Facebook has an interest in blockchain technology and is working toward releasing its own cryptocurrency.
The only sure news has come from Facebook's head of financial services and payment partnerships in Northern Europe, Laura McCracken, who revealed to German magazine WirtschaftsWoche that a white paper would be released on June 18. She also said the new token will be linked to a basket of currencies rather than being tied to a single fiat currency.
Facebook's Interest in Crypto
Signs of Facebook working with blockchain technology go much further back however, with the first clear signs emerging in December 2017. That's when then vice-president of messaging products (Facebook Messenger and WhatsApp) at Facebook, David Marcus, joined the board of directors at cryptocurrency exchange Coinbase.
That's relevant because one thing the Facebook messaging products lack is payment functionality. Marcus was previously the president at PayPal, giving him immense experience in the digital payments space.
By May 2018, it was announced that Marcus was being assigned to lead a small team at Facebook to explore the potential of blockchain technology. Soon after, he resigned from his role on the Coinbase board of directors, citing the potential for the appearance of a conflict of interest.
Research Begins
By December of 2018 the work of that research group had obviously paid off as Bloomberg reported Facebook was planning on releasing their own stablecoin. It would compete with the most popular but controversial stablecoin, Tether. At the time the stablecoin was reportedly a WhatsApp focused product for the Indian market.
At the time an anonymous source confirmed Facebook's intention to launch a stablecoin, and also said that Facebook was negotiating with a broad group of cryptocurrency companies and leaders as backers of the project. According to this source, Facebook wanted the backing of existing blockchain projects and figures to allay any fears of centralization in the project.
Facebook wasn't wasting any time, and by February 2019 the company began putting together a solid development team. One source of talent was traditional job postings and hiring in early 2019, but to speed things along, Facebook also acquired the blockchain company Chainspace in February 2019. The acquisition was reportedly mostly about acquiring the people at Chainspace rather than the actual company.
It wasn't long until rumors emerged of Facebook looking for investors into its blockchain efforts. Of course with Facebook not ready to break the news, that's all it was at the time, just rumors. However, many venture capitalists said they heard of Facebook raising money for this new project.
It's no wonder that all that could be found was rumors, since it was said the blockchain efforts were only spoken of in person at Facebook's Menlo Park headquarters. Even then, those involved in discussions were all required to sign tight, binding non-disclosure agreements.
One other February rumor was that Facebook was already in talks with leading cryptocurrency exchanges. These rumors would be proven true by a May article in The Financial Times, which disclosed Facebook was in discussions with Coinbase and Gemini.
In April, there were further clues to Facebook's intentions as the company announced its new focus on privacy. Facebook's founder and CEO Mark Zuckerberg also said at the yearly F8 developer's event:
"I believe it should be as easy to send money to someone as it is to send a photo."
Of course, that isn't a direct announcement of Facebook creating its own cryptocurrency. It does fit into the larger picture though, and so does Zuckerberg's vision of a future Facebook that doesn't depend on the news feed as the main attraction of the platform.
That could mean Facebook is focused on creating a platform where tens of millions of private conversations could happen every day. With such a stream of encrypted private conversations, the most direct method of monetization could be an internal currency controlled by Facebook.
It's a huge order however, with Facebook reporting that 98 percent of its 2017 revenues of $40 billion were from advertising. The most recent analysis of the potential for a Facebook cryptocurrency came from Barclay's, where an analyst said in March that a Facebook cryptocurrency would likely earn the company as much as $19 billion a year by 2021.
Rumors of Project Libra
Remember those rumors of Facebook seeking funding that were floating around in February? By May they were substantiated, first in a tweet from New York Times reporter Nathaniel Popper, and then later by The Wall Street Journal, who reported that Facebook was in discussions with Visa and Western Union. Also in May, Facebook hired two cryptocurrency compliance experts, who had significant previous experience at Coinbase. It was reported that the noted crypto-economist Christian Catalini from the Massachusetts Institute of Technology had taken a role at Facebook.
A further sign of Facebook's interest in blockchain technology came from a Reuters report that the company had registered a company called Libra Networks in crypto-friendly Switzerland. That's key because the Libra name matches with what The Wall Street Journal had previously reported as Facebook's code name for their blockchain research, "Project Libra." According to the registration papers, Libra Networks is a company involved in financial services products, including a blockchain component. It was also reported that Libra Networks is being headed by Majella Goss, the person who runs Facebook in Switzerland.
Then in late May, the BBC gave the yet unreleased coin its moniker "GlobalCoin," and said testing for the cryptocurrency is expected to begin in the first quarter of 2020. The BBC suggested that the Facebook coin will be used in part to secure discounts from online retailers when using "GlobalCoin" to pay for purchases. One incentive for retailers to accept the coin, aside from the massive reach that Facebook has, is a lack of transaction fees for the retailers.
By all accounts, a launch is coming closer, with The Financial Times reporting in early June that Facebook has been in talks with the U.S. Commodity and Futures Trading Commission to see if the stablecoin being developed would fall under CFTC regulations.
Then on June 5 there was a report from The Information, a digital media company, that the Facebook coin could be unveiled within several weeks. At that time it was also reported that Facebook's cryptocurrency is
"designed to function as a borderless currency without transaction fees and will be aggressively marketed in developing nations where government-backed currencies are more volatile."
Perhaps this unveiling is referring to the white paper, which reportedly will be published on June 18.
Subscribe to the Bitcoin Market Journal newsletter and keep in the loop on all things blockchain.