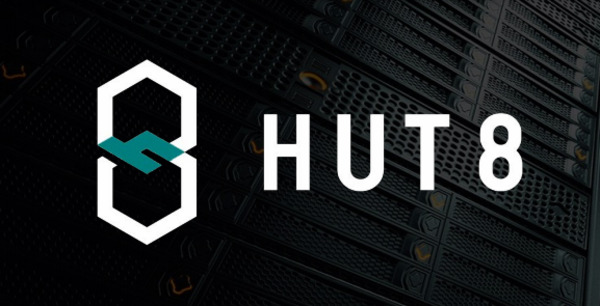 On October 9, 2019 Hut 8 (HUT) became the first bitcoin-focused company to list on the Toronto Stock Exchange (TSX).  The TSX is the 4th largest in North America and the 9th largest in the world.
In this step-by-step guide, you will learn how to buy Hut 8 stock on the popular trading platform Etrade.
Hut 8: The Story So Far
According to their website:
"The name "Hut 8" refers to the building at Bletchley Park where Alan Turing created his world-changing Enigma decoding machine during World War II. His work saved millions of lives, transformed cryptography and laid the foundation for Blockchain."
Hut 8 started life in Alberta Canada in 2017 and still mines bitcoin there four years later. Utilizing a variety of renewable energy sources, they aim to be the world's largest miner.  According to their 2021 Q1 investor report, they have over 1000 petahash.  The more petahash, the more bitcoin they can mine.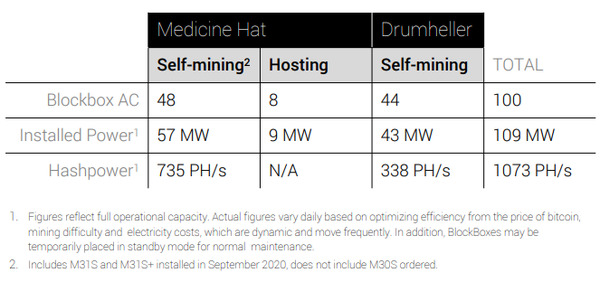 With over 3,000 BTC on their balance sheet, it's arguably a stock to watch in the years ahead.
Their CEO, Jaime Leverton, is happy with how the business is going:
"The Q1 2021 results are in and I could not be happier as we continue to strengthen and refine the Hut 8 story while creating and maintaining long-term value."
Hut 8 had record revenue of $32.5 million in 2021 Q1, more than double their 2020 Q1 revenue. They have a partnership with NVIDIA for 10,000 NVIDIA CMP cards, which is an enterprise-class product that is not available on the open market.  Part of their revenue is gained by lending some of their bitcoin to Genesis and Galaxy Digital, which earns HUT 8 a yield.
How to Buy Hut 8 Mining Stock (HUTMF)
Follow these steps to buy Hut 8 stock.
Log into your ETrade account and from the very top menu select trading.
Make sure you are on the Stocks/ETFs screen, if not click on it.
Type HUTMF into the Symbol box
The action you want is to buy (change this to sell if you want to sell).
Enter the number of shares you wish to trade in the Quantity box
Set the Price type to limit (as market orders don't work for HUTMF)
Type in your limit price as close to the last price as you want it.
Make sure the duration is set to the timeframe you want.
Click Preview Order to go to the next Screen.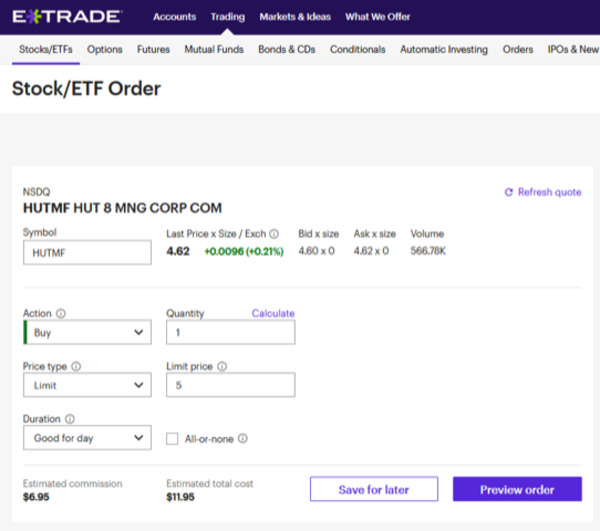 If the confirmation screen shows your order as you want it to go ahead and click Place Order.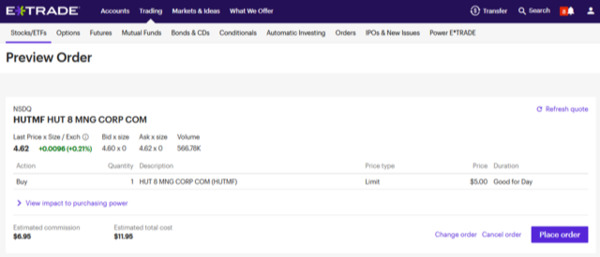 If there is anything wrong click Change Order and fix the error or Cancel the order and start over.
The decision to buy bitcoin or a bitcoin mining companies stock like HUT 8 is completely up to you. We aim to provide you with enough information to make informed choices about your financial future.
Related Articles:
If you want to stay up-to-date with the latest trends and developments in the digital asset markets, subscribe to the Bitcoin Market Journal newsletter.