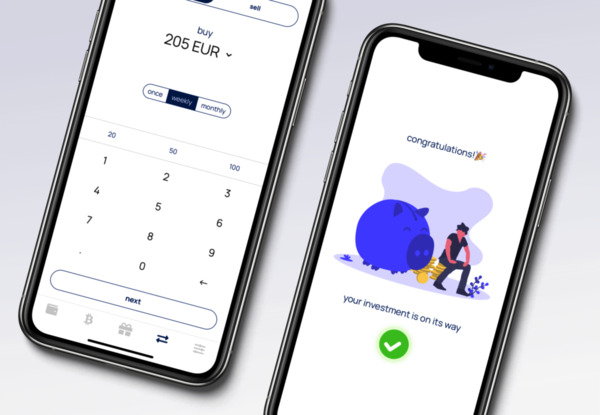 Investment applications have exploded into the mainstream, opening up many doors for those seeking a variety of investment opportunities. Auto-Investing apps are ahead of the pack in that they offer simplicity and ease of use for digital asset investors of all sizes, especially those looking to capitalize on one of the most popular investment strategies ever created: dollar-cost averaging.
Fortunately, for investors looking for digital asset exposure, there are also bitcoin auto-investing apps that allow you to dollar-cost average into bitcoin.
What Is Dollar-Cost Averaging?
Dollar-cost averaging is a simple investing strategy that involves making regular, fixed dollar amount investments into an asset or fund to accumulate wealth over time.
Warren Buffet, Dave Ramsey, and hundreds of other investors have championed this method. The concept revolves around patience and a steady flow of cash to investments, such as ETFs or mutual funds.
"If you like spending six to eight hours per week working on investments, do it. If you don't, then dollar-cost average into index funds." – Warren Buffet
Should an investor consistently deposit funds once a week into an S&P 500 ETF with approximately 7-9% returns a year, the individual will not fall victim to market volatility because the buy price averages out through those up and down periods.
Auto-investing at regular intervals means you will not have to spend time watching the markets in an effort to determine the best time to buy and sell.
How Does it Work?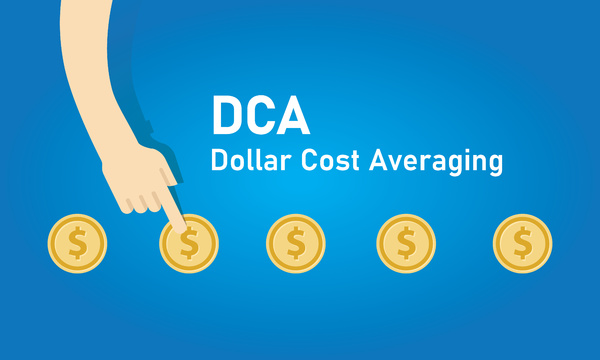 Auto-investing in bitcoin follows the exact same process as dollar-cost averaging in an ETF or mutual fund.
For example, let's say you want to invest $100 into bitcoin every week. Should the price of the digital currency fall, your $100 will simply buy you more bitcoin. If the price rises, your weekly investment will buy you less bitcoin. By taking this approach, you can "average out" the cost you pay for bitcoin over time.
Since bitcoin's price fluctuations can be severe, you might find yourself buying into the digital currency at a high point, only to see its value decline sharply. Alternatively, you might sell your bitcoin, thinking the market has hit a top, only to find bitcoin enjoys notable gains in a short time frame.
A Bitcoin DCA app connects to the user's bank account and periodically withdraws a fixed amount, placing the cash into bitcoin to enable the user to "stack sats" (i.e. invest in bitcoin) on auto-pilot.
Auto-investing gives people the ability to passively invest without lifting a finger, and anyone can set this up in a matter of minutes. The (potential) payoff will be earned over a longer period.
Top Bitcoin DCA Apps
Several bitcoin investment apps offer users the option to set up recurring investments in digital assets. Bitcoin Market Journal has compiled a list of the best apps for passive crypto investing.
| Items To Be Rated | Description | Launch Year | DCA Fees | Minimum Investment | Trustpilot Rating | Twitter Followers | Score |
| --- | --- | --- | --- | --- | --- | --- | --- |
| BullBitcoin | BullBitcoin is an online exchange platform specifically for Canadians. The exchange offers users the option to buy, sell, or spend Bitcoin with the help of the platform. It's important to note that BullBitocin only offers daily deposits and users must have their own BTC wallets. | 2015 | 0.5% - 1.25% Bitcoin Seeling Fee | 10 | 4.6 | 13100 | 4.5 |
| Independent Reserve | Independent Reserve was founded in 2013 in Sydney, Australia. IR offers users a variety of tools like auto-investing, OTC markets, and education resources to Australians who are looking to learn more about the blockchain industry. | 2013 | Fees are based on volume and range from 0.05% to 0.55%. | 50 | 3.8 | 6121 | 4 |
| Bitaroo | Bitaroo is committed to being a bitcoin-only exchange, offering users one of the best beginner platforms for those new to digital asset investing. They expand to DCA accounts in 2020, promising extremely low fees coupled with an easy-to-use interface. Bitaroo is a 100% Australian-backed company specifically for those living down under. | 2018 | Range from 0% - 0.19% | 10 | 4.5 | 1298 | 4 |
| Swan Bitcoin | SwanBitcoin, a project launched in March 2020, provides a simple and easy way to set up recurring investments in bitcoin. The UI is very user-friendly as it instructs users on how to set up weekly deposits in a clear and concise manner. The app is available to everyone in the United States except for residents of New York. | 2020 | SwanBitcoin structures their fees based on the amount invested per week. Investors can pay as liitle as 0.99% or as much as 2.29%. | 10 | 4.5 | 19500 | 4 |
| Relai | Based out of Switzerland, Relai does not require users to create an account or register through KYC, which makes the process incredibly fast when compared to other apps. Relai has only recently launched but has already experienced substantial user growth - primarily in the German-speaking market. | 2019 | 3%, 2.5% with a referral code | 10 | 4 | 2684 | 3.5 |
| CoinCorner | CoinCorner is a UK-based platform with over 200,000 users. Similar to many digital asset investing apps, CoinCorner first launched their platform with only buy/sell features, but they gradually instituted auto-investing so that users could dollar-cost average bitcoin. | 2014 | CoinCorner has designated fee structure for auto-investing. Fees range from 2 GBP to 1% + 1 GPB. | £10.00 | 3.3 | 6758 | 3.5 |
| Coinbase | Coinbase has established itself as one of the most popular and user-friendly exchanges in the world. The trading platform offers recurring investments on a daily, weekly, bi-weekly, and monthly basis for all of its exchange-supported digital assets. Investors in the US, Canada, United Kingdom, and Europe can access and use the platform. | 2012 | Fees range depending on amount and jurisdiction. The U.S has a base rate of 3.99%. | 2 | 2 | 2100000 | 3.5 |
| CashApp | CashApp, a mobile payment service developed by Square Incorporated, has long been used for monetary transactions among peers. In February of 2018, CashApp expanded to include Bitcoin trading and, later, auto-investing. If you live in the United States, you can set up automatic purchases of bitcoin to occur every day, week, or two weeks. | 2015 | CashApp charges a 1.76% fee for Bitcoin transactions, whether buying or selling. | 10 | 1.7 | 1200000 | 3.5 |
Should You Use a Bitcoin Auto-Investing App?
The barriers to entry for digital asset investing have slowly disappeared over the past decade. What was once considered a taboo virtual currency investment has now transformed the way in which we think about money.
Auto-investing apps might offer the most convenient path to wetting one's feet in the digital asset investment space. The minimums tend to be either extremely low or nothing at all, and opening an account can take as little as ten minutes.
If you're new to investing, auto-investing apps provide the perfect balance between education and experience, allowing users to learn about their investments while depositing a few dollars to watch it work in real-time.
Conclusion
If you believe in the future of Bitcoin and want to start building a sizable position, then bitcoin auto-investing apps offer the ideal avenue to do so. These apps enable you to auto-DCA bitcoin in an easy and hassle-free manner that enables even those with little to no investment knowledge to become Bitcoin investors.
Further Reading:
Stay up to date with everything Bitcoin and blockchain. Subscribe to Bitcoin Market Journal today!