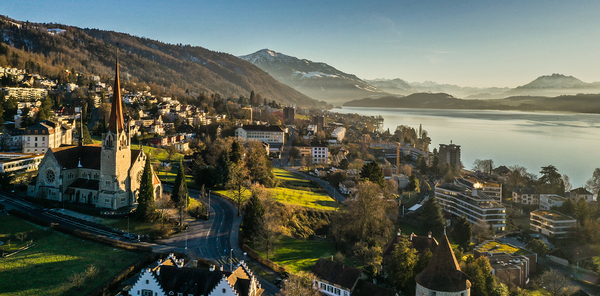 Now considered to be "Crypto Valley" because of the huge number of blockchain projects that have made the region home, Zug, Switzerland is also a hotbed for Meetups and blockchain focused groups. Nearby Zurich is another hotbed for crypto activity and well worth a look for blockchain meetings.
Here is a look at the top meetup groups in Zug and Zurich, Switzerland, measured by metrics such as number of members, user rating and activity level.
City
Meetup Group Name
Description
Number of Members
User Rating
Activity Level
Overall BMJ Score
Zurich
Azure Blockchain Zurich
Blockchain is changing the way we interact with online systems. Azure Blockchain Zurich Meetup Group wants to create a community that shares experiences of application of Azure blockchain technologies to resolve real business processes and systems.
806
N/A
3
2
Zurich
Blockchain Meetup Zurich
The Blockchain Meetup Zurich is all about blockchain and how this technology will affect the way we transfer values in the future. This group has a history of inviting high quality speakers, relevant large corporates and startups with valuable insights to each Meetup. This is a chance to share knowledge, ideas and experience about the blockchain and deep dive in the future of value transfer. All people active in the FinTech industry or very interested in it are welcome to join.
2,304
4
3
3.3
Zurich
Europe Blockchain Startups Club
Europe Blockchain Startups Club is a group of enthusiasts or early stage startups looking to explore blockchain, dapps - decentralized applications, DAOs - decentralized autonomous organization, smart contract, ICOs etc.

Europe Blockchain Startups Club will help you:
- Learn how to tokenize your product or service to raise funds for public
- Learn how to build dapps - decentralized apps
- Learn how to develop smart contracts
- Learn how to create your own ERC-20 token
- Learn how to promote your ICO
- Learn entire process of raising contributions through ICOs
- Discuss and review upcoming ICOs if they are worth investing
- Discuss cross-industry use cases for distributed ledgers and smart contracts
- Network and find a co-founder or CTO or a blockchain developer for your project
- Attend crypto conferences
596
N/A
1
1
Zug
CV Labs Switzerland
Crypto Valley is a special place - a mixture of blockchain pioneers, innovators, free thinkers and dedicated researchers. Each month CV Labs provides a window into the world of Crypto Valley with a special gathering at CV Labs - Zug. Join the Meetup to meet like-minded innovators, discuss ideas and debate serious issues around blockchain and cryptocurrencies.
1,493
5
5
4.3
Zug
Crypto Valley Forum
Crypto Valley Forum is a networking community for people, start-ups, companies and other stakeholders involved with blockchain technology and crypto currencies in the Crypto Valley, in Zug, Switzerland.

The Crypto Valley Forum vision is to continue driving an already established momentum of groundbreaking innovation to further heights, by pulling together all local stakeholders to optimize collaboration across verticals, and creating and formulating a platform to further market the region of Crypto Valley globally.

They create recurring First Tuesday events in the heart of Crypto Valley, in Zug, where you can meet the usual suspects and enjoy networking with a drink in the evening, typically with a presentation by one or more interesting people from the blockchain space. Once in a while they do single events (conference, ski weekend, etc.).
2,688
5
5
4.7
Zurich
Decentralization Meetup
This Meetup focuses on decentralization in all its different aspects.

The question above resides at the heart of Dezentrum. Dezentrum acts as a hands-on think tank, hub, and enabler for a decentralized future. In the role as a co-founding party of the Blockchain Hub Trust Square, the initiators work closely with academic partners as well as with companies from the private sector.

Presently the discourse about blockchain is heavily dominated by the technology and financial industry. With its interdisciplinary approach, the Dezentrum is broadening the discourse by social sciences as well as humanistic and artistic disciplines. Co-producing studies, pilot projects and showcases, the Dezentrum actively participates in shaping the future of our society in the decentralized era.
608
N/A
3
2
Zug
Crypto Summit
The Crypto Summit Meetup Group is behind the largest blockchain conference in Switzerland. The bi-annual conference series attracts over 2,000 people to each Crypto Summit. In addition to the conference series the group hosts numerous Meetups throughout the year. Anyone interested in promoting blockchain and the Zug area is welcome.
910
4
4
3
Zurich
Hyperledger Zug-Zurich
Hyperledger is an open source collaborative effort created to advance cross-industry blockchain technologies. It is a global collaboration, hosted by The Linux Foundation, including leaders in finance, banking, Internet of Things, supply chains, manufacturing and technology.

Hyperledger Meetup groups have an informal relationship with Hyperledger, and make up a key part of the Hyperledger ecosystem. Participation in a Hyperledger Meetup group is open to anyone--employees of a Hyperledger member company, Hyperledger contributors and developers, and people just passionate about blockchain technology.
868
4
2
2.3
Zurich
Bitcoin Meetup Switzerland
The Bitcoin Meetup Switzerland Group is hosted by the Bitcoin Association of Switzerland, a group of Bitcoin enthusiasts, entrepreneurs, developers and students who meet regularly to discuss the future of Bitcoin and...

- the economy, banking and financial system

- cryptocurrency in general, alt-coins and other P2P networks, plus

- the politics and regulation of them

Good-to-know:

- Meetups are free

- they last for ~3 hours

- you will probably be able to buy/sell Bitcoin
6,466
5
4
4.7
Zurich
Ethereum Zurich
A group for developers, entrepreneurs, innovative finance professionals and enthusiasts to learn about Ethereum, smart contracts and cryptocurrencies. Ethereum is a crypto-platform and programming language. It allows you to build and run next-generation distributed applications that don't rely on a central authority of trust, like smart contracts/smart property, decentralized financial exchanges, or identity- and reputation systems. The Meetup group discusses technical, legal, finance and economic topics that are related to Ethereum, and cryptocurrencies 2.0 in general. They also focus on business applications that might be attractive to implement on the Ethereum network. Everyone is welcome: programmers, economists, finance professionals, lawyers.
1,570
5
3
3.3
Zurich
Altcoin Meetup Switzerland
The Altcoin Meetup Switzerland is run and sponsored by the Bitcoin Association Switzerland. Members can expect high quality events, which will take place as workshops, demos, discussion groups, educational sessions and talks with various, international guest speakers. The goal for the Meetup group is to bring like-minded people together and educate on crypto currencies. Usually, Meetups are free and everyone is welcome to join.
2,657
5
3
3.7
Keep up to date with everything happening in the blockchain space by subscribing to Bitcoin Market Journal.