Investor Takeaway: While the hype around the Metaverse has been dwarfed by AI, there are still many great projects and companies building out the Metaverse (Apple, Meta, etc.). Anyone investing now is still early to the sector.
Facebook, Meta, the "Metaverse"… if you've been living on planet Earth for the last five years, these are names that you've probably heard. Unfortunately, that doesn't mean you knew, exactly, what any of that meant. Accordingly, excitement and profit did not follow the hype.
The Metaverse provides new technology that is an immersive experience and not just visual, with 3D simulations and realms where we can discover, develop, interact socially and do business. Are you thinking of The Matrix yet?
Like a sci-fi thriller, the Metaverse is a multiverse where virtual reality (VR), augmented reality (AR), and extended reality (XR) converge with the physical world. Apple is building AR glasses. Meta bet the company on it.
The good news for crypto investors is that you too can gain investment exposure to the growth of the Metaverse. Read on.
Metaverse Use Cases
The Metaverse provides new technology that is an immersive experience and not just visual, with 3D simulations and realms wherein we can discover, develop, interact socially and do business. Here users get to participate in play-to-earn virtual games (think The Sandbox), create art, attend courses, or even date. Tinder's Match group is planning a dating "Metaverse," an avatar-based simulation virtual app; imagine if you could hop to a bar and meet a hot date hundreds of miles away. Are you thinking of The Matrix yet? Like a sci-fi thriller, the Metaverse is a multiverse where virtual reality (VR), augmented reality (AR), and extended reality (XR) converge with the physical world.
The good news for investors is that you can already gain investment exposure to the growth of the Metaverse. Read on for our top picks.
Metaverse Stocks, Tokens, ETFs, and NFTs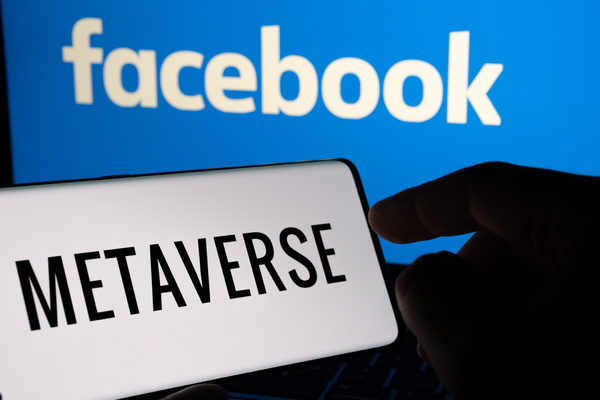 Currently, you can invest in the Metaverse through a variety of investment vehicles, including stocks, ETFs, digital tokens, and NFTs.
As of 2023, some tech giants that previously had high expectations of the Metaverse, such as Meta and Microsoft, have reduced their exposure to this technology to focus on artificial intelligence (AI). However, the Metaverse is still a big trend, and specialized companies will continue to benefit from its growth.
1. Meta Platforms Inc. (FB)
Metaverse segment: Hardware and apps
Market value: $596 billion
When the Metaverse hype was at its peak, Facebook made the surprising announcement that it was rebranding to Meta to better reflect its new business direction. Mark Zuckerberg's social media giant promised new digital experiences that would affect many aspects of our lives, including communication, business, education, and entertainment. It was reported that Meta had invested about $10 billion per year in creating VR and AR technologies.
However, at the beginning of 2023, the Metaverse story started to gather dust as everyone was talking about artificial intelligence (AI). Rumors say that Meta has been pulling back from its Metaverse plans to focus on AI instead. A recent report on The Information said that Meta is focusing on reels and AI tools when pitching advertisers. However, the company doesn't endorse such allegations, insisting that it hasn't abandoned its Metaverse plan.
All in all, the certain thing is that Meta's Metaverse division lost almost $14 billion last year alone, with the company's revenue being driven by massive layoffs.
While Meta might not drop its meta plans altogether, it will definitely prioritize technologies like AI and short videos.
---
2. Nvidia Stock (NVDA)
Metaverse segment: Infrastructure
Market value: $708 billion
Nvidia is one of the largest manufacturers of graphics and video processing chips applied in high-end computing servers. Also, it has interests in supercomputers, AI, and VR applications. Nvidia Chips are most likely to power up the Metaverse with a large amount of processing power. In a bid to grow the Metaverse, Nvidia has driven the Omniverse digital platform for virtual collaboration and simulation. Nvidia carries a favorable growth Score and a top Zacks Rank.
Earlier in 2023, Nvidia secured some high-profile partnerships to drive its Metaverse plan. In March, Nvidia announced that Microsoft Azure would host its new cloud offerings:
NVIDIA Omniverse Cloud – a platform-as-a-service offering access to a full-stack environment to build and manage industrial Metaverse apps;
NVIDIA DGX Cloud – an AI service that offers businesses instant access to the infrastructure required to train advanced models for generative AI.
On top of that, Microsoft 365 applications would become compatible with NVIDIA Omniverse.
Meanwhile, Nvidia and Intel joined forces to offer processors and graphics chips for a new generation of creator workstations dubbed Metaverse workstations.
---
3. Microsoft Stock (MSFT)
Metaverse segment: Software
Market value: $2.3 trillion
When it comes to a safe bet then it's got to be Microsoft, the old guardian of the emerging Metaverse. Recently, Microsoft CEO Satya Nadella announced the company was working to build an "enterprise Metaverse." It is building on the IoT platform, cloud computing, digital twins, and mixed reality to develop the future of the company's professional software and market leadership. Microsoft has introduced cutting-edge development like sensor technologies, edge computing devices, and a few key cloud computing tools like Azure IoT, Azure Digital Twins, and Azure Maps.
However, as of 2023, even if Microsoft doesn't admit it publicly, it has greatly limited the development of its Metaverse technologies, betting on AI. Earlier this year, the company announced a massive reduction in the workforce affecting 10,000 employees. The company discharged the entire teams working on its VR and Mixed Reality (MR) technologies, including the whole team of recently-acquired AltspaceVR and the team behind the company's Mixed Reality Tool Kit (MRTK). This happened even as the company was preparing for the release of a new major version of its MRTK product.
Moreover, Microsoft is laying off 100 members of its Industrial Metaverse core team, which was formed only in October 2022. It remains to be seen how committed the company really is to its Metaverse plans.
---
4. Roblox Stock (RBLX)
Metaverse segment: Virtual entertainment platform
Market value: $22 billion
You may wonder how this one figured on our list but wait for it. Roblox is a one-of-a-kind online entertainment platform that enables people to develop games. The platform has over 210 million monthly active users as of early 2023, a substantial increase from 146 million in 2021. Early in 2021, in an investor presentation, the company's CEO David Baszucki named the Roblox team "shepherds of the Metaverse." Age is not a bar on this platform as in the CEO's own words, "Roblox welcomes 6-year-olds and, at the same time, welcomes 30-year-olds."
Finally, Roblox perceives its platform as a space for both fun and games with engaging experiences, like concerts. The platform has been made popular through games like MeepCity, Adopt Me!, Jailbreak, Royale High, Murder Mystery, and others. The company is focused on a younger demographic who go online to play games, chat, and socialize with other players.
In April 2023, the NHL – the top hockey league in the world – announced the launch of NHL Blast, its first fan experience on Roblox, which will bring hockey-inspired games and team jerseys to the virtual world.
Roblox has observed growing revenues on its platform and business model. As of May 2023, their market cap stands at $22 billion. Considering these figures and burgeoning user statistics, the RBX stock should be a priority investment for your portfolio if you're betting on growth in the metaverse.
---
5. Roundhill Ball Metaverse ETF (META)
Metaverse sector: Finance
Market value: $431 million
The Roundhill Ball Metaverse ETF offers exposure to the growth of the Metaverse by tracking the performance of the Ball Metaverse Index ("META Index"), which is composed of a basket of stocks that are actively developing products and services geared towards the Metaverse.
The index peaked in November 2021 at over $16 per share, after which it followed a multi-month downtrend, bottoming out at the end of December 2022 below $7. In 2023, the index is recovering, offsetting some of its previous losses. It currently trades near $9.
---
6. Real Estate in Decentraland (or MANA)
Metaverse sector: Virtual real estate
Market value: $872 million
Decentraland created quite the buzz when investors started making profits of more than 500% from trading in digital land back in 2018.
Investors have two ways to participate: either through buying and holding MANA, or by buying and developing virtual land.
Created by a group of developers in Argentina in 2016, Decentraland is one of the first virtual multiplayer role-playing games on the Ethereum blockchain. Whereas you cannot stay or visit here physically, you can buy and sell land in Decentraland—a virtual world. Ownership of Decentraland virtual properties is readily transferable and prevents fraud. Each NFT token cannot be forged or duplicated.
In June 2021, an NFT token of a set of virtual land in Decentraland traded for a mind-boggling $913,808 worth of MANA, the virtual world's native token. One year later, a patch of real estate in Decentraland sold for $2.4 million worth of MANA, which is still a record. The buyer is the Metaverse Group, a subsidiary of crypto investor Tokens.com. The land is located in the "Fashion Street" region of Decentraland's map. Tokens.com bought it to host digital fashion events and sell virtual clothing for avatars.
---
7. The Sandbox Token (SAND)
Metaverse sector:  Virtual games
Market Value: 932 million
Sandbox is a virtual world in which players build, own, and profit from their gaming experiences. The action occurs on the Ethereum blockchain applying the platform's utility token. It launched in 2011 as a blockchain-based virtual world and transitioned to Metaverse in 2017.
The ecosystem is fueled by its native token, SAND, currently trading at $0.5. The native token peaked at over $7.5 at the end of 2021. Besides SAND, Sandbox also has three other types of tokens, including LAND, GAMES, and ASSETS.
Sandbox is quite similar to Decentraland, but it's more focused on online game experiences. The Metaverse platform has secured funding from several major companies, including Japanese SoftBank, Slack, and Uber.
---
Invest in NFTs
Besides investing in companies, you can also get exposure to non-fungible tokens (NFTs), which play an important role in Metaverse projects. They can represent anything from avatars, land, resources, digital art, and all kinds of assets. NFTs are a great solution for Metaverse assets because they cannot be counterfeited and are easy to trade. Eric Anziani, COO of Crypto.com, told Financial Times:
"For Metaverse property rights, you simply cannot fake it because of the way smart contracts are defined, and the NFTs programmed. You know you own an asset and can demonstrate ownership fully. Based on the terms and conditions of that virtual environment, you can then assert ownership rights."
The NFTs representing scarce assets, such as land in Decentraland or the Sandbox, may increase in value as more people show interest in getting the best spot in the virtual world. This can be a great investment opportunity.
---
Unity Technologies (U)
Metaverse segment: infrastructure
Market value: $10 billion
While giant tech firms like Meta and Microsoft may postpone their Metaverse plans for a while, specialized companies like Unity Technologies continue to do well. Unity is a software development company focused on the video games sector. Its flagship product, Unity game engine, features VR and AR capabilities and has been used by many Metaverse projects. When it comes to Metaverse infrastructure, Unity is one of the best-positioned companies to leverage the sector's growth.
In November 2021, Unity acquired the digital visual effects (VFX) company Weta Digital for about $1.6 billion. Unity is using Weta features to accelerate its development of real-time 3D technologies.
In the first quarter of 2023, Unity introduced "Decentralization" as a separate category in its online asset store. The available tools enable developers interested in web3 and decentralized gaming technology, such as Sandbox and Decentraland.
---
BONUS: Metaverse Index Token (MVI)
The Metaverse Index (MVI) was developed by Index Coop, a decentralized autonomous organization (DAO) that specializes in creating cryptocurrency index tokens. These index tokens enable traders to gain broad exposure to the crypto market or a specific industry segment, simplifying the trading process for beginners. Index Coop provides various fund tokens, each focusing on a unique sector like decentralized finance (DeFi) or the Metaverse, where users can optimize their investments.
The Metaverse Index is exposed to tokens designed to benefit from the growing trend of entertainment, sports, and business transitioning to a virtual world. It is represented by an ERC-20 token, MVI, which serves as a single investable token for the underlying assets. At present, the Metaverse Index consists of sixteen assets, Sandbox, Decentraland, Axie Infinity, ApeCoin, Gala, and others.
The index is now trading near $19, down 95% from its record high. The decline reflects the performance of the Metaverse space, but this is natural for any emerging technology that is adopted with a lot of hype.
To stay up to date with the latest developments in the blockchain market, subscribe today!