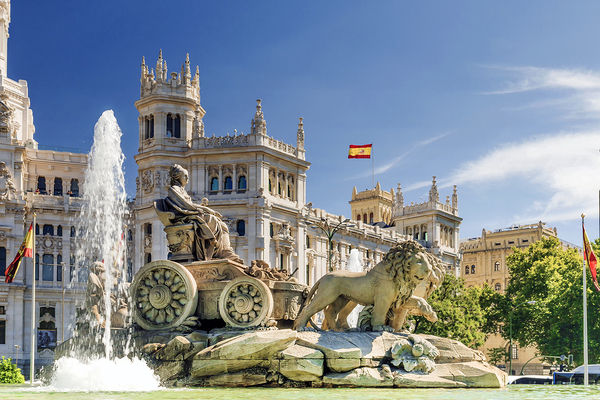 The most complete list of every blockchain and cryptocurrency meetup in Madrid, with ratings! Our custom Bitcoin Market Journal Score is calculated by the number of members, user rating, and activity level. Use it as a guide for which meetups to attend in 2019.
If you're looking for global events, check out our list of Best Blockchain Conferences.
If you have a meetup that you'd like listed, or represent one of the events below, contact us to manage your listing.
City
Meetup Group Name
Description
Number of Members
User Rating
Activity Level
Overall BMJ Score
Madrid
Blockchain Espana
This MeetUp is for those who want to make Spain an important site in the blockchain world and work together toward that goal.
2053
5
4
4
Madrid
Blockchain for Business Madrid
This group is for anyone interested in blockchain and how the blockchain can be applied to business. The group talks about the application of this technology in different industries and invites blockchain companies to show cases of use. The group also organizes discussion panels with experts and opinion leaders. The group was started to meet other blockchain enthusiasts and gather ideas, solutions, and ways to promote the blockchain sector. All skill levels are welcome.
1052
5
2
3
Madrid
NWC10Lab: Transformación digital y blockchain para todos
NWC10Lab is looking for restless people to change sectors within technology - especially with blockchain technology! This group is for all those people interested in changing organizations and processes through digital transformation based on innovation and technology.

Development of blockchain technology, web and app, digital signature, digital law, public support for innovation, business plan and financing, and communication in media of technological companies are some of the main topics of the meetups.
1419
5
4
3.7
Madrid
Bitcoin y Blockchain Madrid
For all lovers of new disruptive technologies, specifically Blockchain and cryptocurrencies such as Bitcoin, Ethereum, etc., this group is focused mainly on investment.
1611
5
3
3.3
Madrid
Emerging Technologies
The user group of Emerging Technologies aims to be a meeting point and exchange of ideas about the newest technologies that are and will be the tools to successfully face the digital transformation of companies and society.

The group talks about new technologies and how they will develop digital products with more focus on the user, more flexibility, better time to market, more scalability, more availability, and less cost. They talk about reactive architectures, blockchain, internet of things, chatbots, artificial intelligence, new products in the cloud, and mobile development tools. The meetup is all about technology, focusing on the newest and offering a good business opportunity.
1257
4
3
3
Madrid
Cryptoinvest (Inversión en criptomonedas)
This is a group of professionals focused on all investment channels in cryptocurrencies (ICOs, intraday trading, investment in long-term portfolio, and mining).

The events are focused on the approach of the projects that are being developed on blockchain for a greater understanding of the public on how the technology works and its possible practical applications.

Debates and networking are generated at the end of each event where you can meet personalities of all kinds (investors, developers, curious, professionals, etc.) talking about cryptocurrencies and ICOs.
1323
5
3
3.3
Madrid
In Code We Trust by Intelygenz
In Code We Trust is a community of geeks with a high level of curiosity and desire to share knowledge with colleagues and anyone who wants to learn software, technological innovation, or agile methodologies. Each month they meet to talk about EnergyTech, Machine Learning, Blockchain, Internet of Things, Big Data, Mobile Apps, APIs ... and, of course, to savor a cool beer while sharing experiences.
1862
5
1
2.7
Madrid
Ethereum Spain
Born at the end of 2013, Ethereum Spain is a community open to all kinds of people, ideas, and decentralized technological projects, cryptographics related to cryptocurrencies, and especially Ethereum. This is the oldest and largest crypto community in Spain. They usually deal with top-of-the-line topics, sometimes technically complex, so this Meetup is not the best place to start, but to acquire advanced knowledge, although it is open to anyone who wants to enter the crypto ecosystem.

The group's values are aligned with Ethereum, web3, Bitcoin technologies, and more generally with decentralized systems. They defend net neutrality, the independence of cyberspace, individual freedom, free and open-source movement, code as a law, the absence of physical borders, transparency and accountability on the part of the Administration, as well as open innovation and resistant to censorship as engines of society.

These Meetups usually consist of one, two, or three presentations, or in small groups of developers in DEV Meetups or Hackathons on current issues in the ecosystem crypto and Ethereum. The group believes that personal interactions are key to the growth and learning of these technologies, so usually includes a time and space in which to reflect, share ideas, and get to know each other after the mentioned activities.
3037
5
4
4.3
Madrid
Innovative technology | BBVA Next Technologies
Innovative technology | BBVA Next Technologies is a MeetUp community to reach groups with similar interests: innovation based on technology. They are interested in topics such as predictive analytics, big data, machine learning, internet of things, natural language processing, virtual reality, blockchain, security, and any technology that allows revolution in companies.
5022
5
4
4.7
Madrid
GoMadrid - Tecnología y Blockchain
This group is for lovers of fintech, blockchain, and the crypto world as well as those who are just curious about different emerging technologies.

879
4
4
3
Keep up-to-date with everything happening in the blockchain space by subscribing to the Bitcoin Market Journal newsletter.