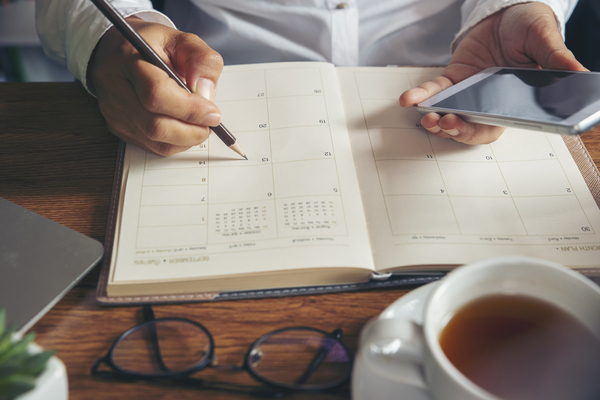 The world of digital assets is a very busy, ever-changing industry. What's true one day may not be accurate the next. Projects start-up and close down so quickly it can be very difficult to keep up.
If you've ever wondered if there's a way to keep track of everything going on, there is. With a cryptocurrency calendar, you can keep tabs on the always-evolving landscape of events, mainnet launches, token sales, and exchange listings that occur in the digital asset markets.
Lucky for you, we've gone the extra mile and found the best ones. Here's a look at the best cryptocurrency calendars for 2020!
Top Cryptocurrency Calendars for 2020
| Name | Description | Additional Categories/Features | Exchanges Supported | Coins Supported | Social Media Integration | Score |
| --- | --- | --- | --- | --- | --- | --- |
| CoinMarketCal | CoinMarketCal is one of, if not the most popular cryptocurrency calendar on the market. With this calendar, you can streamline your preferred search functionality and add a wide variety of coins and exchanges to your task lists. Many of the events listed on this calendar come from the community, with members confirming that an event is taking place. If you want updated listings through social media, CoinMarketCal has a Telegram and Twitter bot that can do so, which means you're always up to speed on recent events. | 50+ | 100+ | 100+ | Twitter, Telegram, Discord | 4.5 |
| CoinsCalendar | Do you prefer to work in dark mode? If so, be sure to check out CoinsCalendar, which offers this feature for its users. Aside from this option, CoinsCalendar is a solid option when you want to receive all relevant market information. One cool feature available with CoinsCalendar is its "Recently Added" selection. With this, you can see all the events that have been added within the last 24 hours. Users can also track prices, giving you the coverage you need for all your digital assets. | 50+ | 100+ | 100+ | Twitter, Telegram | 4.3 |
| Cointelligence | If you're less into ICOs, IEOs, and hard forks, and more into what conferences are occurring where, Cointelligence is a solid choice for you. You'll have access to the event name, when it is, where it is, and how long before the event kicks off. You can drill down into the event for more details such as expected vendors and keynote speakers. There's still plenty of other information available through Cointelligence, but as far as conferences go, this is the best crypto calendar option. | 20+ | 100+ | 100+ | Facebook, Twitter, Telegram, LinkedIn | 4.3 |
| KryptoCal | KryptoCal is something of a jack of all trades. It provides a thorough list of events for cryptocurrencies. However, it also offers information about airdrops, bounties, ICOs, and much more. Similar to CoinMarketCal, events are confirmed by others within the KryptoCal community. That means when an event is listed, there has to be proof behind it. Plus, KryptoCal has an iOS and Android app, so you can take your cryptocurrency calendar with you. It will sync all your information, so you don't have to worry about having two different instances of your calendar running. | 10+ | 100+ | 100+ | Twitter, Telegram, Reddit | 3.8 |
| Coindar | With an extensive live of coins and plenty of events listed, Coindar is a cryptocurrency calendar that provides all the features you need in one platform. While other platforms use their community to validate events, Coindar lists events that come from a "reiliable source." That means there must be an official source, like a website, or an official posting, for the event to show up. It's not flashy and fancy, but Coindar gets the job done, providing a constant stream of events and listing so you're always aware of what's going on. | 20+ | 100+ | 100+ | Telegram, Twitter, Facebook | 4 |
With a cryptocurrency calendar, you track and list all the events you care about. Whether you're watching the most popular digital assets or more obscure altcoins, a cryptocurrency calendar can be a helpful tool.
Further Reading: 
Subscribe to Bitcoin Market Journal to stay up-to-date with the latest trends and developments in the digital asset markets.