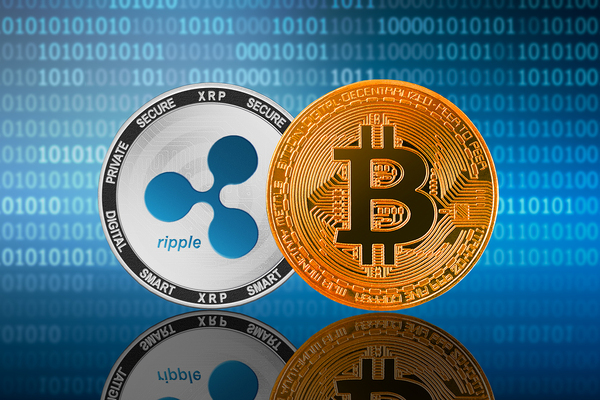 Anyone who's been exposed to cryptocurrency knows about bitcoin as it's the oldest, largest, and most popular cryptocurrency. Beyond bitcoin, things get murky, with thousands of altcoins in the marketplace. One of the most popular altcoins is known as Ripple (XRP). Ripple is the native currency powering RippleNet, which was developed as a way to connect global banks and enable a frictionless and nearly instantaneous money transfer. It's a growing network and cross-border payments represent trillions of dollars daily.
If you're interested in Ripple and its potential, you might be wondering how to convert some of your bitcoin to XRP.
There are several ways, and below you'll find simple instructions for converting bitcoin to Ripple via Changelly and Binance.
Convert Bitcoin to Ripple with Changelly
Changelly is an easy-to-use service that allows you to easily convert bitcoin and other altcoins. You can use it to convert bitcoin to Ripple with just a few clicks and for a fee of just 0.5% plus normal network fees.
1) Register at Changelly using your email address and confirm the address. Changelly will then send you your Login Credentials.
2) Log into Changelly and select your exchange, in this case, BTC -> XRP.
3) Enter either the amount of BTC you have to exchange or the amount of XRP you'd like. Changelly will do the conversion math based on the best rates available.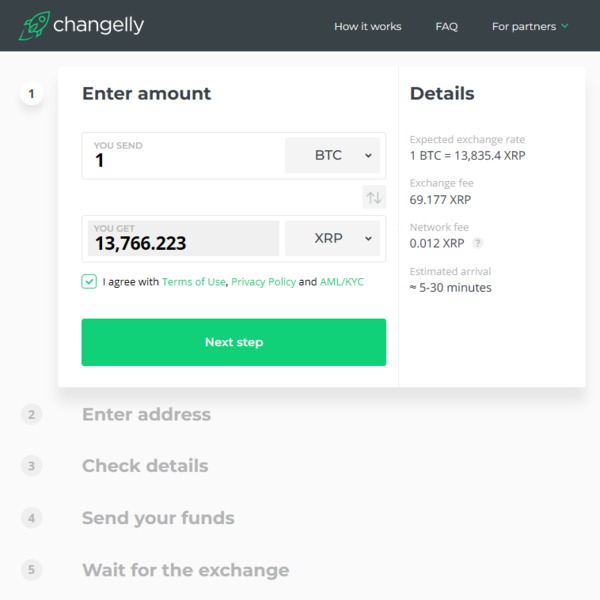 4) Click next step to enter your wallet address where you want the XRP sent. This should be a secure wallet address. A hardware wallet is ideal for this, but any good Ripple wallet is also acceptable.
5) Check the transaction details to make sure they're accurate and then confirm the transaction. Now you just have to wait for the transaction to complete. It might take a couple of hours and you'll receive an email from Changelly to inform you when it's complete.
Convert Bitcoin to Ripple on Binance
Binance is one of the largest cryptocurrency exchanges on the planet, and you can easily convert your bitcoin to Ripple on their easy-to-use platform. Just follow these steps:
1) Begin by registering an account at Binance. All that's needed is an email address. After entering your email address and a password of your choosing, you'll be able to verify the email address and create a wallet address at Binance.
2) Click the "Funds" link at the top of the site and then choose "BTC – Bitcoin" from the dropdown in the deposit screen. Send your BTC to the generated wallet address.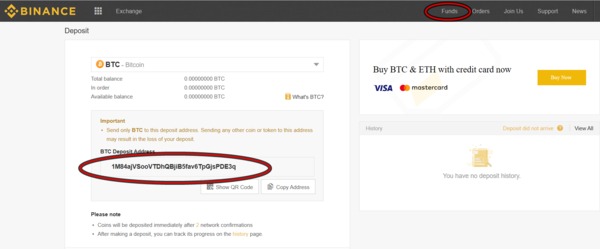 3) Next, go to the exchange located in the upper left. Once on the exchange page search for the XRP/BTC pair and click it. You'll then be able to place an order to convert from BTC to XRP in the form under the price chart.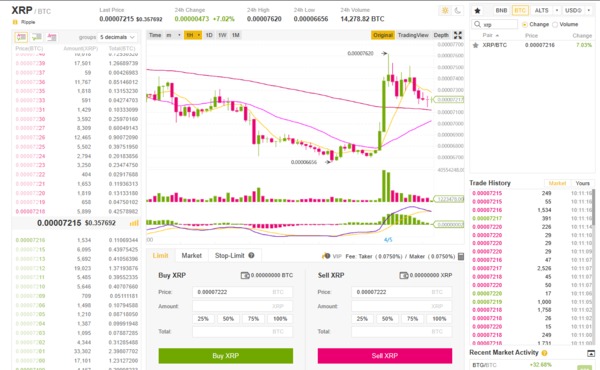 4) Verify your transaction details are correct and confirm the transaction.
5) Send your XRP to your own secure wallet, and you're done!
That's just two of the ways you can use to convert bitcoin to Ripple. There are many other exchanges that can be used, and the process for most is very similar to one of the above guides. Or you can use this guide to buy XRP directly.
Keep up-to-date with all the developments in the crypto-ecosystem by subscribing to the Bitcoin Market Journal newsletter today.