Do you want to buy Ripple (XRP) with PayPal?
Ripple (XRP) is currently the third-biggest digital currency, with a market capitalization of $12.74 billion.
Ripple (XRP) is the native token used by the RippleNet payments network, and it is developed by a private company called Ripple Labs.
Ripple works within the existing financial system, partnering with banks and money transfer services like Moneygram. It wants to replace the global interbank payments service SWIFT.
What Is Ripple?
Ripple is a little bit different from other digital currencies like bitcoin and Ethereum. Some people even debate whether Ripple is a "real" cryptocurrency.
Bitcoin runs on a public (also known as permissionless) blockchain, while Ripple runs on something called a permissioned blockchain.
As a result, Ripple uses less energy than bitcoin and Ethereum, and Ripple offers higher performance. Ripple transactions take four seconds and XRP can handle 1500 transactions per second.
Also, while bitcoin and Ethereum are mined, Ripple is not. Ripple transactions are instead confirmed by a network of 140 validator nodes.
XRP peaked in January 2018 at a price of $3.84 per coin. At one point, Chris Larsen, one of Ripple's founders, was worth $37.3 billion.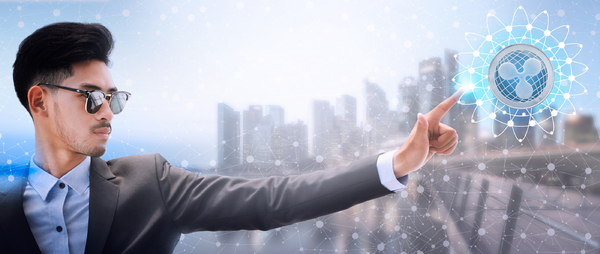 Can I Buy Ripple with PayPal?
Buying digital currencies like Ripple with PayPal is difficult.
Major exchanges like Binance and Kraken will not accept PayPal as a payment method.
PayPal transactions can be easily reversed. Digital currency transactions, on the other hand, are difficult to reverse. This raises the risk of fraudulent deposits.
However, you can buy Ripple with PayPal using a peer-to-peer bitcoin exchange like LocalBitcoins.
Now, let's roll up our sleeves and buy Ripple with PayPal.
Step 1: Get Started with LocalBitcoins
If you already have a LocalBitcoins account, you can just log in.
If not, you will need to set up a LocalBitcoins account.
Go to this page, enter your e-mail address, and choose a username and a password. Enter the password twice and click on the CAPTCHA box which says "I'm not a robot".
Then click "Register".
Check your email for a confirmation e-mail. You will need to click on this before you get started.
If you want more information on how LocalBitcoins works, click here.
You can also verify your phone number with LocalBitcoins and upload an ID card. Traders will be more likely to trade with verified accounts.
Step 2: Buy Bitcoin with PayPal
Now you will need to buy bitcoin with PayPal.
Click here.
See the box that says "All online offers"? Click on that.
A drop-down menu will then appear. Select "PayPal".
Now click on the orange button that says "Search."
This page shows offers from traders willing to sell bitcoin to you using PayPal.
The price of bitcoin (at the time of writing) on CoinMarketCap was $5,724.07. These traders will charge you more since PayPal is a riskier payment method.
Each trader has two numbers inside the parentheses next to their usernames. The first is the trader's number of completed transactions, and the second is the trader's feedback score.
You should look for traders with high feedback scores that have completed a high number of transactions.
You can also see the price each trader offers and each trader's limits (minimum and maximum deal value).
6ndguy offers a good price in this example. If you want to buy bitcoin from this trader, click on the box that says "Buy".
Now read the instructions. Then type in the dollar value of the amount of bitcoin you wish to purchase and click "Send trader request".
Step 3: Sell Bitcoin for Ripple
Next, you will need to sell bitcoin in exchange for Ripple.
Once again, click on "All online offers", but this time choose "Ripple altcoin". Then click on "Search".
Here are seven offers from traders. Choose an offer and click on "Sell".
Then follow the trader's instructions.
You will need to give the trader your Ripple address.
You may already have one if you have a Coinbase account (even if you don't own any XRP).
Go to Coinbase.
Scroll down, and tap on "XRP".
That will take you to this page. Tap on "XRP Wallet".
Then tap on the picture of a QR code in the top right corner.
There you will see your XRP address. It should look something like this:
If you don't have a Coinbase account, you can create a paper wallet.
Give this address to the trader.
LocalBitcoins will hold your bitcoin in escrow until you receive XRP. Once you receive XRP, release the bitcoin.
Step 4: Sign up for Bitcoin Market Journal
Now that you hold XRP, you may want to subscribe to our free weekly newsletter.
Our publisher, John Hargrave, travels the world meeting with people in the blockchain and digital currency field. Each week he shares some of his insights in this newsletter.
Want to know more? Subscribe to the Bitcoin Market Journal newsletter today!