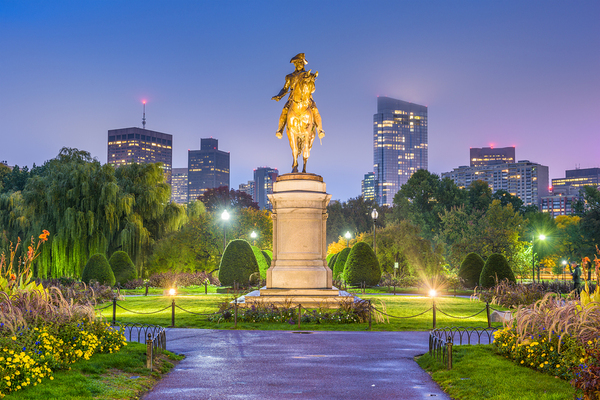 Interested in meeting people in Boston who share your interests in blockchain technology, digital assets, and fintech? We've pulled together this list of the best, most active and interesting blockchain meetups for 2020 in Boston and the surrounding area.
If you're looking for global events, check out our list of Best Blockchain Conferences.
If you have a meetup that you'd like listed, or represent one of the events below, contact us to manage your listing.
City
Meetup Group Name
Description
Number of Members
User Rating
Activity Level
Overall BMJ Score
Boston
Hyperledger Boston
Hyperledger is an open source collaborative effort created to advance cross-industry blockchain technologies. It is a global collaboration, hosted by The Linux Foundation, including leaders in finance, banking, Internet of Things, supply chains, manufacturing and technology.

Hyperledger Meetup groups have an informal relationship with Hyperledger, and make up a key part of the Hyperledger ecosystem. Participation in a Hyperledger Meetup group is open to anyone, employees of a Hyperledger member company, Hyperledger contributors and developers and people who are passionate about blockchain technology.
1,387
4
2
2.7
Cambridge
Autoblock
AutoBlock provides blockchain solutions for the supply chain industry. They cater to the pharma, food, retail, fashion and other industries.

3,811
4.5
5
4.5
Boston
Boston AI Developers Group
The Boston AI Tech Talks Meetup Group is excited to bring you the latest and practical technology on AI, machine learning, deep learning, data science and big data.

Their goal is to congregate with AI enthusiasts from all over Boston to learn and practice AI tech, through tech talks, study jams, code labs, etc. They regularly invite tech leads from innovated companies, successful startups to share their practice experiences and practices in the world of AI, cloud, data and blockchain.
2,908
N/A
5
3.5
Boston
Boston Ethereum Developers
Boston Ethereum Developers is a Meetup group for anyone interested in developing decentralized applications on the Ethereum blockchain. Meetings will give hands on demos, share current projects and discuss the current state of the Ethereum ecosystem.
1,268
5
4
3.7
Cambridge
Boston Cryptotalks - Bitcoin, Blockchain, and Cryptoassets
Boston Cryptotalks is a group for anyone interested in cryptoassets — an exciting new asset class that encompasses bitcoin, ethereum and many other cryptocurrencies and blockchain based projects.
861
4
3
2.7
Boston
Boston Blockchain Network
Boston Blockchain Network is a group of 1,700+ experts, founders, developers and other business professionals interested in learning, discussing and keeping updated about blockchain, which will transform many industries over the coming years.

Their mission is to catalyze and foster networking, education, innovation, opportunity-sharing and collaboration among members interested in blockchain.
1,860
4
2
2.8
Boston
Women in Blockchain Boston Meetup
Women in Blockchain is a Meetup group for women to learn from and mentor each other. They aim to connect women to thought leaders in this space to inspire, collaborate and encourage others. The Meetup is open to all genders with a focus on women who are passionate about blockchain technology.
1,021
5
5
3.7
Boston
Blockchain Investors Supergroup
Are you interested in investing in the blockchain and cryptocurrency space? Whether you're a traditional investor, seasoned trader or just crypto-curious, come join the smartest brains in Boston. We'll discuss new blockchain investing opportunities, share our knowledge and learn from each other.

Bitcoin Market Journal offers this Meetup free of charge, to help educate, inform and entertain blockchain investors. Learn more at bitcoinmarketjournal.com.
1,112
5
5
3.7
Boston
Boston Blockchain Meetup
Blockchain is the public ledger system that powers Bitcoin transactions. But it's also much more than that — blockchain technology has the potential to redefine not just the financial industry, but also law, healthcare, education and much more. The Boston Blockchain Meetup group is for those interested in learning about the potential of this technology and its social impact, as well as a platform for individuals and startups to share their ideas with the community.
3,368
5
5
4.7
Boston
Boston Blockchain Association Presents
Boston Blockchain Association is Boston's #1 professional organization for the blockchain industry. Whether you're a blockchain executive, entrepreneur, freelancer, student, or just plain curious, the Boston Blockchain Association is a collaborative community of lifelong learners who are committed to helping each other, improving the world, and pushing blockchain forward.

Boston Blockchain Association states its mission as:
1. Establishing Greater Boston as an international hub for blockchain innovation.
2. Supporting, educating, promoting, and advancing blockchain technology.
3. Supporting and connecting entrepreneurs with useful resources.
1,358
5
4
3.3
Keep up to date with everything happening in the blockchain space by subscribing to Bitcoin Market Journal.