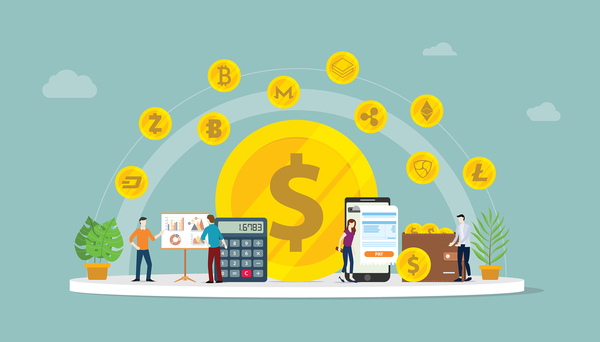 Interested in adding staking coins to your crypto portfolio to earn "interest" in the form of new tokens? Then, you have come to the right place.
In this article, you will discover a list of top stakable coins for 2020.
What is Crypto Staking
Before we get to our list of the best staking coins for 2020, let's take a moment to talk about what, exactly, we mean by "staking coin."
While bitcoin and many altcoins use Proof-of-Work consensus models, there are also many projects that use a newer consensus algorithm referred to as Proof-of-Stake (PoS). In PoS-based blockchains, the security of the network is guaranteed by participants who "stake" coins. As a reward for contributing to the network, holders who stake their coins are rewarded in newly-minted coins.
So, which coins are the best staking coins for 2020? Fortunately for you, we've done all the legwork in finding some of the foremost choices available.
Best Staking Coins of 2020
If you want to know which coins are best for staking this year, take a look at our list below. We have used criteria such as ROI, exchange availability, and minimum staking requirements, among others, to rate and rank the coins.
| Name | Description | Complexity | Year Established | Exchange Availability | ROI | Minimum Coins for Staking | Score |
| --- | --- | --- | --- | --- | --- | --- | --- |
| ARK | Ark sets itself apart as the "all-in-one-blockchain-solution." With its smart bridge ecosystem, Ark wants to address the scalability and interoperability problems that plague the blockchain world. With smart bridging, blockchain platforms can easily connect with one another. With its technology, Ark has made itself one of the most unique projects in the blockchain community, which is why it ranks at the top of the list of the best staking coins to look into. | Easy | 2017 | Binance, Bittrex, OKex, Cryptopia, BitZ | 10% | 10 | 4.6 |
| Lisk | Lisk is a great project if you need an easy-to-use blockchain platform for business or developer projects. The application-based platform wants to give users the ability to quickly and easily build decentralized applications in its environment. You can build sidechains through Lisk, which offers the ability to create features unique to your own blockchain, but still, remain independent of other chains. Lisk has shown that they're very serious about being in the blockchain industry, which is why we like it as a staking project. | Easy | 2016 | Binance, Bittrex, Poloniex, Huobi, Upbit, HitBTC, BitZ | 4% | 10 | 4.6 |
| Neo | The NEO project is another open-source option, often labeled "the Ethereum of China." NEO supports digital certificates and assets, which are available for different uses on the blockchain. If you want to stake your NEO, all you have to do is download the wallet and hold your NEO. In return, you get a token referred to as GAS, which is the fuel for the NEO network. It's easy to get started with NEO, which is why we recommend it as one of our best staking coins. | Easy | 2014 | Binance, Bittrex, Huobi, Bitfinex, Kucoin, OKex, Upbit, Cryptopia, HitBTC | 2.50% | 1 | 4.4 |
| PIVX | As a fork from Dash, PIVX is a privacy-based, open-sourced digital currency project. It offers secure and fast transactions while sending private data through its Zerocoin Protocol. Even though it's not as well known as some of the other altcoins on this list, it's definitely a project worth keeping an eye on for staking purposes. | Moderate | 2015 | Binance, Bittrex, Upbit, Cryptopia | 10% | 1 | 4.4 |
| Ontology | Similar to other projects on this list, Ontology targets users in an enterprise setting. Ontology builds blockchains that support both private and public blockchains. This gives corporations flexibility and access to other technologies as they become available. The project is very similar to NEO. However, it tries to give its users the opportunity to store data in both public and private environments. | Easy | 2017 | Binance, Huobi, OKex, Upbit, HitBTC | 5% | 1 | 4.4 |
| NEBL | Neblio is a blockchain project similar to Ark and Lisk as it focuses primarily on enterprise usage. This project wants to aid businesses in creating their own decentralized networks, blockchains, and applications. In the future, the project plans on adding smart contracts. | Moderate | 2017 | Binance, Kucoin, Cryptopia, HitBTC | 10% | 1 | 4.2 |
| Komodo | Another project that wants to make it easier to create a blockchain environment is Komodo. Where Komodo differentiates itself is through offering a wide range of products and services, including an ICO crowdfunding environment and a decentralized exchange. Due to its focus on interoperability and decentralization, it's a great project to consider staking. | Easy | 2018 | Binance, Bittrex, Upbit, Cryptopia, HitBTC | 5% | 10 | 4.2 |
| NavCoin | If you like open-source platforms, then NavCoin could be a digital coin for you. This privacy-based altcoin is secure, cheap, and fast. In 2018, the coin added additional staking features through a cold wallet. As a result, you don't have to be online to earn rewards. It's an easy and simple option for staking digital coins. | Moderate | 2018 | Binance, Bittrex, Poloniex, Upbit, Cryptopia | 5% | 1 | 3.8 |
| VeChain | VeChain is a project in the altcoin community that is similar to what you'll find with NEO. Both projects enable smart transactions. However, VET focuses heavily on the supply chain industry. When you stake your VET, you'll get a token called VTHO in return. These two tokens work along the same lines as NEO and GAS, where all you have to do is use a mobile app and stake your coins to get started. VET is really easy to stake, so be sure to include it on your list of altcoins to consider. | Moderate | 2018 | Binance, Huobi, KuCoin, Bithumb, HitBTC | 6% | 1 | 3.8 |
| Stratis | The Stratis project states that it is "blockchain made simple." It wants to streamline processes for organizations by enabling smart contracts, sidechains, and interoperability. With Stratis, the ecosystem behaves as a transfer vehicle in its own marketplace. If you want a solid coin for staking, take a long look at the STRAT coin. | Moderate | 2016 | Binance, Bittrex, Poloniex, Upbit, HitBTC | 1.50% | 1 | 3.8 |
We have provided you with ten solid staking coins that offer plenty of flexibility and potential in the world of digital assets. Not all of these altcoins may be for you, but there is no shortage from which you can choose.
Want to discover more digital asset investment opportunities? Subscribe to Bitcoin Market Journal to learn all about the latest and greatest in the world of bitcoin, digital assets, and the blockchain.