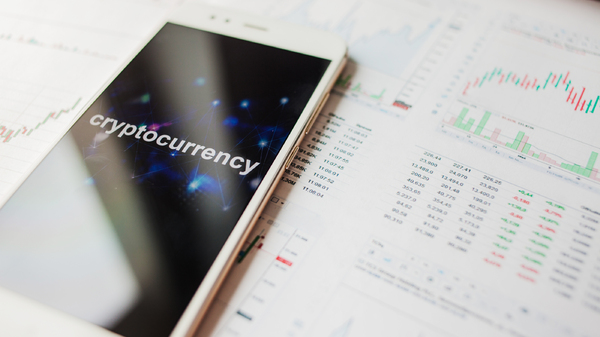 In the traditional financial markets, the most common interest-bearing investment vehicles are bonds, dividend yielding stocks, and high yield savings accounts. Each has its pros and cons, but how do they compare to the cryptocurrency "investment vehicle" of PoS staking?
To help you understand how traditional interest-bearing investment fare compared to cryptocurrency staking, Bitcoin Market Journal has analyzed and compared PoS staking rewards with returns of traditional investments.
PoS Staking vs. Traditional Interest-Bearing Investments
Staking is the process by which users place a specified amount of digital assets in a wallet for a certain period of time all while earning Proof of Stake coins. The coins that one stakes act as validators on the blockchain to ensure efficient transactions. The "reward" for staking your coins is just that… more of that same coin!
Proof of Stake, therefore, compares well to savings accounts requiring a minimum balance to earn a certain amount of interest, as well as other interest-bearing investments.
A number of banks offer high-yield savings accounts to lure consumers to their other products. The top savings accounts have an Annual Percentage Yield (APY) somewhere between two to three percent. Our comparison includes some of the most well-known and highest yield accounts on the market today from banks such as Goldman Sachs and Discover.
Dividend Yielding Stocks present a more ambitious investment opportunity. Many blue chip stocks offer their stakeholders a quarterly dividend to incentivize the purchase and continuous holding of the stock. The investor receives a dividend that is calculated using the stock's dividend yield and purchase price. Companies typically pay their dividends in cash on a quarterly basis.
Bonds are the final asset class in our analysis. Since private investors usually invest in bonds though bond funds, we have looked at bond fund returns for our study. Bond funds are investment funds that invest in a range of fixed income securities, including government, corporate, municipal, and convertible bonds.
Analysis
For our comparative analysis, we have compared a range of savings accounts, dividend stocks, bond funds and leading PoS coins.
| Staking Vs. Others | | | | | | |
| --- | --- | --- | --- | --- | --- | --- |
| Asset | Description | One-Time Opening Cost | Minimum Balance | Monthly Contributions Required | Volatility | Average Return |
| Savings Accounts | | | | | | |
| Betterment | Betterment is a new player in the savings account arena, but that hasn't stopped them from offering an excellent high yield account option. Their savings account requires no monthly maintannce fees and is FDIC Insured up to $1 million. The promotional APY of 2.16% comes with their free checking account. | $10.00 | $0.00 | $0.00 | N/A | 2.16% |
| Discover Bank | Discover Bank has one of the most well-known savings account on the market. There is no one time opening cost, minimum balance, or maintenance fee. | $0.00 | $0.00 | $0.00 | N/A | 1.90% |
| CIT Bank | CIT Bank is known for their consistently high interest rates and easy to use platform. Having said that, the CIT Bank savings account requires a $100 monthly deposit OR a current balance of $25,000. | $100.00 | $25,000.00 | $100.00 | N/A | 2.20% |
| UFB Direct | The UFC Direct savings account has a multiple of levels to it, but if you hold a balance over $10,000 then you'll receive the advertised APY of 2.25%. It is important to keep in mind that unless the minimum balance requirement is met, the APY becomes 0%. | $0.00 | $10,000.00 | $0.00 | N/A | 2.15% |
| Marcus by Goldman Sachs | Marcus by Goldman Sachs comes with all the best features such as no fees, no minimums, and high interest rates. They do not, however, offer mobile checking deposit, which can make it difficult to deposit checks without retail bank locations. | $1.00 | $0.00 | $0.00 | N/A | 2.00% |
| Dividend Stocks | | | | | | |
| Hospitality Properties Trust (NASDAQ:HPT) | HPT has a long history of paying dividends at a very high yield, but it's important to determine whether the trend will continue far into the future. After analyzing HPT's balance sheet, it is evident that they've taken on quite a bit of debt. Their net debt to EBITDA ratio is 5.22, which indicates considerable liquidity risk if interest rates rise and earnings decline. Having said that, HPT has traditionally followed the volatility of the market, and they also have an uber appealing dividend yield of 8.5%. | $25.72 | Single Stock | $0.00 | 0.91 | 8.50% |
| Ford Motor Company (NYSE:F) | Ford Motor Company has represented the American car industry since 1903. Their stock is still at near all time lows as the company continues to recover from the Great Recession. As such, the dividend payout is much higher than your average stock. Ford holds hefty cash reserves to fund future projects, which bodes well for the liquidity of the company and those who receive their quarterly dividends | $9.08 | Single Stock | $0.00 | 1.14 | 6.60% |
| Johnson and Johnson (NYSE:JNJ) | Johnson and Johnson makes the list in part due to its reputation and brand recognition rather than overall yield. The current yield of 2.9% is much less than others on this list, but JNJ has significant capital gains potential as well. Their annual returns average 15% and they've only lost money 14 times since 1970, meaning you have a high likelihood of always receiving your quarterly dividends. | $129.06 | Single Stock | $0.00 | 0.73 | 2.90% |
| Sotherly Hotels INC (NYSE:SOHO) | Sotherly Hotels has recognized the impact of companies like Airbnb and are now focusing on customer experience like never before. They want to acquire a share of the millenial travel market in order to stay viable. Their project capital gains are certainly questionable, but it's hard to pass on a .95 beta stock with over 7.5% dividend yield. | $6.59 | Single Stock | $0.00 | 0.95 | 7.77% |
| AT&T (NYSE:T) | AT&T is another dividend stock that often gets bought due to its predictability… aka you know what you're getting. AT&T averages an annual return of about 13% since 1984, losing money only 8 of the past 33 years. | $37.42 | Single Stock | $0.00 | 0.77 | 5.30% |
| Bond Funds | | | | | | |
| iShares Core US Aggregate Bond ETF (AGG) | AGG is a well-known benchmark for the bond market and tracks an index of a variety of bonds such as U.S Treasurys, agencies, mortgage backed securities, and other debt market instruments. The fund offers a competitive fee of 0.05% and yields a respectable 2.73% annually. | $113.49 | Single Stock | $0.00 | 1 | 2.73% |
| iShares 3-7 Year Treasury Bond ETF (IEI) | The IEI bond ETF offers two unique benefits in its liquidity and control. As the name suggests, IEI is comprised of U.S Treasury debt with 3-7 years remaining on the life of the bonds. The improved liquidity and shorter timeline bring the average return slightly below average inflation, but it remains one of the safest funds on the market. | $127.52 | Single Stock | $0.00 | 0.85 | 2.08% |
| PIMCO Active Bond ETF (BOND) | Investors willing to risk a bit more than their peers can take advantage of PIMCO's BOND ETF. The fund works to maintain constant cash dividends and is thus actively managed. The fee will set investors back far more than the average bond ETF at approximately 0.76%, but the average yield for the fund sits around 3.5%. | $108.75 | Single Stock | $0.00 | 0.89 | 3.50% |
| SPDR Bloomberg Barlcays High Yield Bond ETF (JNK) | JNK differs from the rest of our list as it tracks majority corporate bonds versus government bonds like U.S Treasurys. The funds maturity is 3.85 years, making for an attractive short term investment, especially for those nearing retirement. The high-yield bond ETF offers an enticing annual yield of 5.57%. | $107.69 | Single Stock | $0.00 | 0.16 | 5.59% |
| iShares iBonds Dec 2025 Term Muni Bond ETF (IBMN) | IBMN consists of investment grade municipal bonds that are tax-free and mature between January and December of 2025. The funds provides investors with "bullet" maturity, meaning the bonds are not exposed to the market for long periods of time. The low fund fee and tax-exempt coupon payments from underlying securities make IBMN one of the most attractive funds on the market. | $27.23 | Single Stock | $0.00 | N/A | 7.23% |
| Staking Coins | | | | | | |
| NEO | The NEO project is another open-source option, often labeled "the Ethereum of China." NEO supports digital certificates and assets, which are available for different uses on the blockchain. If you want to stake your NEO, all you have to do is download the wallet and hold your NEO. In return, you get a token referred to as GAS, which is the fuel for the NEO network. It's easy to get started with NEO, which is why we recommend it as one of our best staking coins. | $7.09 | 1 | $0.00 | Highly Volatile | 1.52% |
| Dash | In a technical sense, Dash is not a PoS coin. It actually runs masternodes and was one of the first blockchains to feature them back in 2017. Dash has over 5,000 masternodes facilitating efficient transactions over the network. Dash is known as one of the easiest coins to earn "PoS interest" due to its simple start up requirements. | $69.12 | 1 | $0.00 | Highly Volatile | 6.33% |
| Lisk | Lisk is a great project if you need an easy-to-use blockchain platform for business or developer projects. The application-based platform wants to give users the ability to quickly and easily build decentralized applications in its environment. You can build sidechains through Lisk, which offers the ability to create features unique to your own blockchain, but still, remain independent of other chains. | $8.20 | 10 | $0.00 | Highly Volatile | 2.75% |
| Ontology | Similar to other projects on this list, Ontology targets users in an enterprise setting. Ontology builds blockchains that support both private and public blockchains. This gives corporations flexibility and access to other technologies as they become available. The project is very similar to NEO. However, it tries to give its users the opportunity to store data in both public and private environments. | $0.58 | 1 | $0.00 | Highly Volatile | 2.97% |
| Ark | Ark sets itself apart as the "all-in-one-blockchain-solution." With its smart bridge ecosystem, Ark wants to address the scalability and interoperability problems that plague the blockchain world. With smart bridging, blockchain platforms can easily connect with one another. With its technology, Ark has made itself one of the most unique projects in the blockchain community, which is why it ranks at the top of the list of the best staking coins to look into. | $1.70 | 10 | $0.00 | Highly Volatile | 10.00% |
Conclusion
Each individual investor has his or her own financial goals when allocating money to different investment vehicles. The first step in reaching any investment goal is to beat inflation. Inflation in the United States historically averages 2.5 percent per year, meaning your money should appreciate at least 2.5 percent in order to maintain its value. Otherwise, your money will actually lose its value sitting in a low yield savings account.
The clear and obvious choice to beat inflation with next to no risk is a high-yield savings account. As long as the account requirements are met, it's the safest option to maintain the value of your money.
On the other side of the spectrum, dividend yield stocks offer the highest possible reward when factoring the potential increase in stock price. The cash dividends will remain constant based on the purchase price of the stock no matter the price fluctuations, but investors must be sure they evaluate the company's liquidity and volatility prior to buying shares for the quarterly dividends.
Bonds are somewhere in the middle as they are generally less risky than stocks but offer better returns than high-yield savings accounts. Albeit, with a more risk attached.
Finally, we have PoS coins. For digital asset investors who are looking for interest-bearing investments within the cryptoasset space, staking coins offer an exciting investment opportunity. However, expected annual staking yields of several of the leading stakable digital assets do not necessarily exceed expected returns from dividend stocks and bond funds. Moreover, staking coins are much riskier than any of our listed traditional investments.
PoS coins are, therefore, more for the die-hard digital asset investor who wants to earn interest in the form of new coins as opposed to the average, risk-averse investor who is primarily interested in generating the highest possible returns given the level of risk they are comfortable with.
Related Articles:
Subscribe to Bitcoin Market Journal to stay up to date with the latest trends in digital asset investing.