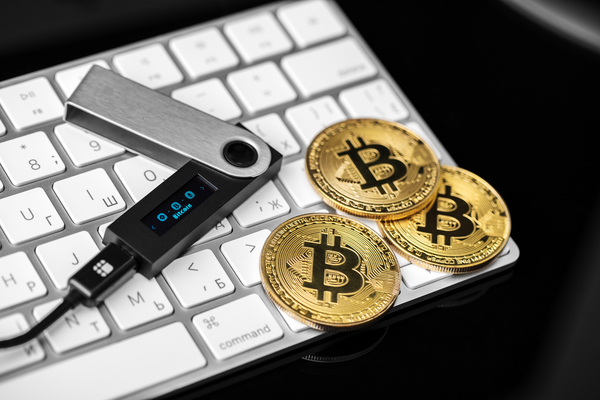 Hardware wallets are the recommended storage option for digital asset investors who want to prioritize security. These type of wallets hold the private keys for your digital assets on a physical device so they're not stored on the web anywhere and, thus, cannot be easily compromised. Hardware wallet devices are pocket-sized and convenient, and usually come with apps and other features, making them a breeze to use.
If you're looking for the best hardware wallet to hold your bitcoin in 2020, check out our list below.
Top Bitcoin Hardware Wallets
| Name | Description | Platforms Supported | Support | Social Media | Ease of Purchase | Score |
| --- | --- | --- | --- | --- | --- | --- |
| Ledger Nano S | This hardware wallet supports a lot of different digital assets. It's easy to set up and comes with Bluetooth compatibility. It's available online and easy to purchase through the website. The Ledger Live app download is also easy to access so you can get the most use out of a hardware wallet with an app and advanced security that's hard to beat. | MacOS, Linux, Windows, iOS, Android | Website support (help articles and contact form), Github | Reddit, Facebook, Twitter, YouTube, LinkedIn | Easy | 4.3 |
| Trezor | Trezor supports dozens of digital currencies and tokens. The online dashboard is accessible through Chrome and Firefox, and there's also an Android app. Unfortunately, you can't use it through Safari, and iPhone users are out of luck. However, it's sleek and easy to set up, and features a touchscreen instead of buttons. | Web-based dashboard (Firefox and Chrome), Android app, Exodus integration | Wiki, Blog, Website support, Github | Facebook, Medium, Reddit, Twitter | Easy | 4 |
| KeepKey | KeepKey supports dozens of assets and comes in a sleek and modern package. It works with the ShapeShift online dashboard, which is intuitive and easy to use, with an attractive UI. You can buy, sell, send, recieve, trade, and track, all from one place. The design is user-friendly and it's built to be durable. | Web-based dashboard (Chrome and Brave) | Website support (help articles and FAQ) | Facebook, Twitter, Instagram, Reddit, Medium, Github | Easy | 3 |
| Opendime | Opendime focuses on in-person transactions. Instead of handing over cash, you hand over your Opendime. This doesn't work well for long-term users who have navigated away from these in-person transactions but provides a good transition for those who want to use altcoins but still want to shop in the store. | Web-based dashboard | Blog, Email | Twitter, Instagram, Github | Easy | 2.8 |
| Coldcard | The Coldcard hardware wallet is minimal, but tough for beginners to grasp. It's not sleek or attractive, if that matters to you, but it functions as it should. If you want something even more secure, this is the best. With a BrickMe feature, you can designate a PIN that wipes the entire device. However, it can be navigation can be unforgiving for those who don't have a good grasp on how to use it. | Web-based dashboard | Website support (documents and FAQ), Blog, Email | Telegram, Twitter, Reddit, Github | Easy | 3.3 |
Related Reading:
We scoured the internet for the best hardware wallets for storing your bitcoin in 2020 so you don't have to. These are all great hardware wallets with unique purposes, so you're bound to find one that works for your needs.
Subscribe to Bitcoin Market Journal for the latest digital asset market trends and developments!