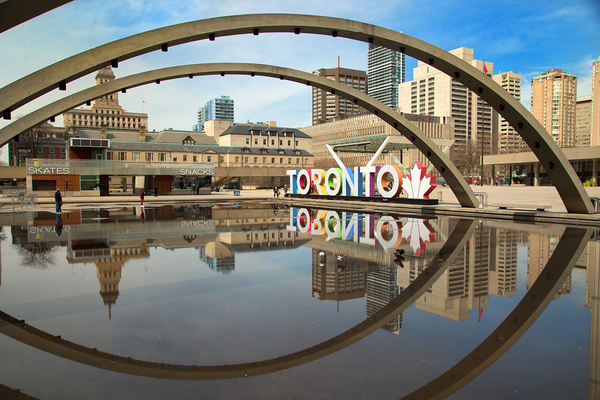 Blockchain companies are flocking to Toronto, which has been named the fastest growing tech hub in North America. With all the talent, there are also plenty of great opportunities to socialize and network.
Here is a look at the top meetup groups in Toronto, measured by metrics such as the number of members, user rating and activity level.
City
Meetup Group Name
Description
Number of Members
User Rating
Activity Level
Overall BMJ Score
Toronto
Blockchain Developers United
Learn about the latest blockchain development platforms. Master smart contract languages. Create amazing new decentralised applications. Create and issue your own money!
2,289
4
4
3.7
Toronto
AI & Blockchain Technology Meetup
The AI & Blockchain Technology Meetup group is aimed at anyone who is interested in exploring data-driven enterprise solutions and enjoys solving problems collaboratively.

With the help of expert panel speakers and some amazing sponsors there are discussions of some of the key technologies and innovations driving business in today's digital economy, including AI, Blockchain, Cloud, Enterprise Architecture, IoT, Mobile, Neural Networks, VR, Quantum Computing, Robotics and more.
4,116
4
3
3.7
Toronto
Blockchain Toronto
The Blockchain Toronto Meetup group will provide a technical, social, and academic forum to discuss the implementation and implications of blockchain technology. Blockchain could be the most significant paradigm shift in how society interacts with technology since the internet. Let's explore the art of the possible with this technology and keep ourselves firmly planted in implementation of smart contracts, digital currency, distributed application organizations/corporations, private/public blockchain, consensus, and (of course) mining. This group is open for all, but especially those possessing technical experience in blockchain or are looking to get involved in platforms like Ethereum.
1,028
5
1
2.3
Totonto
Canada Blockchain
The Canada Blockchain Meetup group is for anyone interested in blockchain. All skills levels are welcome.
1,074
5
3
3.3
Toronto
Blockchain Canada
The Blockchain Canada Meetup group is for anyone interested in learning and sharing information about blockchains and related decentralized technologies, and especially those applications that affect Canada's industries. Through the Meetups and related media, participants will develop and provide educational resources about blockchains for the public, seek to connect cross-industry collaboration for various blockchain applications, discuss regulatory dimensions, develop use-cases that focus on the public good, and foster knowledge and talent growth in this relatively new field.
2,150
5
1
3
North York
Blockgeeks: Blockchain Developers
The Blockgeeks: Blockchain Development Meetup group helps users learn blockchain development taught by industry professionals. Acquire the skills you need to succeed in a career in blockchain development directly from industry experts. Learn from our many guest lecturers and engage with a vibrant community of learners, experts, hackers, and entrepreneurs!
1,235
5
1
2.7
Toronto
Blockchain Business Startups+Apps: Plan|Fund |Develop|Launch
The Blockchain Business Startups+Apps: Plan|Fund|Develop|Launch Meetup group is for those interested in setting up their own blockchain startup or extend existing business capability through the design, development, and launch of a blockchain app. or middleware solution. You would benefit most if you are interested in learning about blockchain tech, business opportunities, emerging business models and trends (DAO, ICO, etc.) and most importantly, the skills need to design, build, and launch your blockchain app. - whether its for a start up or a established business. Come learn, share, develop, collaborate, and grow. And, of course, this is an opportunity to network with business, developer, legal, funding resources.
1,467
N/A
1
1.5
Toronto
Toronto AI Developers Group
The goal of the Toronto AI Tech Talks Meetup Group is to congregate with AI enthusiasts from all over Toronto to learn and practice AI tech, through tech talks, study jams, code labs etc. They regularly invite tech leads from innovated companies, successful startups to share their practice experiences and practices in the world of AI, Cloud, Data, Blockchain.
3,494
N/A
5
3.5
Toronto
The Blockchain Hub
The Blockchain Hub Meetup group is for anyone interested in learning about blockchain technology, including smart contracts, decentralized networks, its applications, etc. All skill levels are welcome.

The group seeks to raise the awareness and understanding of the general public on the blockchain technology, and its impact on our everyday lives. They hope to create an open space for the exchange of information, and a network of blockchain beginners, to be experts, and experts alike, such as developers, entrepreneurs, and corporate executives. "Looking forward to exploring the world of blockchain together."
4,068
5
4
4.3
Toronto
Hyperledger Toronto
Hyperledger is an open source collaborative effort created to advance cross-industry blockchain technologies. It is a global collaboration, hosted by The Linux Foundation, including leaders in finance, banking, Internet of Things, supply chains, manufacturing, and technology.

Hyperledger Meetup groups have an informal relationship with Hyperledger, and make up a key part of the Hyperledger ecosystem. Participation in a Hyperledger Meetup group is open to anyone--employees of a Hyperledger member company, Hyperledger contributors and developers, and people just passionate about blockchain technology.
1,176
5
4
3.7
Toronto
The Bitcoin Bay
At the Bitcoin Bay Meetups you'll discuss all things Bitcoin (cryptocurrencies, blockchains, smart contracts).

Beginners and experts all welcome.

Current topics of interest include:

• Bitcoin & Blockchain Basics

• Application of Bitcoin Technology

• Trading / Investing Perspectives

• Alternative Blockchain Technologies

• Bitcoin-Related Business Activities

• Future Growth Roadmaps
3,495
5
4
4.3
Toronto
Canadian Bitcoin Club
Get together and talk about bitcoin and blockchain technology. Over the past few years, Canada has led the way with respect to bitcoin innovation, now it's time to push it to the next level.

Come out and network with fellow bitcoiners across Canada. The Canadian Bitcoin Club Meetup is geared towards newbies, techies, entrepreneurs, students, lawyers, bankers, hobbyists, and pretty much anyone who shares an interest in blockchain tech.

Pizza and soft drinks are provided.
3,844
5
3
4
Toronto
Crypto Bay
Billed as "The only Meetup where you can earn cryptocurrency."

The Crypto Bay Meetup group is a community interested in an exchange of all things Crypto. In the Information Age knowledge sharing is essential, at Crypto Bay they are doing just that! Every week they host speakers on finance and technology, and our guests are represented on various social media platforms. All members are encouraged to participate.
1,576
5
5
4
Toronto
Ethereum Developers
The Ethereum Developers Meetup group is a vibrant group of passionate developers at all skill levels in Toronto (and the surrounding area). Whether you are a seasoned developer with a few decentralized applications already on the blockchain, a neophyte with a passion for learning how to code in Solidity, or somewhere in between, you can be a part of this Ethereum Developer community. The goal is to bring Ethereum devs together to share knowledge, write decentralized applications, and learn as much as possible about the Ethereum blockchain.
2,044
5
3
3.7
Toronto
Fintech Canada
The Fintech Canada Meetup is a group for anyone interested in leading edge financial technologies in Canada. It is for taking a closer look at technologies such as Bitcoin, Ethereum and blockchain technology.
1,493
5
3
3.7
Toronto
Toronto Techno Crypto
The Toronto Techno Crypto Meetup is a group for people who are interested in example topics like "sidechains","ASIC-resistant proof of work algorithms","long chain attacks on Slasher-style Proof of Stake" etc. Even if these topics sound intimidating, you are more than welcome if you are just curious what all those things are. The group theme could be described as "cryptographic engineering", "blockchain problem solving", or "just generally talking techy about blockchain and cryptocurrency technologies". More concisely, this is a group for investigating and exploring the use of cryptographic primitives and associated technological systems to solve larger, more complex problems in business, game theory, communications, technology, etc. The focus is on the technical structures and their construction as opposed to either programming or social advocacy for the resulting technologies.
1,194
5
1
2.7
Keep up to date with everything happening in the blockchain space by subscribing to Bitcoin Market Journal!