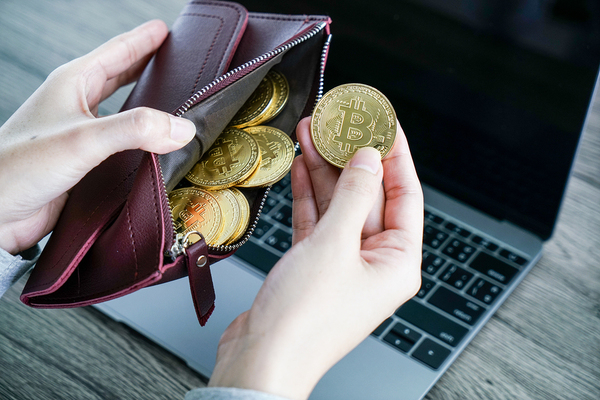 Mobile bitcoin wallet apps have been around almost as long as bitcoin itself has been around. That doesn't mean the older bitcoin wallet apps for iOS are best. New wallets have some excellent features, especially where security is concerned, though to be honest, many of the older wallets have kept pace.
With that in mind, we've put together the following list of the best bitcoin wallet apps for iOS so that you can choose your ideal iOS bitcoin wallet.
A Look at the Best iOS Bitcoin Wallets
| Wallet App | Description | Number of Users / Downloads | Number of Coins Accepted | Ease of Use | Security | Customer Reviews | Score |
| --- | --- | --- | --- | --- | --- | --- | --- |
| Blockchain Wallet | This is one of the most popular wallets on our list, with the company claiming over 32 million downloads. It is also one of the highest rated by users, and it supports 22 different currencies. It has buy and sell features right within the wallet, and those are supported in 36 different countries. It has a simple user interface and access to market data within the wallet to keep abreast of the rapidly changing altcoin markets. | 1,000,000+ | 4 | 5 | 5 | 4.8 | 4.5 |
| Coinomi | Coinomi is an increasingly popular bitcoin wallet that has gotten high marks from Android and iOS users. One of its outstanding features is its support for many different currencies. It supports 115 different coins and all the ERC-20 tokens, which is more than 500 different blockchain assets. It also supports 25 languages and 168 fiat currencies. There are millions of users and the company is proud to say that no Coinomi wallet has ever been hacked. | 500,000+ | 115 | 4 | 5 | 4.7 | 4.5 |
| BitPay | BitPay was founded in 2011 as a bitcoin payment service and gateway that made it easy for merchants to accept bitcoin. It launched its wallet in 2015, and it has been quite popular, with over 500k downloads. If you need to have several bitcoin wallets for different purposes, the BitPay wallet is going to be your best choice. It also has a sleek user interface, and is considered quite secure, making it very popular with users. | 500,000+ | 2 | 5 | 4 | 4.1 | 4 |
| BitPie | BitPie is a newer wallet that has been gaining traction and popularity recently because of its support for a wide range of altcoins and its security features. The wallet has built-in cold storage and the ability to quickly and easily exchange between a large number of supported coins. | 10,000+ | 15+ | 4 | 4 | 4.2 | 4 |
| Edge (formerly Airbitz) | Edge was previously known as Airbitz, and it is one of the older wallets, having been launched in 2014. It supports over a dozen coins, which is more than most mobile bitcoin wallets. It has the ability to seamlessly shift from one supported coin to another right within the wallet. Soon the company plans on adding support for buying and selling coins right within the Edge app. It hasn‰Ûªt been downloaded as many times as some competitor apps, but it does get high marks from users. | 100,000+ | 20 | 5 | 4 | 4.3 | 4 |
| Enjin Wallet | The Enjin wallet was created with complete security in mind, making it ‰ÛÏthe most secure mobile cryptocurrency wallet.‰Û In addition to the several security features unique to Enjin, the wallet was made with mobile in mind and is incredibly fast. Users have had many good things to say about the wallet, which is also easy to use. Created by the same team behind the Enjin Coin, the wallet plans on adding support for Gaming Collectibles. | 100,000+ | 4 | 4 | 5 | 4.8 | 4 |
| BRD (formerly Breadwallet) | BRD used to be known as Breadwallet, but the company rebranded in 2018. The wallet remains one of the easiest to use, with basic send and receive features that any newcomer to bitcoin will be able to quickly grasp. It has also integrated methods for quickly and easily buying bitcoin right from the wallet. Users like the wallet, and it is highly rated thanks to its ease of use. | 500,000+ | 3 | 5 | 3 | 3.6 | 3.5 |
| CoPay | The CoPay iOS wallet is designed by BitPay, and like the BitPay wallet for Android, it is a multi-sig wallet and was designed for security and ease of use. It allows you to create and manage an unlimited number of accounts, which can be handy if you need multiple bitcoin accounts. CoPay has been around since 2014 and is a solid choice for an iOS bitcoin wallet. | 500,000+ | 2 | 5 | 4 | 3.5 | 3.5 |
| Guarda | The Guarda wallet is a relative newcomer to the iOS bitcoin wallet scene, but it has been well received. As a lightweight wallet client, it is fast and needs no registration. Users like the sleek design and the ability to exchange any supported coins directly within the wallet. It is also multi-platform, and users can access their wallet from any of the platforms. | 1,000+ | 27 | 5 | 4 | 4.2 | 3.5 |
| Xapo | Xapo is a solid wallet with over a million downloads and good user feedback. It‰Ûªs been called super secure storage, which gives users more confidence when using the wallet. The user interface is super easy, and you can exchange coins right within the wallet. One feature users seem to like is the Xapo Vault, which is basically like a savings account for bitcoin that allows you to lock them away and keep them more secure. | 1,000,000+ | 1 | 4 | 5 | 2.9 | 3.5 |
| Green Address | Green Address isn‰Ûªt a great choice for new bitcoin users, but if you have some blockchain experience, it might work well for you. The Green Address team has been around for some time, and they have made the wallet very secure. The features offered by Green Address are too numerous to mention, but one feature it doesn‰Ûªt have is a good user interface. That‰Ûªs partially due to the extensive feature set on offer. | 50,000+ | 1 | 3 | 5 | 2.9 | 3 |
| Jaxx Liberty | The first thing you‰Ûªll notice about the Jaxx Liberty is it has few downloads and a fairly poor user score. This is because the Liberty is a new version of an older wallet that was simply called Jaxx. There were some bugs that led to poor reviews when the wallet launched, but those have been ironed out. The wallet supports 85 different coins and was built with security and ease of use in mind. It is a multi-platform wallet, so if you‰Ûªre looking for a wallet that synchs between mobile and other platforms, you may want to give the Jaxx Liberty a spin. | 10,000+ | 85 | 4 | 4 | 2.8 | 3 |
| MyCelium | This is another long-standing wallet that has been overshadowed recently by new wallets. It remains a solid choice and the developers are in the midst of overhauling the wallet to add easy exchange, investing, escrow, and personal finance features. Also planned are blockchain-based fiat accounts and a debit card linked to the wallet. If MyCelium delivers on these promises, it will once again be one of the top bitcoin wallets. | 500,000+ | 1 | 2 | 5 | 2.7 | 3 |
| Ripio | Formerly known as BitPagos, Ripio is a new bitcoin wallet that is focused primarily on building a reputation in Latin America. It has good user reviews and a solid number of downloads considering how new it is. One unique feature being offered in the Ripio wallet is the ability to request a credit line to finance payments over time. The wallet allows users to buy and sell bitcoin from within the wallet. | 100,000+ | 2 | 4 | 4 | 1.9 | 3 |
With a good iOS bitcoin wallet app, you'll always have your bitcoin in your pocket, so to speak, ready to spend, send, and receive.
When you subscribe to the Bitcoin Market Journal newsletter, you'll always be completely up-to-date on useful bitcoin and altcoin information. Sign up today!