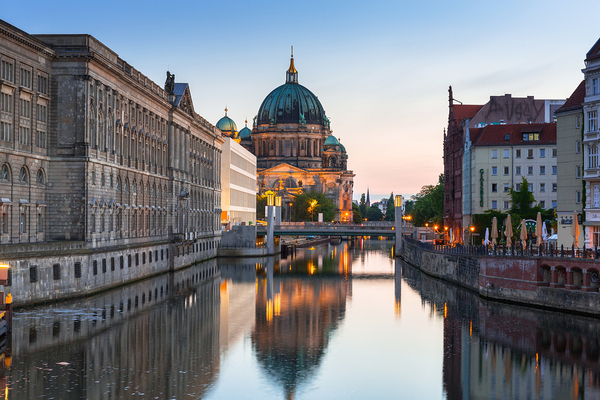 The most complete list of every blockchain and cryptocurrency meetup in Berlin, with ratings! Our custom Bitcoin Market Journal Score is calculated by the number of members, user rating, and activity level. Use it as a guide for which meetups to attend in 2020.
If you're looking for global events, check out our list of Best Blockchain Conferences.
If you have a meetup that you'd like listed, or represent one of the events below, contact us to manage your listing.
City
Meetup Group Name
Description
Number of Members
User Rating
Activity Level
Overall BMJ Score
Berlin
Lisk - Blockchain Application Platform
Lisk is an open source blockchain platform that enables developers to build decentralized blockchain-based applications in JavaScript. With Lisk, developers may build blockchain applications which utilize their own sidechain interlinked to the Lisk platform. Thanks to the scalability and flexibility of sidechains, developers can implement and customize their blockchain applications entirely. Lisk is a non-profit organization, founded in 2016 by Max Kordek (CEO) and Oliver Beddows (CTO).

The team at Lisk represents a microcosm of the reality they wish to see, one where people from all over the world can easily create revolutionary Dapps that will significantly improve society. Their biggest goals are to lower barriers and foster widespread blockchain adoption. They want to inspire and support innovators, working together to build a better world.
1381
5
2
3
Berlin
Blockchain for Real Estate - FIBREE Berlin
This meetup is either for real-estate-people who are interested in how to use blockchain technology or for blockchain enthusiasts who like to understand more about real estate - both with the aim to innovate the real estate industry.

This meetup is part of the global network of FIBREE - the Foundation for International Blockchain and Real Estate Expertise.
1293
5
3
3.5
Berlin
IoT & Blockchain Meetup
This is a meetup for all that are interested in the combination of IoT and Blockchain technologies!

5.5 million new things are connected to the internet each day, reaching a number of 50B IoT devices in 2020. This raises the question how billions of IoT devices can act as independent and secure data traders on the market.

Join the Meetup and be part of the discussion to create new ideas and solutions!
1442
5
3
3.5
Berlin
Blockchain Berlin Meetup
A group for entrepreneurs, executives, developers, and enthusiasts to learn about and develop for Ethereum and blockchain technology in general. Combination of smaller casual meetups to get to know the community and larger sponsored meetups with presentations from international guest speakers and Ethereum Instructors. Ethereum is a platform that makes it possible for any developer to build and publish next-generation decentralized applications. In short: Ethereum is the web, without the web servers.
1571
5
2
3
Berlin
Blockchain, peaq and Beyond
Blockchain, peaq & Beyond is a regular meetup series created for blockchain enthusiasts, entrepreneurs, engineers, investors, and anyone interested in the fascinating world of Distributed Ledger Technology.

The first Blockchain, peaq & Beyond Meetup was in September 2017, and they have held several events all over the world since then. From Berlin, to London, Tokyo, New York, Zug, and Montreal - the goal has always been to bring people together to present, learn, network,and discuss exciting new developments in the world of DLT and their potential to shape our collective future.

These Meetups feature industry professionals presenting innovative DLT-related products and technologies, followed by Q&A sessions (with lots of beer and pretzels).
1338
5
2
3
Berlin
Trivial.co: Blockchain & Creativity meetups
Blockchain is slowly but surely becoming a new religion. Its potential to be implemented in numerous ways means it is set to shake up the world of finance, business and entertainment, and many more besides.

At this meetup, dive deeper into this exciting new frontier, and learn what you can from the builders, investors, and community that is powering the crypto revolution!
2257
5
1
3
Berlin
The Blockchain Bible
Through monthly events, the Blockchain Bible aims to create a community of blockchain enthusiasts, entrepreneurs, mentors, and investors. The Blockchain Bible will be divided in two main groups: Block by Block & Welcome to Crypto.

1)Block by Block: These events are exclusively dedicated to the blockchain technology and its use and applications in today's world, starting with the fundamentals and gradually getting more specific building the knowledge of the community block by block.

2)Welcome to Crypto: These events are exclusively dedicated to the investment world of cryptocurrencies and more specifically ICOs, going from the basic tool kit for investors to the "hottest tokens out there". Welcome to Crypto will guide you through it step-by-step and convert you into a knowledgable investor.
1120
N/A
1
1.5
Berlin
Decentralised Tech Berlin // hosted by Parity Technologies
This meetup is for everyone interested in blockchain, decentralized tech, and a more resilient web. The events should be interesting to experts and newcomers alike. From devs to designers, general interest to enterprise adopters, Decentralised Tech Berlin's mission is to bring together people across the board and drive adoption of web 3.0 tech.
1391
N/A
4
3
Berlin
Blockchain Meetup Berlin
The goal of this group is to facilitate the exchange of information about blockchain, Bitcoin, Ethereum and decentralized technologies.
4358
5
4
5
Berlin
Hyperledger Berlin
Hyperledger is an open source collaborative effort created to advance cross-industry blockchain technologies. It is a global collaboration, hosted by The Linux Foundation, including leaders in finance, banking, Internet of Things, supply chains, manufacturing, and technology.

Hyperledger Meetup groups have an informal relationship with Hyperledger, and make up a key part of the Hyperledger ecosystem. Participation in a Hyperledger Meetup group is open to anyone--employees of a Hyperledger member company, Hyperledger contributors and developers, and people just passionate about blockchain technology.
1022
N/A
2
1.5
Berlin
Ocean Protocol Berlin
Hosted by Ocean Protocol, these meetups talk about blockchain and society, tech, and governance.
2205
5
4
4
Keep up-to-date with everything happening in the blockchain space by subscribing to the Bitcoin Market Journal newsletter today.